Hollywood Branded Refresher Episodes
Check out some of the past episodes we've covered on this topic:
You can check out our playlist here
Hollywood Branded  Content Marketing Case Studies
The following content marketing case studies below provide even more insights.

The Path To Becoming A Certified Influencer Marketer With Hollywood Branded
Get ready to learn a ton of how-to's and the tips and tricks of our trade, as you advance your influencer marketing game!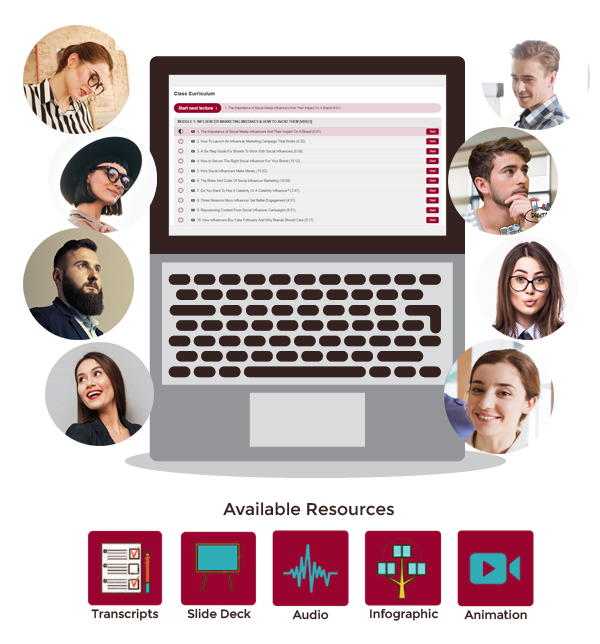 Full-Length Training Videos
Transcripts – Infographics
eBook Guides
Case Studies
Hollywood Branded Surveys
MP3 Downloads
Animated Videos
Additional Educational Material
Quizzes & Exams
Certifications In Influencer Marketing
Thank You For Tuning In! 
There are a lot of podcasts you could be tuning into today, but you chose Hollywood Branded, and we're grateful for that. If you enjoyed today's episode, please share it, you can see the handy social media buttons below and the left side of the page. 🙂
Transcripts:
Speaker 1:
Welcome to Marketing Mistakes and How to Avoid Them. Here's your host, Stacy Jones.Stacy Jones:
Welcome to Marketing Mistakes and How to Avoid Them. I'm Stacy Jones, and I'm so happy to be here with you all today. Want to give a very warm welcome to Curtis Sparrer. Curtis is the principal of Bospar PR, boutique tech PR firm, who's worked with brands including PayPal, Tetris, and the alien hunters at the SETI Institute. And he's an active member of the National Lesbian Gay Journalist Association. Before transitioning to PR, Curtis was executive producer for KORN TV, the nation's largest independent television station, where his work earned him an Emmy. Business Insider has twice listed him as one of the top 50 in tech PR. Today, Curtis and I are going to be chatting about how to help people avoid common PR marketing mistakes, and the difference between being involved and committed. We'll learn what works from Curtis' perspective, what should be avoided, and how some businesses just miss the mark. Curtis, welcome, so happy to have you here today.Curtis Sparrer:
I'm thrilled to be here.
Stacy Jones:
I want all of our listeners to know that perfectly staged, like the PR guru he is, are all his awards, his statues, his wall plaques. This man has obviously done well in the PR world, gotten a lot of accolades, but he is also a man who knows how to position himself well. Curtis, how did you get here today to where you're at as a founder?
Curtis Sparrer:
I would say the short, short version is I got here by being the person who would start work the earliest and work the latest, and would really regard any sort of PR opportunity like I would a newsroom TV interview, where you have to make something happen right then, right now, and not taking no for an answer. We kind of have come up with the whole motto, politely pushy, to reflect my time in TV news and PR.
Stacy Jones:
And so how long ago did you start your firm?
Curtis Sparrer:
We started in 2015, and we decided to be a work from home agency at that time, which people thought was very new and very odd. And they were wondering, "Does this business model even work?" And that made us think that we needed to take a page from our own PR playbook and invest in PR ourselves, and so we started winning awards. And then when someone would say, "I don't know, this whole work from home thing, it seems so kind of withy, I just don't know what to think of it," we'd say, "Well, we were named the Boutique Agency of the Year by PR Week." And then we would say, "Well, we've won it two years in a row." And then they would say, "Now you've put it that way, I guess I could see working from home as being an okay thing to do, so let's go home and work with you."
Stacy Jones:
And now everyone only wants to work from home.
Curtis Sparrer:
No one likes a Cassandra, but we were happy to be a Cassandra for this moment. And we really do feel really vindicated. And we are also sounding the alarm that, no, we don't need to go back to the office. It's really a bad use of time, bad use of space. People are so much more productive at home and they really love their naps.
Stacy Jones:
They do love their naps, I will agree with you. That is something that you see calendared into everyone's day now. I'm kidding. I am kidding.
Curtis Sparrer:
That 4:00 meeting does seem suspicious, but yes, I am here for it. I just find that when we have had a work from home culture, I have seen dramatically lower complaints from HR, a dramatic drop in sickness and absenteeism. I have seen all sorts of crazy turf wars disappear because there was no fighting over the corner office. I think that it's been a game changer in terms of creating a PR community where people focus on the work and not the politics.
Stacy Jones:
I think that's definitely true. But I think that there's some disadvantages as an agency owner that I've seen. This is totally not the topic we're starting off on, but here we go. I think that it's the young ins, it's the new career paths who are forging, that they don't get quite the same relationship building that they would have, and they don't get to eavesdrop into conversations that would actually enhance their skillsets as they grow. And I think we take for granted all those little conversations, or those meetings that we just happen to be able to overhear, or kind of step into at the last minute, where we're not just front and center on a Zoom screen, but we were there absorbing. And that was what we got in our 20s, and that's where I see the struggle being a bit still with the complete remote agency.
Curtis Sparrer:
I think that's a fair point. And I think part of the things that we have done to get around that is we have invested a lot in mentorship and professional development because we don't have to actually have a brick and mortar facility. We can actually focus on bringing in more people focused in on that. And so we have anticipated the kind of: Hey, am I there by the water cooler listening in on this conversation? What can I learn? Even kicked off Bospar University, which is our program to really inculcate people in the best practices and make it interactive and fun by using actual TV presenters to give the tips of the day and make it interactive, so that people are getting that sense of learning and understanding why you do this and not that.
Curtis Sparrer:
And it kind of takes it neatly to our conversation about the marketing mistakes that we are seeing in the PR space, and what to do and what not to do. And just the other day, I was looking at a pitch, and it started off with, I am reaching out to you today.
Stacy Jones:
I hate that, when the team does that. It kills me. My name is blah, blah, blah.
Curtis Sparrer:
Greetings from such and such company. And it's not even the company you're pitching, it's such and such other company. I'm just waiting for someone to say, "Greetings." The only greeting I want is if you're from another planet, otherwise, do not begin an email with greetings.
Stacy Jones:
Yes, I agree. Okay. So those are some great quick marketing mistakes and PR mistakes. What is the appropriate way of approaching that instead? Instead of saying, "I'm reaching out, my name is," how should you be actually engaging and reaching out to potential journalists and editors and writers who might want to give you some love?
Curtis Sparrer:
I would say that the best way to do it is of course start with research. What kind of person are they? What are they interested in? What do they like? What do they hate? What's their tweets been like? What have they been doing on social media? And then you can craft the appropriate pitch. Now my recommendation overwhelmingly is to think like a news producer. And the first three letters of the word news are new, and so the first sentence is probably the most important sentence. And it should say, "There is a new blank in such and such," because you're trying to give a reporter the sense that they are going to be breaking something new, which is what reporters do. They break things. They tell you new things.
Curtis Sparrer:
And if there's not new in that first line, or not a sense of discovery, I as a reporter will just be like, "Delete, delete, delete." I used to be an executive producer, and also an online reporter, and I would get fantastically awful pitches, which would start boring me with stats of an existing report, or would say apropos of nothing, so and so this, and then so and so said this. And I would think, "Why is this person telling me this?" And so any smart PR person wants to get the nut of their story in a super, super short sentence that's about maybe 10 words, maybe less, and say, "There's a new blank with X." And that is probably the most important piece of advice I could give anyone in PR. If you want to succeed, make sure your first line promises something new. I would also add that subject line also needs to be something that is going to be readable and interesting, and doesn't look like spam, and doesn't look to corporate-y, because a lot of these journalists are looking at this. Is this a corporate thing? Am I being sold something?
Curtis Sparrer:
And you really have to think in your most jaded, cynical self what someone, a stranger, would look at when they see this email, or maybe a tweet, and think, "Is this just corporate marketing stuff?" And make sure it gets around that filter.
Stacy Jones:
It's really the same, and when we're talking about PR, it's the same if you're pitching new business. It's the same if you're pitching anything. You don't want to be spammy. You don't want to come across as being smarmy. And you have to figure out. What are you doing in creating, and I love saying this, a mutually beneficial partnership? Because when you're working with a reporter, you are looking for a partnership where they're coming onboard and partnering with you because you have a unique story, a unique thing that will help them write better, that will give them content. And in reverse of that, inverse of that, they're giving you the love of the stage of being able to be the focal featured story on there. And that's what so many people miss. They just think that reporters are there to just regurgitate really lame stuff that no one has interest in.
Curtis Sparrer:
Absolutely. And part of it is just the fundamentals of dating. You don't say, "Hey, do you want to sleep with me?" You say, "Do you want to see a movie, or dinner?" You're going with not the hard sell, but the soft sell. And similarly with the story, we're looking for the soft sell. You can't just say, "Write about my company. It's awesome." You have to say, "Hey, I've seen you writing about X. And I think this would be an interesting angle for this." And you have to think editorially. If you can't think editorially, you have to at least think what is going to really be the best way to use this person's time.
Curtis Sparrer:
And so I find a good reporter pitch is one where you're being very succinct, where you are also making sure that it's easy to scan and read. A lot of time, people will get really bogged down in the content and will give these super needy, boring, TLDR paragraphs, and that is the worst thing. You need to make sure that there's so much white space that you go, "Whoop, whoop, got it." Because otherwise, a lot of people are going to think, "If I can't understand what's in this pitch, how is my editor? How is my audience?" And that's what you have to be thinking.
Stacy Jones:
Yeah. And so one of the things that I think you just touched on is a giant mistake that we need to bring into forefront here, is you talked about personalization. You're not talking about going to decision, or critical mention, and downloading the giant database of everything possible reporter and writer and blogger out there, and sending them this generic pitch.
Curtis Sparrer:
Well, I would actually be remiss if I said I haven't done that. And there are times when you got news, and you know a lot of people want to hear about it. And you don't have to be really tailored or anything to say, "Hey, the second coming is here. You might want to know about it." But there are times where you are looking for a person's particular point of view because you know that person will best be able to understand what you're talking about, why it's important, and communicate it in a meaningful way. And with PR, it's all about understanding the sort of cause and effect.
Curtis Sparrer:
And sometimes it's hard. Sometimes I screw up too. But I think the important thing to do is to game it out and think, "What's going to happen next, next, and next?" And a lot of times, people don't think about that, whether they're working on the PR side or the marketing side. And generally, what we try to do is say, "Okay, let's say we have a big news announcement and we want to make a big deal about it." Here's what we're going to do, and then let's say a story is published. What are we going to do next? And sometimes a CMO will say, "Well, the story's published. That's a success. That's great." And we'll say, "Absolutely not." That is just the beginning of the fight.
Curtis Sparrer:
Once you've got a great story, you need to socialize it because most people are not just sitting there going, "Oh, wow. There's an exciting story out there. Cool." No, people are so busy, so distracted, and so being hammered with messages that you have to make sure that if you get, let's say the New York Times to write about your client or yourself, you need to make sure that people are hearing in. In a way, that's human nature. If something amazing like that happens, you say, "I got New York Times to write me. I'm pretty cool." But I think a lot of people are not aggressive enough in how they share coverage like that. And they don't even come up with a plan beforehand. They usually have it happen to them and they're like, "Oh, wow. What do I do with this?"
Curtis Sparrer:
And our point of view is that you need to be super aggressive. You need to have a whole social media program that targets the personas that are going to be really interested in this story, to make sure they're seeing it. You need to be emailing people and hitting up your social media contacts. But you also need a whole plan of attack so that your entire company is activated, so that if a tree falls in a forest, everyone else is telling everyone else, "Hey, did you see that tree?"
Stacy Jones:
I think it's also, sometimes we think that if there's a story out there and it gets covered, that's it. But sometimes that's just the very start of kindling of where the story can blow up and grow and grow. And sometimes in some cases, become viral, where a lot of outlets are picking it up and running with it, or repurposing the content. And that does not happen easily. It happens by happenstance, but it does happen.
Curtis Sparrer:
It does happen. And I think there are a couple things to do when that happens. Let's say you get a ton of coverage about a big important initiative. A lot of people say, "Well, that's great. That's it. We've done our job." And I think that is shortsighted. I think it makes so much sense to take all those stories that have published about your event and weave them into a blog that spells out a meta narrative, so that you can showcase the work and you can showcase all the different viewpoints of all these different journalists that you've talked to, to show how you were doing a whole campaign.
Curtis Sparrer:
You should take that for award entries too. That really focuses your thinking so that you are explaining yourself in a way that is compelling and important. And then you also need to think about the what's next angle, and to set the record straight. Bospar, for example, did this whole campaign where we took on the state of Texas over their stance on abortion. And politics aside, from just a pure media point of view, this was a great success. It was a little scary at first because when journalists are saying, "You're being extraordinarily brave," you know [crosstalk 00:15:44].
Stacy Jones:
Ripped a new one. You're opening yourself up to be shot at. Yes.
Curtis Sparrer:
You're taking a risk. And risk is all about thought leadership. Thought leadership without risk is nothing. But there we were, we were putting it out there that we were willing to relocate any staff member that wanted to leave. We did everything I just kind of mentioned. We secured great coverage. We shared it. We codified it into a couple blog entries about all the coverage that happened. And then something curious happened. Late the next day, Salesforce announced a similar program.
Stacy Jones:
Shocking.
Curtis Sparrer:
Shocking. And great that Mark Benioff follows me, thanks, Mark. If you're watching, hey, let's hang out sometime soon. But the point is that Mark just kind of put out a tweet saying, "Hey, so and so employee, we'll do something too." And the media of course lost their minds because it's Mark Benioff and he's a name people remember. And so everyone's sort of doing their story about it. And then we were in the position of saying, "Hey. Hey, wait, wait, wait."
Stacy Jones:
We started it.
Curtis Sparrer:
We started the fire. We did this. And we had to make the case to several journalists that actually, no, we started this. We were the first. We put our neck out. And we're not Salesforce, we're a much smaller company. And I remember sending out notes to a local newspaper in the Bay Area about this very thing saying, "Look. The BBC has credited us. Fast Company has. Why haven't you?" And that takes us to another media mistake and how to avoid them, which is, or marketing mistake, which is that sometimes you'll have a great news story. You'll show fantastic thought leadership. And someone bigger will come and bigfoot you. And then you have to think. How are you going to prove that you were first? How are you going to make the case that you deserve the credit? And that required us being very quick on our feet, getting additional resources, bringing in stories that had already posted and showing a timeline, as well as bringing in other thought leaders who could say, "Well, actually, the Bospar PR team is in the same ecosystem as the Salesforce PR team, ergo, this had an influence on that."
Curtis Sparrer:
And that's something that you should think about as a marketer, especially if you are going to do something that you think there's going to be a lot of me too in it. Well, we as Bospar wanted me too, we wanted to inspire companies to do something just like this. We know that for other marketers, the most irritating thing is to come up with a great idea and have it be copied, and copied in a way that blows up bigger. And so you need to save the receipts so that you can prove you were first.
Stacy Jones:
Yeah. And there's two things there, the first that you were willing to create waves based on something that you believed in, that you thought was important, that really you weren't doing it and making the decision to do it because you wanted PR from it. You were doing it because you thought it was the right thing, which made you a thought leader in the category. It was not something that you're like, "What can we do right now that will get us attention?" You more so said, "I want to do this right now." And oh, I have my PR hat on always, so I can bring more attention and make a bigger impact and make a bigger voice from this, and maybe actually get more people to follow suit. So that's the differential of flying your own kite or chasing after a kite, I think. So you all did that really well.
Curtis Sparrer:
I appreciate you giving that context because we did have a moment where I thought, "Do we want to go and put our foot out?" And we really did feel strongly committed about this effort. Most of our staff are women. And I wanted to make sure that I didn't sound mansplaining in how we did this. But I also wanted to make sure that people knew that there is an ally for them. And growing up in Texas as a gay man, where I have seen ridiculous amounts of discrimination and put downs and stuff, one of the things I was most grateful for were allies that would lay friendly fire. And I think that more people need to do this, and so I'm grateful that Salesforce followed suit. And I think that the lessons learned from that exercise are important marketing lessons that other people should consider when they have a big program that they think others will follow.
Stacy Jones:
Yeah. I'm a big staunch supporter of what you did. It's interesting. I'm from Dallas, Texas. And one of the most impactful memories I have in my life is my grandmother, my aunt, my mother, and I all converged in Austin, they were in San Antonio, my mother and I in Dallas, to walk in one of the first women's marches for Planned Parenthood, for these rights that are now blowing up in Texas. So they mean something, and so kudos to you.
Curtis Sparrer:
Thank you. Thank you. And I wish there was a special Dallas sign we could give each other as people from the metroplex, so keep Dallas pretentious.
Stacy Jones:
There you go, amen. So another mistake that I think people often make when they're approaching PR just in general, and trying to come up with what they're doing is also letting stories die. Right? So how do you work with your clients to make sure that you keep the kindling going, and that it's not just, even if something goes a little viral, how do you keep thumping air at it? How do you keep making sure it's alive and breathing and embers are flying?
Curtis Sparrer:
There's kind of two schools of thought that really are a part of the same whole ecosystem. There's this idea of a lightning strike, and that's like we're going to take all these resources and focus them on this one big moment. And then there's rolling thunder, where we are going to make sure that month after month, week after week, day after day, we're doing something to make ourselves relevant to this. And I like to think that any good PR strategy is one that takes a look and thinks, "Okay, how can we be relevant to this upcoming news event?" And any good PR team is going to take a look at a calendar and think, "Okay, this is our main objective. How can we make this story relevant for March, April, May, June and July?" And how do we do it in a way that's authentic, so people don't roll their eyes and be like, "Talk to the hand"? Because we want to avoid that too.
Curtis Sparrer:
At Bospar, we pride ourselves in being politely pushy. And partly, that's knowing how to read the room. And sometimes, the room's like, "Hey, this is not the time." And so we want to be mindful of that too. But we also want to be mindful that we get paid for results. And so our point of view is to make sure that we are being nimble enough with the news cycle. One of the things that I think a lot of people should consider is the idea of news jacking. And that is that there's a big topic that everyone's talking about, and the only way you are going to get in the news cycle is if you have something to say about said topic. And so what we'll do with a lightning strike moment, for example, is we'll say, "Okay, here's out lightning strike. And today, this news broke. We, from our lightning strike, have something that relates to said breaking news story. Let's go and craft a custom statement, or let's share some research, or let's get something to a journalist about this."
Curtis Sparrer:
And having worked in newsrooms in the past and having team members who've worked at CNBC and Bloomberg, we know that it's not the best quote that wins. It is the first quote. And so we have seen companies talk themselves into the witness protection agency by being all of talk full and ivory tower. And oh, should we use therefore or a semicolon? No, no, no, no, no. You need to act fast and quickly and get it out there into the hands of reporters ASAP when a story breaks. Otherwise, no one's going to be talking about you. And I think that's a huge mistake a lot of marketers make with PR when they make the perfect the enemy of the good. News is good for a limited shelf life. And to get in that cycle, you need to be quick and nimble. And you need to be willing to let a few eggs break.
Stacy Jones:
And I think that's my other thing. I know I invited you on to talk about mistakes that you see, but I just see so many too, so I'm just going to chime in here. One of the best things I have done at our agency, and we get a lot of press, we get a lot of people who come to me and ask me to chime in on pop culture partnerships, and product placement, celebrity endorsements, and somehow I got branded as a celebrity brand guru, where it's not just that we match brands with celebrities. Now it's about the celebrity's own brand and how they quite frankly fuck it up.
Stacy Jones:
And full on, full on F bomb galore here because they do that. They do stupid things with campaigns. They do stupid things in their dating life, married life, cheating life, whatever it might be. But what we do to make sure that we stay and get this type of press, and are able to have friendships with these reporters is that when they knock on our door, we drop everything. We drop every last thing under the sun in order to jump through any hoop, any time zone, to get on a call, to respond to an email. And not just respond, but to overly educate, to provide as much information as possible, even if it's not going to be used in the story, to help and be of benefit. And that's where I see a lot of clients in my history of years go wrong, where they just like, "No, here's our little media kit. Send them that. Here's our talking points, and this is what they can have to cover." What is your approach?
Curtis Sparrer:
I agree with everything you said. I think that journalists can feel the love, and they can feel that you are going to respond to them with the same energy you give them. I've often thought of media relations as energy transference. When I was an online reporter, for example, there were some people I would talk to, and it was so deadly dull. And afterward, when I was trying to put my story together, I thought, "Do I even give this person a mention?" This was so boring. I cannot possibly find something. But there were some people that when I would talk to them, I was so energized. It was like I had just been at a gospel sermon. And I was just like, "Oh, wow. This is incredible. I've got to talk to my editor about this. We've got to change everything. We've got to have a blowout special."
Curtis Sparrer:
And that's the same thing when it comes to any kind of media relation, whether it is an enterprise media relation, business, corporate, consumer, you name it. You need to transfer that energy and that passion. And so if a journalist comes to you from a point of need, you have got to throw more than just one life preserver. You've got to give them the entire boat. Similarly, if there is a journalist who is asking questions about something and wanting to get smart, hey, school is in session. Open those doors and make sure you're providing everything possible because media have a muscle memory of: Hey, who was helpful to me? Who really threw down? Who made sure I got everything I needed versus who was really snitty and just not helpful at all, wouldn't respond to things quickly? They know immediately what that's like. And you're not going to get a second or a third time. Once you've screwed it up, you have screwed it up, and that's on you.
Stacy Jones:
And you also get your name passed around, so whether you're the agency that is representing the brand, or if you're the brand, or the thought leader yourself, if you do a good job and you do this energy transference that you're mentioning, which I spot on believe that it's absolutely true, they're going to pass your name to their friends and their bosses and their coworkers, or someone they know that's another journalist who … Because everyone's just looking for some help and to actually have good content at the end of the day.
Curtis Sparrer:
Absolutely. And whether or not you're working from home, the water cooler is very much still existing. If you get a goofy pitch, you will share that goofy pitch, if they screwed up the name, if they had facts wrong, if there was a funny misspelling, where you meant to say one thing and said another. And you know what, I'm guilty of all of that. I think the thing is, is that reporters definitely know that, and they are there for it. What reporters really hate though is not the goofy, small errors because they see that. They've done it. They've committed those sins too. What they hate is attitude.
Curtis Sparrer:
When you come to them with attitude, that is a problem. When you tell them how to do their jobs, for example, they have no time for that, no interest in listening to you. You do not know the battles that they have fought to get to where they are today. And for you to try to lecture them about their job, or journalistic ethics, or anything, it's immediately going to get you on the block list. So do not do that, for the love of God and anything else, do not do that because journalists will hate you. And they'll be right.
Stacy Jones:
Yeah, you're supposed to be kissing up to them. They're doing you a favor by shining a spotlight on you.
Curtis Sparrer:
Absolutely. They are king and queen makers. And they need that validation. And the thing is that so many reporters are working very trying circumstances. And you need to know that coming into them. When you are talking to them, they just might've met a new consultant who is giving them crazy advice, and they're trying to process it. Or their news director might've given them unhelpful feedback, or may have said something awful to them about their physical appearance. You don't know. And so you need to be a life preserver when you come to them. You need to be that email that they actually enjoy reading.
Curtis Sparrer:
One of my better media contacts came to me and became a really, really good friend because he said my pitches were not just quirky and interesting, but that they made him laugh. And I try to insert humor as much as I can in my pitches because I know that a lot of corporate pitches are pretty saltiney, and so being dry and not salty, and kind of stale. And I think that by adding an element of humor, you are going to get a lot more engagement with what you are putting out there than if you are trying to be just very just the facts, ma'am.
Stacy Jones:
Are you trying to say that the journalist on the other end of the phone or email is actually a real person who enjoys life?
Curtis Sparrer:
Well, this might date this content if I say that because maybe in 100 years or 50 years, journalists will just be AI, but right now, they're people. Right now, they can pass a [inaudible 00:31:25] test. Right now, they're human beings. And as long as they're human beings, you need to respect and treat them like human beings. And you need to get them to love you by cheerleading them.
Curtis Sparrer:
I think the other thing that people don't really think about is that a lot of people think journalists are just in this one box. And you can easily access what a journalist is thinking by going to Twitter, by going to Instagram, by going to any sort of social media site and seeing where they are. And one of the better ways to really get on a reporter's radar is to be a cheerleader of these people, to promote their stories even if it's not about your client or yourself. And that's a great way of getting into their good graces because these journalists are reviewed and graded on how people engage with their stories, if people leave comments, if people share it. And so by being someone who does that, who is not just saying, "Hey, Joe Journalist, write this story about me," but someone who is a real collaborator and a real cheerleader, you're going to get a lot farther than most other PR people pitching.
Stacy Jones:
I agree. Any other advice on mistakes to avoid that you can think of, that you're like, "Yeah, this is a good one"?
Curtis Sparrer:
I think that people do not give enough time for success. I think that people will think, "Well, I'll put out a press release and reporters will cover it." And if that press release is about something world changing that everyone knows without any explanation, you're probably right. But if that press release is something that requires explanation, if it requires an interview, then you need to give a lot more time. And the media that we're talking to are saying that they need to pitch that story to their editors and get buy in. They need to conduct interviews. They need to do a whole lot of work to get that story on the other side.
Curtis Sparrer:
And so I will have companies say, "Well, [inaudible 00:33:36] put out the press release tomorrow." And I'll just say, "Oh, that is witness protection." That is absolutely no way to get any coverage for what you're doing. You need to give time. You need to give time to write a good, compelling release. And by that I mean a release that has stood out to other people looking at it and checking for BS, checking for things that aren't really true, checking for things like jargon, because a lot of times these press releases will have so much jargon in it that no one can read it, even if it's in English. So you really need to make sure this press release can stand on its own. And then, and only then, I would say pitch that story. And that I would say, depending on your targets, you'll want 10 to even 20 business days to make sure that release gets the attention it needs.
Curtis Sparrer:
And the reason why I say so much time is sometimes a journalist might respond to you and say, "I like that release, but I didn't understand X or Y." And you might have a moment where you think, "Wow, they are right. This is a bunker's assessment that I'm making in this release. Now that someone has said this to me, I just realize how silly I sound. I need to go and change this." So it gives you enough time to be agile and change things and fix things and improve things. And so if I was to give anyone advice on how to be successful, it's to give yourself time because I think frequently, a lot of organizations don't understand just how much time is required.
Curtis Sparrer:
The typical journalist gets about 100 to 200 pitches a day. They have to go through that much content inside what they're doing. I mean, it's like being the most popular person on Tinder. But they have to really go through all these, figure out what stories.
Stacy Jones:
Get the garbage out.
Curtis Sparrer:
Get the garbage out. And so they have to decide which ones are even going to be something that they're going to take to their editor. And so you might have to follow up with them again and say, "Hey, just being politely pushy here. I sent you a story yesterday. But there's a new angle today that makes this relevant." And by doing that, you are a lot more likely to get heard. And so you have to follow up a couple times, but you have to do it in ways where you're just not being repetitive. You have to be interesting and compelling. And by doing that, you'll likely get in front of the reporters that are most important to you. But you will not do that if you give yourself no time to succeed.
Curtis Sparrer:
And I frequently see companies of all stripes not giving enough time for a story to breathe, succeed, or live. And I think that's the number one thing I would tell anyone if they're looking for advice.
Stacy Jones:
And I think that the other thing that you touched on is, there is a misconception that it's easy to write a press release. That's one thing. And it's not. And I love press releases for … And I can't remember who did this, but there is someone, there's a business, individual, or company out there who … And it's like a Google or something along those lines, that they require their business units before they even go to start creating a new product, to create the press release of what they want it to be at the end, because press releases make your mind sit down. And just like writing even a blog, you have to come up with the intro. What are you trying to do? Then what are your selling points? What's making it unique? What are you differentiating? And then you have to wrap it all up again and have some nice quotes in there and everything else. But you actually have to have substance.
Stacy Jones:
And press releases can be a new business roadmap if they're approached correctly. But on the flip side of that, what they're not, as a lot of clients have seen, like saying, "Let's have a press release and have it go out on the wire, and I'm going to get picked up all over the place." And I'm like, "No, you're going to get SEO. Great for SEO." But no one else is going to see it except for a lot of algorithms in the backend. And yes, you're listed all over the place, but there's no humans that are actually seeing your release right now. And you're going to have to individually pitch out to press. So there's a lot of misconceptions here with press releases in general.
Curtis Sparrer:
So many. The very first press release was actually created to alert people about a train crash, and to just give a whole bunch of people details very, very quickly about that. And I think the biggest problem about a press release is that for some companies, it has become the thing itself. And I don't think the press release is the thing itself, I think the news coverage is. And I think in order to get there though, you need to draft a release that quotes the right people. It cannot be just people within your company. You need to bring outsiders, whether those are customers, or analysts, or experts. You need people to explain why this is important, why this matters. And you need to do that in compelling copy that people can read and immediately understand.
Curtis Sparrer:
And I like press releases for media relations because they really focus your thinking so that you are coming you with the best thoughts. One journalist said to me, "I'll put as much time in the story as you do." And I think press releases beat blogs hands down in making sure that they do that. I know a lot of reporters say, "I'm okay with blog entries, but my concern about them is I don't want to be accused of copying the content. I am worried about how casual it is. And I feel that they don't give the full thinking that a press release does." And they're right because they're designed for two totally different things.
Stacy Jones:
Different audiences entirely.
Curtis Sparrer:
Different audiences, different outcomes entirely. And that's why I believe maybe controversially, that press releases are not dead yet.
Stacy Jones:
I agree. And at least they're good for SEO, at the very least.
Curtis Sparrer:
At the very least, there's that.
Stacy Jones:
Very least, very least. Curtis, how can people find you?
Curtis Sparrer:
I am findable so easy because I have my own agency promoting me. Bospar.com is probably the best because it has my website and it has all the details of all the people who really do transformational work and make me look good. Thanks. But there's also of course my Twitter handle, That Curtis, which I tweet from on a regular basis. And so I'd like to pride myself on being responsive, usually within 15 minutes or less. If I don't do it, I feel bad about myself. So reach out to me, I'm happy to chat. I'm happy to talk to you. And I'm also [email protected] Not too hard to remember either.
Stacy Jones:
Got you. Any last parting words of advice to our listeners today?
Curtis Sparrer:
I think my biggest piece of advice is if you see a news story that's compelling, and you are intrigued by it, to write down what you thought was interesting about it. By doing that, you're kind of doing the first part of PR, where you're analyzing news, and you're thinking how you could be a part of it. And sharing that with other partners is going to be the first step in really taking that PR journey and promoting whatever you need to promote, whether it's yourself, your company, or an idea. And I think being curious like that is transformational.
Stacy Jones:
Well, Curtis, thank you so much for providing your insights and your guidance, and all of-
Curtis Sparrer:
You made my head swell.
Stacy Jones:
And your energy, you have great energy. Right? So obviously when you're writing humorous little notes to journalists in your pitches, it's because you're humorous, so thank you for helping us today and sharing your enthusiasm.
Curtis Sparrer:
Thanks so much, Stacy. I'm going to take the adrenaline high now and transfer that energy into some good pitches.
Stacy Jones:
Perfect. And you, all of our listeners, thank you so much for tuning in to another episode of Marketing Mistakes and How to Avoid Them. I look forward to chatting with you this next week. And for anyone out there who is like, "I don't have anything that is press worthy," well, think about how you could actually have your brand work with movies, or TV shows, or celebrities, or influencers, all those things that my agency does, that's our jam, because we've put together cool nuggets that you can build around. And then you can press alert to your heart's content and talk to journalists, and get lots and lots of love and fodder out there. So I look forward to chatting with you, our team looks forward to chatting with you. Have a great week.
Also, kindly consider taking the 60-seconds it takes to leave an honest review and rating for the podcast on iTunes, they're extremely helpful when it comes to the ranking of the show.
Lastly, don't forget to subscribe to the podcast on iTunes, to get automatic updates every time a new episode goes live!