Hollywood Branded  Content Marketing Case Studies
The following content marketing case studies below provide even more insights.
You can check out our playlist here

The Path To Becoming A Certified Influencer Marketer With Hollywood Branded
Get ready to learn a ton of how-to's and the tips and tricks of our trade, as you advance your influencer marketing game!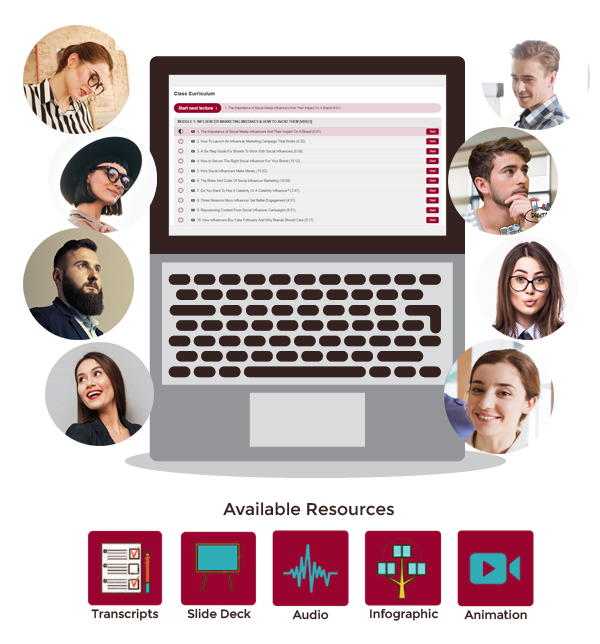 Full-Length Training Videos
Transcripts – Infographics
eBook Guides
Case Studies
Hollywood Branded Surveys
MP3 Downloads
Animated Videos
Additional Educational Material
Quizzes & Exams
Certifications In Influencer Marketing
We GUARANTEE that this class series will provide you with the foundation to make campaigns successful for your brand.
Transcripts:
How To Make Product Placement Magic Happen
Blog – HOW TO #6: MAKE AFFORDABLE PRODUCT PLACEMENT MAGIC HAPPEN ON SCREEN
Welcome to another episode of Marketing Mistakes (And How To Avoid Them) I'm Stacy Jones and today we are going to talk about three reasons why brands can win big time on screen, and still make affordable product placement magic happen.
Busting The Myth
There is a common misconception that any placement of brands in TV and feature film is paid for – with a lot of dollars. And the media strongly supports this opinion.  Article after article has been written to support this myth – but the truth lies outside what you may read.
While this holds true for what is known as brand integration, where money is exchanged to guarantee a specific storyline centered on the brand, it is not true for over 90% of what ends up on the small and big screen alike. What then does is take, instead of cash, to forge a strong brand-production bond?
Where Brands Can Squeeze In
Film studios and TV networks do restrict certain categories of brands, seeking either monetary involvement in the form of a media buy and integration, or a promotional partner that will leverage their media to co-brand the production – bringing new viewership and higher box office sales.
Yet there remains an enormous opportunity for brands to harness the power of product placement separate from those dollars and promotional efforts. It's time to address the burning question: How much does product placement cost?
The Truth
The real truth with product placement is that those folks behind the scenes – the people brands want to form alliances with – the Prop Master, Set Decorator, Wardrobe Stylist, Transportation Coordinator… they LOVE brands, and (gratis) participation with the production by providing no-cost product is a major benefit to them. And they are eager to work with brands to incorporate them into productions.
The Budget Reason
Just like brand marketing departments, productions have budgets – and when they can save dollars and come in under budget, they look great to their bosses.
This holds true for small items like electronics (that add up!) that would otherwise need to be purchased or rented,
Bartered trade out of consumable product still is valuable to production,
Or even the cost savings of truly significant budget line items like hotel room nights or plane fare – or even the plane itself!
This provides production complimentary product that again saves on their production costs on a larger scale.
Obviously not all brands lend themselves to this – but a beverage or snack brand company might provide a couple of pallets of product for the crew to consume during production, a mobile phone might provide service for key production executives or the entire crew, an automotive partner might provide production loan vehicles for production to use to transport key executives and talent, and many other types of companies might provide a cast and crew gift for the wrap of production.
The Legal Angle
Every brand exposure on the screen requires legal clearance and having a brand willingly provide product, versus buying the product and then still having a production point hunt down the brand for official sign off, provides them this clearance and valuable time.
Making The Magic Deal Happen
How can a brand ensure the production is aware the brand is on board and ready and willing to help out without calling random strangers in Hollywood?
The most efficient way is to partner with a product placement or entertainment marketing agency who will create and drive a strategic program targeting the productions that fit the brand's desired targeted demographic, while at the same time ensuring the brand is safeguarded from any negative usage on screen. The agency's fee is not only for their time and resources, but also relationships and industry knowledge, which should provide the brand with a phenomenal Return On Investment (ROI) that most brands will not be able to secure alone.
What Brands & Agencies Think About Product Placement
Did you know the majority of agencies, brands, and consumers think positively of product placement and brand integration? Now that you understand a little more about product placement cost, you can start planning on incorporating it in your budget!
That's it for this episode.  I hope it was helpful, and please let me know if you have any feedback!  I'll see you next week.  And as always, if you need a little – or lot – of help, my agency Hollywood Branded is here to lend a hand.
Thank You For Tuning In! 
There are a lot of podcasts you could be tuning into today, but you chose Hollywood Branded, and we're grateful for that. If you enjoyed today's episode, please share it, you can see the handy social media buttons below and the left side of the page. 🙂
Also, kindly consider taking the 60-seconds it takes to leave an honest review and rating for the podcast on iTunes, they're extremely helpful when it comes to the ranking of the show.
Lastly, don't forget to subscribe to the podcast on iTunes, to get automatic updates every time a new episode goes live!