Ways To Connect:
Website:  michelleedickinson.com
Twitter: mdickinson13
Instagram: michelledickinson71
YouTube: mdickinson1359
Hollywood Branded Refresher Episodes
Check out some of the past interviews below:
You can check out our playlist here
Hollywood Branded  Content Marketing Blog
The following content marketing blog below provide even more insights.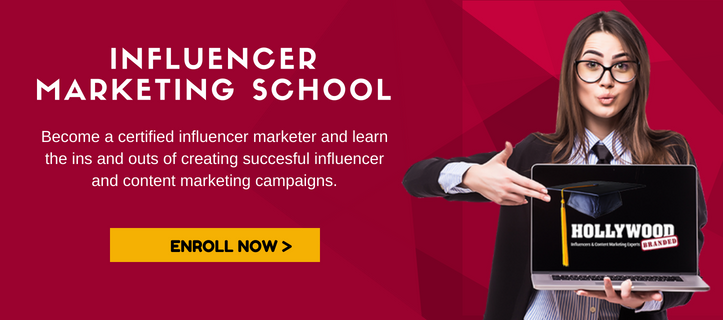 The Path To Becoming A Certified Influencer Marketer With Hollywood Branded
Get ready to learn a ton of how-to's and the tips and tricks of our trade, as you advance your influencer marketing game!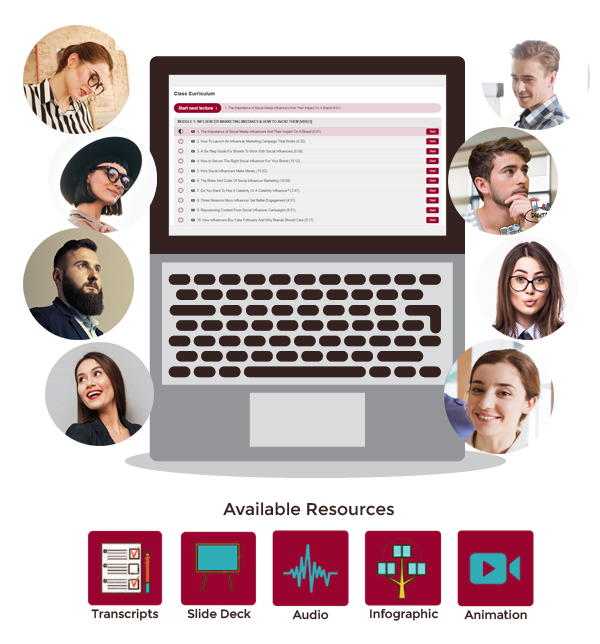 Full-Length Training Videos
Transcripts – Infographics
eBook Guides
Case Studies
Hollywood Branded Surveys
MP3 Downloads
Animated Videos
Additional Educational Material
Quizzes & Exams
Certifications In Influencer Marketing
We GUARANTEE that this class series will provide you with the foundation to make campaigns successful for your brand.
Transcript For This Episode:
Stacy Jones (00:01):
Welcome to Marketing Mistakes and How to Avoid Them. I'm Stacy Jones, the founder of Influencer Marketing and Branded Content Agency, Hollywood branded. This podcast provides brand marketers a learning platform for top experts to share their insights and knowledge on topics which make a direct impact on your business today. While it is impossible to be well versed on every topic and strategy that can improve bottom line results, my goal is to help you avoid making costly mistakes of time, energy, or money, whether you are doing a DIY approach or hiring an expert to help. Let's begin today's discussion.Automated (00:31):
Welcome to Marketing Mistakes and How to Avoid Them. Here's your host, Stacy Jones.Stacy Jones (00:36):
Welcome to Marketing Mistakes and How to Avoid Them. I'm Stacy Jones. I'm so happy to be here with you all today and I want to give a very warm welcome to Michelle Dickinson. Michelle currently serves as a leadership coach, consultant and mental health advocate and is the founder of Trifecta Mental Health, as well as a speaker. And a published author of a memoir entitled, Breaking Into My Life. After a career spanning nineteen years in the pharmaceutical industry, Michelle found her true passion in helping to eradicate mental health stigmas, leading real change in how mental illness is understood in workplace cultures and within the First Responder community. Today we're going to talk about how to become an agent of change in company cultures to support team members through difficult times and rough patches. We'll learn how it worked from Michelle's experience, what could be avoided and how some companies are often missing the mark. Michelle, welcome. So happy to have you here today.Michelle (01:26):
Thank you for having me, Stacy. I'm thrilled to be here with you.Stacy Jones (01:29):
I'm delighted to have you here and I am looking forward to learning what got you on this journey. I know you have a story and we'd love to have our listeners learn a little bit more about you. Of why you have taken on your passion project after really a total career path change.Michelle (01:49):
Yes. Exactly, exactly. Honestly, if you would've asked me a few years ago if I would be a mental health advocate, I would have never imagined that it'd be true. So yeah, I worked in the pharmaceutical industry for 19 years and when I was at my last job at a large Fortune 500 pharma company, I was nominated to give a tent talk about my story. I had a colleague who knew my story and thought it should be told. And we had a tent platform where I could tell the story, so I did. And basically, I shared what it was like loving and caring for a mother who had bipolar disorder. And what that journey was like throughout my childhood and then how it shaped me into the woman that I became. So when I gave this talk, I didn't expect to be … It was so warmly received and I received such positive feedback.Michelle (02:50):
And more importantly, it opened a dialogue in the workplace around mental health. That got me really excited and it was in that moment that I got connected to, "Okay, I need to put the pen to paper and write my memoir." Because my story could actually humanize mental health for people, for people who maybe had no exposure to what a mental illness was like. They could get what my world was like and maybe they would have more compassion and understanding for someone with a mental illness. So, after four long cathartic years, I wrote my memoir while working at that at the pharmaceutical company and I released the book and began public speaking and sharing my story, using the vehicle to actually initiate conversations around mental health that weren't going to happen. So I became an advocate. I became someone who wanted to cause change.Michelle (03:47):
And then simultaneously when my book was released, I was part of a leadership team within my company that was building the first employee resource group dedicated to mental health. Where we would cause change in the culture and have it be truly an inclusive environment for those living with invisible disability. So, I was at the helm of that and I watched what worked and what didn't work and in those culture changing efforts. And I learned a lot from that experience and came away really aware of, this is what companies can be doing to create more compassionate work so people can really be their authentic selves regardless of what they're dealing with.Michelle (04:35):
So yeah, so then fast forward, my position gets eliminated during a restructuring. And I say to myself, "What do I want to do? Do I want to stay on this path of being in the pharmaceutical industry or do I want to really go for where my heart has been pushing me?" And that was, I want to be a change agent. I want to use all of this passion that I have and be a change agent in the world and really help there be more compassion and let's eradicate the stigma and just do my part to make a difference. So, that's how I created Trifecta Mental Health and that's what I'm up to.
Stacy Jones (05:12):
That's awesome. So now in the United States, we are not the most advanced society by any means in mental health support. And we don't really have a lot of education that goes into anything along the ways. Nonetheless, workplace culture. So, when you're working with a client and you're consulting, how do you approach? And how do you open the topics? And how do you ensure that this is something that people will want to address and that they're embracing it and they're acknowledging what changes actually need to be made?
Michelle (05:51):
Yeah. You know, I think the first thing is for progressive leaders to … I get really excited when you have a progressive leader who says, "Yeah, I think we need to do more for our people." And we have this employee assistance program and that's great, but maybe there's something else we can be doing culturally within our workplace so our employees feel more supported beyond, "Oh, here's the 800 number, go call." So I get real excited when they see it as a diversity issue, right? A diversity and inclusion issue. It's not just, we should do this. It's more of, no, what does it mean to create an inclusive culture of people with all abilities? So if they get that, then it's like, "Oh my gosh, that's music to my ears." Because then I can say to them, "That's great."
Michelle (06:46):
What are the policies you have in place around inclusion and around mental health? And what are you doing to have your leaders be trained on how to engage powerfully in conversations with employees around this topic. So, they're not paralyzed or totally afraid that they're going to be crossing some line. But that they're better listeners and they're emotionally intelligent, so that they can determine when you have a situation. If an employee's performance has slipped, is it truly performance or are they dealing with something and how do you have those conversations? So, I get really excited because it's like, "Okay, so now we have an opportunity. You're going to look at your policies." We're going to talk about the level of knowledge and training that your people leaders have. Because without people leaders being on board, they're the face of the company to employees. So, then I just get real excited. Then there's so many things that we could do to help alter their culture and create that space for compassion.
Stacy Jones (07:57):
Do you find that there are more issues with male management versus female management when it comes to addressing these or is it pretty even across the board?
Michelle (08:09):
I think it comes down to who's emotionally intelligent and willing to put the effort in to cultivate trust with their employee. And I don't think that you could say it's male or female because I've met some very compassionate men. Even though we think women might have more emotional intelligence. I think it's the self awareness that the leader has and the emotional intelligence that they have and just truly their level of compassion for another human being. So I mean, that's what makes a remarkable leader. Is someone who's tuned in and has cultivated that trust with their employees.
Stacy Jones (08:55):
And, we may have listeners right now who are saying, "I run an organizational unit and I don't think anyone has mental health issues. What do I need to do about this? How does this really affect my organization?" So, what would your response be to that?
Michelle (09:13):
Yeah. That what's remarkable because most employees do not divulge that, they conceal it. And so, if they're dealing with something, they're dealing with it at home and they're putting on the mask and coming into the office. And just think about that burden that they're layering on top of their mental illness to try to navigate their job and how preoccupied they are and how worried they are. But also the fact that they're not reporting why they're really going out of work, right? How many times are you like, "I don't want to say I'm taking a mental health day but my anxiety is through the roof. I'm just going to say I have a stomach ache."
Michelle (09:54):
So how many employees are truly divulging why they're out of the office, right? So they're not because the environment's not there in such a way where they feel comfortable saying I have to take care of my well being. So, whether or not you choose to admit it or not, everybody is dealing with this. So it's a reality. If you look at your disability numbers, there's a very large percentage that's always allocated to that. Whether or not you know the number definitively, it's a high percentage.
Stacy Jones (10:26):
So, what's the first step that someone can within the organization, if they have the moment and they're saying, "I want to improve." What do they do?
Michelle (10:35):
Yeah. So there's a couple of things. So, I would look at what is the current level of support you're providing your employees. What does your EAP look like? What are your benefits look like? You have an employee who hits crisis and are they calling the number and being told they can't be seen for six months or for three months or for two weeks? Like, no. What is the accessibility to care for your people? What are the policies that you have in place within your company that say, "We are going to be an inclusive culture and accepting of people of all capabilities and are you equipped to give them special accommodations if they need it?" If they're dealing with severe anxiety, can you accommodate them by giving them opportunities to work from home frequently? I mean, look at, we're all doing that now.
Michelle (11:30):
So, if they're dealing with anxiety, what do you have to do to create a space for them to show up the best version of themselves? And are you doing that? And do you have policies in place that support that? The next thing you could do is you could say, "What can we do to generate more open conversation about mental health?" Is there an opportunity to harness May, Mental Health Awareness Month or October, World Mental Health Day. To open the conversation so leaders could talk about it more openly, lead by example and create more opportunity to normalize mental health conversations in the workplace. I mean, there's so many really cool other initiatives you can do. But there's the basics of just taking the landscape and inventory of what you are doing.
Stacy Jones (12:23):
And mental health goes beyond the prescribed … Okay, you have anxiety, bipolar, you have these different names of psychological disorders. Mental health issues come in where someone has lost a family member, someone has a major break up, someone's lost a pet. So, all of those things are part of the whole mental health landscape, right?
Michelle (12:47):
Exactly. And so, earlier on I said the name of my company's, Trifecta Mental Health. And so the reason it is, is because I've dealt with three different lenses on mental health. And it's because I have that perspective that I think it's important to highlight. So growing up with a mother who had bipolar disorder, I know what it looks like and I know how hard it is and how punishing it is to love someone with a mental illness. And then building the ERG, the Employee Resource Group, within a corporate culture. But then there's something I didn't tell you and I'm adopted.
Michelle (13:22):
So I thought, I'm not going to have bipolar disorder. My mom and I don't share the same gene pool. So, when I was 47, senior points, your very point, Stacy. Life came along and smacked me upside the head and I dealt with a life event, a major life altering event and it took me down. I was dealing with depression for the first time in my life. And for the first time I got insight into what despair that my mother experienced felt like. So yes, life events show up for us only to remind us that nobody is immune to mental illness. Nobody. So, it's hard. Mental illness can show up at any point in your life, no matter what you're dealing with and challenge you.
Stacy Jones (14:13):
And I'm assuming right now our entire world is going through a lot of pressures that we didn't have before. I know as an agency owner, I put 13 years into building my company to see it. We work in Hollywood, all of Hollywood's shut down right now. We have no clients that we can do activations with or are very limited right now. So, it's very hard to see that and you have to think, is your company going to survive? Is your baby going to survive? And I'm just one of tens if not hundreds of thousands of companies saying the same thing. So, people are really stressed out at this moment.
Michelle (14:51):
I know. It's very real, for sure. I mean, I think for the first time I want to say is as challenging as it is for you as a small business owner and me and whoever else who doesn't know their future. I think that this is a tremendous opportunity for people to start to understand what it is like to try to do life with a compromised mental health situation. "Oh, so this is what it's like to be like, wow, now I know what it feels like." So, with awareness there can be change. So, I'm optimistic that hopefully people will be like, "Gosh, that's what that's like and this is what this person lives with every day."
Stacy Jones (15:37):
Well, even as part of this though, then there's all the different people who are employees out there who have been laid off, furloughed or who [inaudible 00:15:45] and maybe they actually have mental health issues. So, they're now dealing with this as a heightened level and maybe they're trying to work remotely. So, I'm sure there's a lot of companies that don't really know how to engage and touch base and keep their team members. So, a lot of [inaudible 00:16:02] going. So, what would you suggest that they could do for rules for that?
Michelle (16:06):
Yeah. I think it's all about keeping people feeling empowered around the situation. And when I say that, I had a client say to me, "Michelle, I want to work with you once this whole Corona thing passes but I really want to support my people. I really want them to feel empowered and I know they're all nervous and they're all anxious about what's going on in the world. So could you help?" And so, I pulled together a resilience webinar to really empower people around the conversation of fear, the consumption of media, what you have control over, things you should be doing every day to take care of yourself and your family. Healthy ways of living and maintaining some kind of normalcy and cohesiveness in the home and things that you can do to protect your mental well being. I think all of those things are incredibly important. Especially now more than ever when people feel like they have no control. I try to remind folks, you do have control over your minds and what you allow yourself to consume. So, yeah.
Stacy Jones (17:21):
So, if someone's interested in your webinar?
Automated (17:23):
Yeah.
Stacy Jones (17:25):
This seems like the optimum prime time to talk about that, right? It's like, why wait? So how can they find out about it? How can they get more details?
Michelle (17:34):
Sure. You can easily reach out to me on my website, which is Michelleedickinson.com. I'm available on Instagram. I've been sharing, actually I've been doing some of these for free. I just did one for an AA group. So I'm totally game to be sharing this with nonprofits or smaller organizations that need it. So, I'm on Instagram. I'm going to mess this up. I think it's Michelle Dickinson 71 but I'll get you that information. So, I'll be posting when I'm doing the freebies but you can certainly reach out to me if you have a group that you want. Just some empowerment, it's really designed to just leave people empowered and grounded and things they can do.
Stacy Jones (18:18):
And if you give us that information, we can make sure that it's in the show notes so everyone can refer to that super easily, too. Just in case it's not that. Because now, this is a podcast baked in forever, you can't change it.
Michelle (18:34):
What's wrong with me? No, it is. Michelle Dickinson 71, I was right.
Stacy Jones (18:41):
Spot on, look at you. What are some of the signs that people should be aware of with their team members or their employees to be looking for? So, to be able to spot that someone's having some troubling time?
Automated (18:57):
Yeah. So there's a couple of things. So, I think all of us underestimate the power of connection and really just listening to each other and connecting. Zoom is a perfect way, since we're all quarantined, to really look eyeball to eyeball and just say, "Hey, how are you doing?" And really check in with one another. I think people are hesitant to do that because they feel like this obligation that they have to fix it. They don't have to fix it. Just listening and checking in with each other, I think, is a great first step. If you're concerned about a loved one maybe who is demonstrating inconsistent behavior with who they are, I recommend going to the NAMI website, the National Alliance on Mental Illness. They have clear signs and symptoms of depression in a loved one.
Automated (19:53):
Depression. Am I dealing with that, based on their signs and symptoms. So, you can at least assess it that way and then make recommendations. I also have a very dear friend of mine who created a mental health support group, it's peer to peer and it's free and it's anonymous. So, I always say that if someone is struggling and they are not comfortable talking to a loved one or going and getting some type of a treatment or therapy, just keep talking, get out of your head. It's much less scarier when you're talking to someone, so keep talking. And use, 18 percent, is the tool that I want to tell you about. It's 18, the number, percent written out.org and it is a free community on Slack. Where you can just connect with other people who might be feeling like you are. To just keep talking and don't try to figure it all out on your own, you know? So-
Stacy Jones (20:58):
And right now, I think a lot of business owners can be trying to connect with their team members, as well. I know in seeing, make sure that we start off the day with everyone leaning in to have a video chat or we're all there checking in starting the day. But part of that, we try to bring in some game play. So, we have a thing for thanks karaoke thing. It's something that's God awful, quite frankly, because I don't sing. But it's so funny because everyone loves it because they're great singers and they love showing off and there's just people who are horrible like myself. And we can take it and at least we try and people laugh and it works out.
Stacy Jones (21:34):
So, it brings some levity into it. And then we also do things like, a Friday happy hour, our snack hour, bring it. Whatever you have at home, you can do. But we dress it up and we do teams, then we chat for an hour. And so, companies can really start doing things. You don't have to sing, I promise, but you can start doing things that allow you to connect. And right now, everyone is in their own worlds. And you probably have employees who don't have significant others. They might be living on their own or maybe having significant others. They may be fighting or they may be overwhelmed with children or it's just, there's not a whole lot of opportunities right now just to kick back and laugh.
Automated (22:16):
Yes. So good. I totally agree with that. I totally agree with that. I think laughter is so important and when we can … I mean, I love seeing funny, goofy things that people are posting on social media because I need to laugh. In the middle of all of this news and high pressure information and the strain of the employment, levity's what we all need. So, laughter I think, is a brilliant idea. Absolutely.
Stacy Jones (22:48):
Any other insights or parting advice you can give to our listeners today?
Automated (22:56):
No. I just think, when we shy away from talking about mental health, it remains a stigma. And stigma can't live where there's open conversation. So, we can all do our part to normalize the conversation by just going first and just genuinely asking and checking in on the ones that we love and ones we care about and just asking them how they're doing. And maybe even, when I say go first, like sharing I've been dealing with anxiety, lead by example. You would be surprised the ripple effect that that can cause and together we could literally eradicate a stigma and really just make brain health another organ that just gets support when it needs it.
Stacy Jones (23:43):
That's awesome. Well, thank you so for being here today. Really appreciate, Michelle, your time and your insights and your care.
Automated (23:51):
You're welcome, Stacy. Thank you for having me and for talking about this.
Stacy Jones (23:55):
Of course. And to all of our listeners, thank you for tuning into Marketing Mistakes and How to Avoid Them. I look forward to chatting with you on our next podcast and until then, please stay safe.
Thank You For Tuning In! 
There are a lot of podcasts you could be tuning into today, but you chose Hollywood Branded, and we're grateful for that. If you enjoyed today's episode, please share it, you can see the handy social media buttons below and the left side of the page. 🙂
Also, kindly consider taking the 60-seconds it takes to leave an honest review and rating for the podcast on iTunes, they're extremely helpful when it comes to the ranking of the show.
Lastly, don't forget to subscribe to the podcast on iTunes, to get automatic updates every time a new episode goes live!