Hollywood Branded Refresher Episodes
Check out some of the past episodes we've covered on this topic:
You can check out our playlist here
Hollywood Branded  Content Marketing Case Studies
The following content marketing case studies below provide even more insights.

The Path To Becoming A Certified Influencer Marketer With Hollywood Branded
Get ready to learn a ton of how-to's and the tips and tricks of our trade, as you advance your influencer marketing game!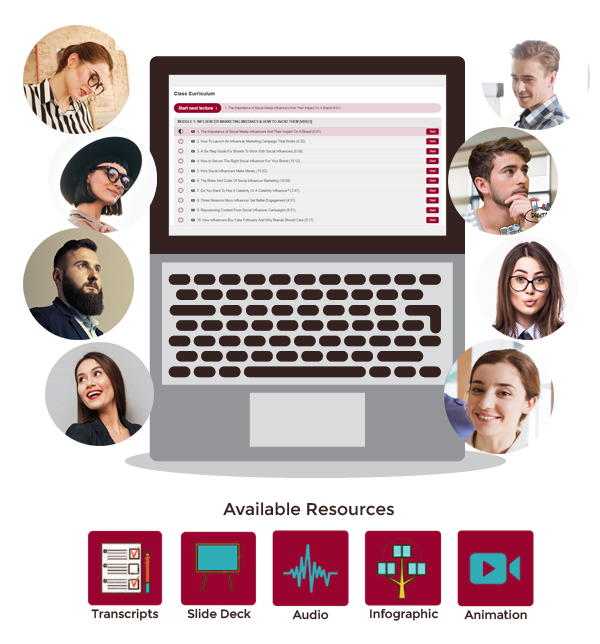 Full-Length Training Videos
Transcripts – Infographics
eBook Guides
Case Studies
Hollywood Branded Surveys
MP3 Downloads
Animated Videos
Additional Educational Material
Quizzes & Exams
Certifications In Influencer Marketing
We GUARANTEE that this class series will provide you with the foundation to make campaigns successful for your brand.
Transcripts:
Stacy Jones (00:01):
Welcome to Marketing Mistakes and How To Avoid Them. I'm Stacy Jones, the founder of influencer marketing and branded content agency, Hollywood Branded. This podcast provides brand marketers a learning platform, for top experts to share their insights and knowledge on topics which make a direct impact on your business today. While it is impossible to be well-versed on every topic and strategy that can improve bottom line results, my goal is to help you avoid making costly mistakes of time, energy, or money, whether you are doing a DIY approach or hiring an expert to help. Let's begin today's discussion.Speaker 1 (00:31):
Welcome to marketing mistakes and how to avoid them. Here's your host, Stacy Jones.Stacy Jones (00:35):
Welcome to Marketing Mistakes and How To Avoid Them. I'm Stacy Jones. I'm so happy to be here with you all today, and want to give a very warm welcome [inaudible 00:00:44]. Seth is the president of Big Frey promotional products. With over 20 years of experience, helping organizations achieve their brand loyalty and on-campus recruiting goals by providing best in class, branded merchandise, apparel, and retail, branded gifts to incorporate into campaigns. There are numerous ways promotional items and swag can help grow a business and reinforce your brand, and today, Seth is going to be sharing his advice on how brands can gain more exposure through the usage of these items. We'll learn what works from his perspective, what should be avoided, and how some businesses just miss the mark. Seth. Welcome. So happy to have you here today.Seth (01:20):
Thanks so much Stacy, I'm so happy to be here.
Stacy Jones (01:22):
Well, so I know this last year has been one where you all have reinvented a bit of what you do in your processes and standards and places. But before we dive into that, can we get and explore how you got to where you are today? 20 years of owning a business that has been helping people in the promotional good items. And we're talking here where people are getting branded swag, baseball hats branded with their company, pencils, cups, and even more fun things. So over to you, how does this-
Seth (01:56):
Sure, thanks again, Stacy. Appreciate the invite. And yeah, Big Frey promotional products, we kind of got to start or start right out of college. I went to school at the university of Wisconsin and back in Wisconsin, they didn't really have a program for parents to send gifts to students while they were studying for exams. So we started this business, I was in business with my brother at the time, named Granny's Goodies. We named it after our 93 old grandmother. And we put together these boxes filled with blow pops, gummy bears, candy bars, things along those lines. We sold them directly to mom and dad. This was in the nineties, so before the internet, and we did mailings, and folks could place their orders over the phone, I know that's somewhat archaic, but nonetheless, we sort of built that business. And then there was an article written about us in the Washington post, with where we were located, and a law firm said, "Hey, I've got these students coming to work for us. I'd like to send them a Granny's Goodies." And that led to sort of a transition for us away from directly to mom and dad, so really working with corporations and helping them build their brand on campus.
They started to provide us with their pencils, and drink wear that we could put inside the packages, and then ultimately came to us and said, "Hey, can you source those items?" And so we really built our business around sourcing promotional items, whether it may be for companies that are looking to hire individuals or students, or those with experience, as well as helping marketing organizations at trade shows, and building their brand amongst their clients. We currently sit in Chicago, and we've grown nicely. But we're a small business, and we're really fortunate to be able to go and do things along these lines to sort of get the word out, because at the end of the day, it's about creating eyeballs. That's how promotional products work. And we try to do follow the things that we've learned and execute on this for ourselves as well.
Stacy Jones (03:59):
Well, COVID hit a lot of people negatively, but to my understanding, this is not necessarily the case with you guys, because you were sitting already on a new marketing practice that we've been seeing. It's awesome. I work in Hollywood and we get all of these different studios who are like, "Hey, you spent a lot of money with us, for your clients." And they'll send us these awesome boxes that are branded with their studio, with their network, with the show, and then lots of goodies inside.
So this is something that I love, and it's the branded swag taken to a new level a little bit, but this is something that a lot of companies are doing. I sit there and have meetings with other agency owners, and they tell me about the swag program that they have sending out to prospective clients, or current clients. So this is something that people are doing to reinforce their brand. How do people go about it? Do they just call you and it's instant, or what are the best steps to actually come up with and form a true option and way to do this correctly?
Seth (05:01):
Yeah. Good question. So through the pandemic we found, as you've sort of mentioned, a lot of folks started working remotely, events sort of cut back, and we needed to figure out a way to keep our employees in place, and continue to drive revenue. And we sort of leveraged our Grannies Goodies experience from 20 years ago, and trying to find creative ways to kit these products, and get goods directly to the recipients. And as you've mentioned, whether it's a new hire gift, whether it's a thank you for working with us gifts, whatever it may be, we created a whole bunch of different themes of kits.
There's two ways that we kit. One way is clients will reach out to us directly and say, "Hey, I've got this sort of need, and here's my budget. Can you come up with a whole bunch of creative solutions for us that can meet these sort of needs?" And so there's that sort of avenue. And sometimes what we've also done is, there's a lot of ways that folks can utilize swag, because there's a tremendous amount of electronic offerings out there. So we created versions where our clients can email the recipient a code for $25 for Uber eats, and they could download two movies off of a platform that's not Hulu, premium movies off of not Hulu or Netflix.
So they could send things electronically as well, as the sort of the creative way where we will build those kits, curate those components, based on, we do a lot of research to try to find the types of things that folks are looking for. We look at trends, we run focus groups multiple times a year to see what's trending, and then we grab that gleans a bunch of information, we take that information through a survey, and then go to our supply chain to find best in class product, things that are being most well received, like I said, colors, trends, whatever may be.
So we'll utilize that during that curation process. So that's sort of one way that folks can curate, reaching us directly. We actually are about to launch a new arm to our business called Kitting Kings. Funny enough, kittingskings.com, which is where it'll route very soon. But Kitting Kings will allow for somebody to go online, there'll be 15 different kits that they can choose from. And what's neat about our kits as well is that it's a very low minimum to purchase. The buyer will provide us with who the recipients are, and their artwork, and then we'll actually wrap the box with graphics as well for the clients, as well as have the name of the recipient on the box itself. And then as they want us to release those goods, we release those goods in one job, or over time. It makes it really easy for head of HR, or communications director, or excuse me, director of sales or whatever it may be.
Somebody that wants to communicate with clients, or communicate internally, their internal clients we call them, employees, in a very easy way, because they're really busy. We are just seeing a mass uptick in activity, as I know it was across all of a lot of different industries right now, supply chain is having challenges meeting demand, getting goods. It's just, I know it's a mess. It's a mess everywhere. But that's a good thing, because that means we're heading back to whatever the normality will look like, but nonetheless, I know that was a mouthful, but again, with us, our goal is to help our clients build brands, whether that's internally or externally. And we found some creative ways to do it and really try to do a lot of legwork beforehand so that they can focus on their job, not on, "Oh my God, what am I going to send to my employees or to these folks?"
Stacy Jones (08:52):
I think you've hit on something that's really important for our listeners to hear, that you do all of these market research and deep dives, into what is actually cool out there, because gone are the days that you can just throw your logo on something and send it out and just be having someone be so excited about the mouse pad that you just sent them, that's branded. Those are probably not happening so much anymore. And everything I've seen seems to be themed, also, that's a new going trend.
Seth (09:23):
That's true. Yeah. Yeah. We're seeing a lot of that. The one thing that I always tell folks is we run these focus groups, and it really gives us a cross section of what's going on, whether it may be in a particular demographic, or industry, but it's super important for folks to run an internal focus group. Ask clients questions, ask your employee questions, see what's going on internally because they're really the folks that are going to give you the types of ideas that you should be putting in the swag. I mean, in these boxes or sending out at events and what not, that's a piece that's, I think, really important. We can provide some good data to get you started, but when we come up with ideas, ask the people that are working with you, "Hey, what do you think about this? Would you like to receive something like this?" That's something that I think is important for folks not to lose sight of as well.
Stacy Jones (10:16):
Yeah. I've always been a little testy when it gets into branded clothing and items like that. Because I'm like, that is not, we're this cool agency. No one, I don't want to, if I don't want to put the logo on me, then I can't imagine anyone else, that's been really enlightening having our early 20 something year olds, deep dive into what they actually think is cool. That could have a logo on it, and they'd still wear it. So there's certainly a lot out there that is not your grandpa's swag.
Seth (10:46):
True. The other thing to also keep in mind, and this is a bad example, because I've got this plastered across my chest, but that's because we're sitting here talking, but subtlety is something that's really important as well, because to your point, you want folks to utilize the item or to wear it. And if they're walking billboard, sometimes folks don't like that, but you can put logos on the sleeve, or put things tone on tone, so the logo is still there and that, but there's the propensity for somebody to wear that. You want them to wear it, you've invested money as a business owner, and the ability to get the brand out there can still be done. There's lots that can be done to get the person to wear it even more, like personalized things right on the arm.
So again, it's not this cheesy looking thing, if you will. The other thing is, is that in our world, thank God, we've got so much access to retail, and that cache is really trending too. So folks want to wear Nike brand, and want to wear [inaudible 00:11:49] and whatnot, and North Face backpacks. And fortunately all that stuff's in our space now, too. And yeah. Personalization as well.
Stacy Jones (12:00):
And brands that are cool to partner with.
Seth (12:02):
That's right. That's right. And the other thing is, is if you do partner with somebody, they're a client of yours, I always ask those questions to my client. "Hey, are you partnering with anybody? Let's support those brands." And the other thing is, let's make sure we don't support the other ones, because you don't want to offend your clients. "Hey, why are you, Hey-" exactly. Wait, you're working with them. I don't want to be, you'd be donning that sort of stuff.
Stacy Jones (12:27):
Right. You'd be nothing if you were an agency and you were to send out something that's Nike branded and Adidas as your core client, that would be a bit-
Seth (12:35):
Yeah. That would be a very bad cough. That's true. That's true.
Stacy Jones (12:39):
What are some of the other mistakes people make along the way when they're looking at swag and different branded promotional items for their company?
Seth (12:46):
Yeah. I think what's really important to pay attention to, well, first of all, is budget, and really to know your audience. And we talked a little bit about that beforehand, because you don't need to break the bank to get your brand out there. There's a lot of folks that make decisions based on what they like, as opposed to what other people are going to like. And I think that's where we try to help create some insight, but understanding budget, again, it's not about the cost of something, it's about the, I call it, the throwaway factor, are they going to hold onto it? Because sometimes you got to get really cute.
And my job has also push back and say, "Are you sure you want to do that? Are you sure that that ties into your culture?" Just because somebody else is doing it, doesn't mean that that's going to make sense for you. So budget, culture, is it tasteful? I have lots of clients, make sure that it's tying into your brand. Smaller businesses may not have brand guidelines, large companies do. And it's our job to kind of police that. And internally that should be policed as well. "Hey, do you want to really put your logo on a fuchsia shirt?" I'm not saying fuchsia is a bad color, because it's great, but it just, you want to make sure that it is tasteful. And again, that kind of goes back to, are they going to use it? Because some of this stuff can add up, particularly when you're going to an event, you want folks to be able to use that.
Plus there are a lot of products out there where we can actually capture data around usability. Unfortunately, you can give somebody the nicest Nike polo, but you're not a hundred percent sure they're wearing it unless you try to do something creative through social media, "Hey, take a picture with it, and you'll be in a drawing to win a blah." That's one way to drive the use of something. But the other way is there are some products, particularly some of these electronic gifts that we do, where you can see whether somebody's redeeming them or not. And that's another easy way to distribute swag. There are a bunch of electronic gifts, Uber eats codes, codes for movies, and the like. So those are just some things like I said at the top of my mind.
Stacy Jones (15:22):
So when you're diving into the different items that are not fuchsia shirts to brand, how important is it to be looking at things that are trending, like fidget spinners, right? I don't even think they're trending anymore, but they were in a big way for a while, and I think that was the go-to for a lot of companies. And then obviously in the last year, come on about the masks and the hand sanitizers, that was trending in a big way, which might still be relevant, or it might be taking a back burner, I'm not sure. How important is it to dive into those super cool moments?
Seth (15:57):
Yeah. I think there's a balance. Our job and anybody that you partner with around the agency type things, I think it's really their job to help navigate through what's new, what's trending. And we spend a lot of time interviewing our supply chain to make sure that we see best in class. I think it's important to be aware of trends, but I think it's also, you got to be careful, because some of those trends can be very fleeting. Like you've mentioned, the fidget spinners were so hot and heavy early on, and then the supply chain tends to catch up, and by the time supply chain caught up, it was gone, right. And I know that a lot of people got hurt in that regard, in my world, sourcing those types of things.
But it's important, at the end of the day, Stacy, I think we've mentioned it before, it's are they going to hold onto it? Are they going to throw it away? Knowing your audience, are they going to think that's cool? I mean, if you're doing business with a bunch of baby boomers, they may not want those fidget spinners, even when they were hot and heavy, right? We, again, we think it's cool. I think it's knowing your audience. If you are providing, if you're at a trade show, and you're handing out widgets, and this is where I go back to budget, if you've… I'm going to make it up, let's say you've got $3 per person that you want to spend. I'm a big fan of having three different things for a dollar on the table, so that people can choose, because then they're going to take away what they want. And A that'll give you some insight for the future, but it'll also help you prevent from that sort of the throwing away factor.
So the variety is helping. Certainly colors are helpful when you're at a trade show, that drives people to come to your booth, or your job fair. But yeah, I think it's trends are important, but just be aware of who's receiving those items. Your business is a little bit different than how we market, and that would apply I think to anybody. Just need to be aware of your culture and your brand.
Stacy Jones (18:12):
And then also, obviously, you touched on it. If you're at a college fair and your plan is $3 per person, that could be very different from a brand who wants to reward a large customer that they're working with, who, depending on the price tag may have bought a car, or they may have bought an electronic, or may have bought a house, or who knows that's out there, because you have realtors who are out there too doing these types of buying. Is it better to look at your budget and maximize it and say, and you kind of already addressed this with the college part, but for the bigger ticket item people, is it better to look at it and say, can I give them more as a gift? Or should I look at something just larger and do less, right? Should I do more items versus less items for these big ticket options?
Seth (19:08):
So when I was growing up and we had granny on our team, with Granny's Goodies, that I've mentioned, she always said variety is the spice of life. And so I sort of take the variety, because then they can utilize the widget in different places, maybe in the car, they can use it when they're in the office, when they're at home, and having a variety we've seen creates more eyeballs. And actually what's helpful is not only for the user, but the recipient's family, peers, whoever's around, they'll see that brand as well and say, "Oh wow, that's really cool. You've got them from so-and-so." And again, impressions is what we're looking for here, in anything that we do for marketing.
As it relates to some of the higher ticket items. I think when folks are deciding upon gift giving for clients, with us we take sort of a phase approach. When we go with a client, we try to understand, okay, you're first going to engage with this client, I'm going to make it up, at a trade show, right? And you engage with them. And then you create this first meeting with them, and then subsequent to that meeting, may have a second meeting, and then you propose something to them, and then you hope that they accept that proposal. We create widgets for each of those phases, that can either be shipped, or can be handed out, or emailed with our clients. And then at the end, once they've engaged with that client, at that point, you want something that's unique to that buyer. You've learned about them. I think that's where you can do better with that higher ticket item, and that's not something that you're going to brand per se. You may send it in a box that's branded, or have a card that's branded, but you're giving something unique to them.
Earlier in the process you're spending less, and that sort of funnel, if you will, goes like that. But I think it's really important to, who is it that's receiving it? What phase of the process are they receiving it at? And certainly at the earlier phase, your dollar per piece is going to be way down, because you're trying to hit a much broader audience. But I like to look at things as a whole. What's the ultimate goal? What's our brand look like? How are we going to touch them through each of these phases of the process? And I'm guessing that most business owners think like that in some way, as they're trying to engage with their clients, however they engage, ultimately, you want to take care of those that ultimately become your clients, and then you want to do things with them to retain them as clients. And I think that's really where the personalization comes into play, where you're putting initials on things, you're buying them things that are unique to them. And each person's going to be a little bit different.
If you're in a position, unless you've got thousands of clients, then there are programs that you could set up where it may not be so personalized, but it will be something that will be reflective of your brand, always within budget, and then trying to find a way that's really easy to deliver. That's what we do all day long for our clients.
Stacy Jones (22:27):
And that magic budget question, and I bet you get this a lot, when you have a new client and they're like, "Well, how much should I spend?" And you're like, "Well, how much do you want to spend with marketing?" And they're like, "Well, I don't know. You should tell me, how much should I spend?" And then it's this catch 22 of you going back and forth. And you're like, just tell me a number.
Seth (22:45):
Right. That's right. That's right.
Stacy Jones (22:48):
Did I paint that picture pretty well on how that sometimes goes?
Seth (22:51):
That's how it works. That's how it works. Yeah. The one thing to always be careful of is in some industries, you can't give a gift that's worth more than X. I don't have visibility into that, but that's always the first question, I always ask is, forget how much you have to spend-
Stacy Jones (22:51):
Like pharmaceuticals an example.
Seth (23:09):
That's exactly right. So how much can you spend on anything? What are the restrictions on that? But I always, my attitude is for $25 to $50 for a new client, you can really get some substantial widgets. There are really nice backpacks that folks can utilize, there's really nice portfolios that folks can utilize. There's portfolios that have built in power. You put your phone down on the portfolio and it powers your phone. Those are things that people are going to hold on to. If you're wanting to spend a lot less, I mean, there's pop sockets, which is that retail cache that can be branded. I just tell folks, look around your desk and see what kind of things you're utilizing for power, for your car, drink wear-
Stacy Jones (23:58):
Mouse pad.
Seth (23:59):
If you wanted to. It's ironic that you're saying that Stacy, because I had a client reach out to me today, they're moving offices and they want… They're moving to offices. They need a hundred somethings to put on their desk. And they said, "Oh, I'm thinking about a mouse pad." I'm like, "Okay, let's do a mouse pad, but let's use something that's really unique, that's got a power component to it, so they can put their phone down. It's sort of dual functionality." That's actually another piece too, is that if one can find a widget, and there's plenty out there that's dual and functionality, that's always a good thing as well. So mouse pads, aren't a bad thing because folks use that stuff-
Stacy Jones (24:39):
I'm fixated on them actually, because our team actually is on this mouse pad hunt right now, because they're like, it's not even for boxes to send away, it's the same thing that you're saying. We want to have something branded in the office for our team members to have, and it keeps on getting dialed back to what's handy.
Seth (24:56):
That's right. That's right. I mean, there's basic categories in the world of swag that folks always sort of gravitate to and mention, like just journals because folks can take them to meetings, and things that you can obviously… There's so many great, I know this sounds sort of boring, but there's so many great metal pens that are out there, where you can do really robust printing, and it doesn't cost any more than sometimes printing one color logo. That's the other thing, a lot of clients, when you're thinking about branding, many folks may, they may not know this, but in our world, generally the more colors, the more expensive. And so some folks, and this is something to be aware of, and we're creating a new brand for this Kitting Kings as well, and it's always good to have a one-color version of the logo, as well as the multicolor, just so that you're prepared, because printing paper is a whole different animal than printing on promotional swag. And so you have to be careful-
Stacy Jones (26:02):
Embroidery costs, or whatever might happen. Your plate charges go up. It becomes a more expensive upfront ask as well.
Seth (26:10):
That's right. But again, well, our job is to try to, I always try to find cool products that that doesn't tie into, like with your mouse pad comment. Mouse pads are full color printed, so it shouldn't cost any more money. Use the color, that's really important. And there are, like I said, some pens out there that are just really cool, that have got styles to choose, and they're metals, one side has had a light to it. It's amazing how valuable a powerful flashlight can be. I mean, I'm 50 years old and it's like, "I can't see this." And I press on my flashlight and there you go.
Stacy Jones (26:45):
All of a sudden it's perfect accompaniment to go in your pocket when you're going out to dinner, so you can read the menu.
Seth (26:50):
That's right. That is true, That is true. For me as well. But again, there's so many. Electronics are obviously really trending, anything around drink ware is a great giveaway, folks take that to the gym, put that in their car, again, it's about the impressions. You want to get folks to use the widget.
Stacy Jones (27:12):
So how can people learn more about you? How can they find Big Frey promotional products?
Seth (27:19):
Firstly yeah. So we're on the web bigfrey.com just like on my shirt here, bigfrey.com that will allow for folks to learn about again, we have a lot of data on there around how to go about choosing widgets, how to contact us, we have an 800 number if you'd like to go pick up the phone old school, (800) 888-1666. I can certainly be reached it's [email protected], and everything's going to tie for our new sort of arm to the business, with these unique kits, as we continue to work in some hybrid remote environment, at least for the short term, if that's something that you're looking to send kits to your employees or to clients, you can find kittingkings.com, literally through bigfrey.com. We're going to be doing some marketing, you may see us on Instagram and LinkedIn, and through search when it comes to sending kits to, or swag kits, we're going to be doing a lot of that over the next five or six months. So hopefully you'll be able to see us there as well.
Stacy Jones (28:27):
I can not imagine that these kids that are going out are going to drop off, this seems to me like the big new trend, where it's not just that you're getting an item, but now you're getting an assortment of a goodie box, sent over to you, and you open it up and it's all branded, and it's Instagrammable. And you want to take a photo because it's just so cool.
Seth (28:49):
Yeah. We really try to give our clients some ammunition to be able to build their brand and to engage. That's really important. And the kits do that. The kits provide a vehicle to not only get widgets into the hands of the recipient, but to create an engagement strategy for our clients with the recipient. We put cards in there and say, "Hey, take a picture with this, post it online." We do that a lot with summer internship programs with our clients, because they too are just trying to find additional ways to engage in this sort of weird environment that we've been in for the last year and a half.
They still continue to be, particularly in the college recruiting world, which is where we hang our hat. They're not going back to campus yet until probably till next spring, so they want to continue to find ways to engage with these students. And I'm starting to hear about some more events that are happening in the trade show world. But I think that folks are still a little tentative. I mean, I asked these questions of clients, "Hey, can we get together for lunch? But let me know if you're comfortable with that." Some folks are, with vaccination, they're still a little anxious about that. Or there may be a rule within the company that says, "Hey, we don't want you engaging until we get back into the office, which may not be until September or the fall time." So.
Stacy Jones (30:22):
Well we also have, even besides the health concerns and company policies, I think people have learned with COVID how much they can get accomplished now on a Zoom. And they're like, "I have to actually put bottoms on with my shirt, and I'm going to have to leave my house, and I'm going to have to drive somewhere to have this lunch. Is that lunch worthwhile for me to go through all that efforts to get there?"
Seth (30:45):
That's all true. That's all true. I think management for every organization needs to figure out what's going to work best. I mean, I think as a sales professional, certainly I like to collaborate, but I think your point is well taken. It's what's going to be most efficient for everybody, because it's easiest for me to sit here in shorts and a t-shirt and engage with you, and as long as we're productive and efficient, then that's awesome, and we don't have to spend all the time getting to the office, or what about the time to get back from the meeting, to get back to the kids or the family, those responsibilities, and there's that piece too. But I always tell my clients, "Hey, as long as you're okay with me wearing shorts and a t-shirt, I'll come to you, you can wear whatever you want. We can go right outside your door. You can get right back to work."
Stacy Jones (31:32):
Yeah. And I'm not in the least bit surprised, me being in sales as well, that you're like, "Nope, I'll do anything. I'll drop anything. Happy to meet in person." Because it is. It's still a relationship business. But the swag kits that you're doing are certainly a great way to conquer that chasm that has opened up, which has taken away some of our personal one-on-ones.
Seth (31:54):
That has, it has. Yeah. We're really working hard to try to bridge that a little bit. But to your point, I think there's so much that we learn during the pandemic about how we can be efficient. And every company is, you've got old school companies, you've got new school companies, and in between, and everyone's trying to figure out a way to work efficiently, and be good to their people, and be good to their clients. And so we're just trying to continue to do that and be supportive of our clients and help them build their brand.
Stacy Jones (32:32):
And one more question for you. So in these kits, when you're doing a [inaudible 00:32:36] box of different things, does everything need to be branded with your company's logo? Are you missing out if you're sending things that don't have that? And they're just like a cool tie-in, but not your brand all over it.
Seth (32:48):
Yeah. No good question. A lot of our kits don't have branded merchandise. So we've got a milk and cookies kit. Okay. And so the cookies come in a canister that can be branded, and the box can be branded, but the milk is retail branded. It's a product from Fairlife that can, it doesn't need to be refrigerated. Right. There's that. And then we also put in a Starbucks card, because there's value to that brand, and again, I think there's a balance. That's where, "Hey, why are we sending this out?" Listen, sometimes it's, "Hey, I want to shove my brand in your face." And that's important, right? Other times it's, "Hey, I'm giving you a gift." And this is where you try to manage the subtlety of your brand.
The canister is great because you're going to consume the cookies and then that's going to be discarded. Same with the milk, but maybe you have a Yeti water bottle, Yeti tumbler in there, and that's laser etched with their initials. So they'll always remember you for that. And the box will be branded. So you'll get the point across. You don't have to keep smashing somebody over the head. It's about, like I said, the subtlety, but again, it goes back to why are you giving it? And, how can you make sure that that impression stays as longterm as possible? And they'll associate you with, oh, I got this really cool gift from, from XYZ company. And two months later, they will be taking their tumbler on the way to the gym and it'll have their initials on it. And they're like, "Oh yeah, XYZ."-
Stacy Jones (34:27):
Whatever happened to that company I was going to work with, I should call them.
Seth (34:31):
I should call them, that's right. And buy some more stuff. Or service or whatever it may be.
Stacy Jones (34:36):
Okay. Well, this has been awesome. Are there any other last words of parting advice that you can share with our listeners today?
Seth (34:45):
Be smart about how you leverage swag. Talk to the people internally, talk to the people externally, don't overspend, reach out to Big Frey, and we can really help you navigate through all the options that are there. And hopefully folks will lean on their supply chain, because really that's what vendors are supposed to do. We're supposed to help you out, and not just be a resource for sourcing stuff. A lot of times we look at things and be like, "Oh, I can get this from this guy. I can get that from that gal." At the end of the day, you want somebody to provide you with creative ideas, at least in my world. And most of all deliver. Deliver on time. And this goes I think for any business owner, is don't create expectation gaps. We certainly don't. If I can meet and enhance it, I'll let you know. If I can't, I'm definitely going to let you know, because I don't want to make you look bad. I certainly don't want to look bad, but there's always a solution. And I think at the end of the day, what do we want to be, do we want to be truthful to ourselves and to our clients? And that's what we do. And I would say that to any business owner.
Stacy Jones (35:55):
Seth, thank you so much for coming on the show, and sharing your insights and your do's and don'ts. I think that there was a lot that you shared that our listeners are going to find value from. And I too, who we're trying to figure out what our kitting program is, certainly was able to learn a lot today too. So thank you.
Seth (36:13):
Awesome. You got it. Thanks so much, Stacy, appreciate the opportunity.
Stacy Jones (36:16):
Of course, and to all of our listeners, thank you for tuning into another episode of Marketing Mistakes and How To Avoid Them. I look forward to chatting with you this next week. Have a great week until then.
Thank You For Tuning In! 
There are a lot of podcasts you could be tuning into today, but you chose Hollywood Branded, and we're grateful for that. If you enjoyed today's episode, please share it, you can see the handy social media buttons below and the left side of the page. 🙂
Also, kindly consider taking the 60-seconds it takes to leave an honest review and rating for the podcast on iTunes, they're extremely helpful when it comes to the ranking of the show.
Lastly, don't forget to subscribe to the podcast on iTunes, to get automatic updates every time a new episode goes live!