Check out some of the past episodes we've covered on this topic:
You can check out our playlist here
Hollywood Branded  Content Marketing Case Studies
The following content marketing case studies below provide even more insights.

The Path To Becoming A Certified Influencer Marketer With Hollywood Branded
Get ready to learn a ton of how-to's and the tips and tricks of our trade, as you advance your influencer marketing game!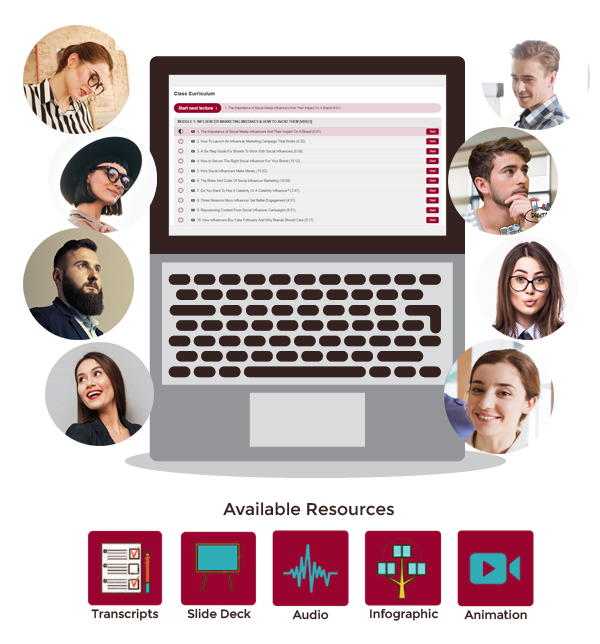 Full-Length Training Videos
Transcripts – Infographics
eBook Guides
Case Studies
Hollywood Branded Surveys
MP3 Downloads
Animated Videos
Additional Educational Material
Quizzes & Exams
Certifications In Influencer Marketing
Transcript For This Episode:
Stacy Jones: Welcome to marketing mistakes, and how to avoid them. I'm Stacey, Jones and i'm so happy to be here with you all today, and I want to give a very warm welcome to both Chris and Eric Martinez, Chris and Eric are the founders of dynamic fit pros, helping health and business coaches build and scale their online coaching businesses where they've worked with over seven hundred personal trainers, fitness professionals and health enthusiasts. They are top of the charts, International number one best-selling authors, and the host of the podcast dynamic lifestyle, one hundred and one of the standouts that impressed me most is that these two brothers have developed and scaled an online business driven by content marketing. They practice what they preach daily, and that's to live a dynamic lifestyle which in their eyes means to keep evolving in all areas of life personal growth, career relationships, and adventure.
Today. Chris, Eric and I are going to be chatting about content, marketing, and how to use it and build and grow your business. No matter your niche. We'll learn what works from their perspective, what should be avoided, and how some individuals and businesses just miss the mark, Chris Eric, Welcome! So happy to Have you here today?
Eric Martinez:
Stacy. Thank you so much for having us really really appreciate you, and thanks for the the Intro. Um, I was gonna say uh, if your audience is watching this on Youtube Video: Um, You see two identical twins with humongous caterpillar eyebrows taking up the zoom boxes.
Stacy Jones: You've missed out quite the conversation of our head about eyebrows. But well, yeah, yeah, we're happy to be here and excited to deliver a value to your audience. Well, thank you. Well, what i'd like to start off doing is chat about how you know, Chris Eric. You both got to a place where you have established yourselves as business coaches, but by doing so through content marketing, and you really are playing at a level higher than most, I think that of your competitors in this industry. Um, how did you get here? What's your back story?
Yeah. Great Great question. Stacy and i'll definitely take the listeners through um our story, our personal story and kind of how we did get here, and I think it's a great uh point just to like talk about this because someone that you could even just one person's listening to this, and it's going through an adverse situation. It could really change your lives. So. Um! When we grew up. Um, you know, we grew up in a really picture. Perfect family, mom, Dad, My dad was a a state uh California correction officer at a San at San Quentin State Prison. So he was a correction officer there, and he was part on us. He was hardness. He taught us a lot of work ethic just all about education, school everything, and we're seventeen years old.
Eric Martinez:
We lost him in in a car accident. So you know, three, three days before Christmas. Uh! We got a knock on the door from a California Highway patrol officer. That's really not a good sign at two in the morning, and um I remember I thought I was having a nightmare. I saw my mom screaming on her knees.
Um! And you know they had said that he fell as he fell asleep behind the wheel so instantly. There, you know our entire life just uh turned like a three sixty, You know we lost our our role model our our leader Um, just in a blink of an eye. And after that, three months later my mom lost her mom due to cancer, so it was a like a ton of bricks had hit our family and my mom to where I felt like we lost a a big part of her, too, because she turned to alcohol. She turned to antidepressant pills. She just wasn't the same person for a long period of time, and Chris and I. You know we have an older brother. We were all just grieving our own way, and we were lost. We didn't know how to deal with like that type of loss. So we went, and just different directions. And you know, Chris and I turned to just like, you know, alcohol got into a lot of trouble with the law, but after that, you know, um went through the motions. We're twenty, four years old. Time just passed, and we're going through college, and then we actually were flipping through a a a magazine like a muscular developed one, the muscular development one. And then we uh, we actually hired a mentor that was doing online coaching and getting into it early back in twenty uh two thousand was about two thousand and eight, two thousand and nine. Chris: Yeah. So then we hired him our first mentor. He was uh he built an online coaching business, and we were just like students and sponges and saw what he was doing. We saw the possibilities. We went on to get like our certifications and personal training, our masters in sports, nutrition, everything. And then we just, you know, took action, built our first business dynamic, do a training where we helped tons of people with just like customize exercise nutrition programs for. I want to say almost eight years did extremely well with that. And then the last four years just pivoted to B to be coaching uh just helping health and fitness. Coaches do the same thing, and you know we've written a couple of books. We have a great podcast called the Dynamic lifestyle podcast, over four hundred and fifty episodes. So that's kind of what has brought us to here to where you are here. Congratulations with your four hundred and fifty podcasts, and I I've spent them everywhere. I was doing a deep dive into y'all. I'm like, and here's another whole series of podcasts. And here's another series you really um covered and leveraged that because you also bring that into your social content Quite a bit um and overall into the entire product that you market what i'd love to understand is, you know, where do you see benefits from content marketing and podcasting, and
Stacy Jones:
Like how have you seen this help? You scale.
Chris Martinez:
Yeah, So I would say, like just like as far as like content marketing. What we teach our students is, there's three ways to basically create traffic and traffic these days as attention. So you know everybody that's a you know, Creator, a coach. I'm a business owner, I mean. Obviously, you want traffic. You want attention like on your brand. Right? Um. So the three ways basically um creating traffic. That's basically everything you can do. Organic wise like Instagram Facebook having a podcast having a Youtube Channel having a blog and Newsletter right? The second way is um borrowing traffic. That's joint ventures that collaborations. Right? That's affiliate programs the third way is paid traffic. So that's obviously anything like, you know, Media buying Facebook, Instagram, Youtube, as Google ads, whatever it is, we teach people in our program to really start with creating your own traffic, because not everybody has deep pockets to be able to spend on paid advertisement. Nor they should they, because they don't have a foundation or an authority or reputation that backs that up right, and the second one is a lot of people just don't know how to sit there and borrow traffic at that high level yet. So your best bet, if you're starting off on this, is to start by just and What that does is it gets people to know like and trust you. How do you take a friend to us from a from a stranger to a friend to a buyer, and the only way to really do that honestly is through your content marketing to showcase your story, the value um your mission, your your vision results that you actually provide right. And you know there's a lot of people that say that you know you don't need content marketing. But i'm a big believer after being in this like for eleven years, and building two like multiple six figure businesses and helping coaches that you need content marketing, you know. So that's kind of like my stance and like, you know, content marketing. Yeah. And I think just really quick to add that Stacy I mean, if if you really look at it, like it in a in a holistic way to where you're seeing that where the future is going I mean, everything's going virtual. Everything's going digital, and it's to me it's just You are shooting yourself in the foot.
If you are not getting on board and building an online brand. And it all. It really does start with your personal brand, like, you know, Stacey Jones, Eric Martinez, Chris Martinez. It's like our personal brands are not replicable. So people buy people. So that's the beauty of is like. You can build an online personal brand, and you know who knows what opportunities are going to come with it. It doesn't have to be a business right away, but it's like if you're giving value value building that audience getting your message out there, I mean, you just never know what door can open later on,
Stacy Jones:
I think earlier on in my career I was a little bit more shy about taking um opportunities, and I was, you know I don't evaluate. I'm like. Is this a good opportunity to be on someone's content, you know. Is it really great. I had a lovely learning lesson one day where I showed up for a shoot.
It was for something else. It's something I never would have said yes to said the whole time it was fine. She was great just wasn't what my expectations were, and I left i'm like, huh, you know. Maybe in the future I should research this out more.
It was still professionally done. Very nice.
Eric Martinez:
That piece of content that was made that day still performs. It still shows up, it's still trends. You never know what is actually going to be out there, and this is something that I did probably thirteen years ago, fourteen years ago, and it's still bringing me clients today. So that's the magic that I see on content is there's no reason not to do it.
Chris Martinez:
Yeah, hundred percent, and that's that's awesome. If you look at Youtube, and you know podcasts are evergreen, so it's like they they just live on forever. And I tell to like our coaches like. If you look at you know Facebook and Instagram these days, people are most likely first to go to your Instagram and Facebook to scout you out instead of like this big fancy website, you know, like the website, can just be like an online business car. But they really go into like your content to see who you are. Right.
Stacy Jones:
It's nothing like having a conversation with someone, and they I know who you are can tell you, Jo, you've told them, because they've listened to your podcast, or they've listened and seen you in other content. They know your vibe, your voice. They get you they've already bought in. So all of a sudden you've changed the buyer proposition from having to be selling, to actually being able to educate, which is your natural core, and I know that's your guys's core that you like educating and meeting and enabling people to do better, and it it's much nicer than having to say all the time. Oh, no, no, no, I'm valuable. I have. You know, something I can give you, and having to prove yourself
Eric Martinez:
because you've done that?
Chris Martinez:
Yeah, Absolutely. Yeah.
Stacy Jones:
So where would you all say when you're working with different coaches, How do you tell them to start? Because it's daunting to be told by the way, go out, Make content. Please pass right up along, show up on social media. Oh, just do some Instagram stories. That's a lot for most people.
Eric Martinez:
Yeah, those are really good. Yeah, I would say that. And then we'll go into the ammo part. But I think the biggest thing it's. It is a mindset shift, and you have to. If you are a business owner. If you are going to create content, you have to reframe your mindset to look at this as business media, not social media. I think too many people get caught up in just like the going down the feeds, consuming, consuming, consuming the rabbit holes, putting so much emotion into it towards like. No, put your business hat on, put your business lens on, and treat this as a business media platform.
Eric Martinez: So then, also, what that means is, you are now. You are no longer the content consumer. You are now the content producer, and there's it's very different when it comes to that. It's like you are treating this platform to sit there and give value to people. You're not. It's not about you, and then yes, you are happy to get, you know, to monetize this, you know, for your for your God-given talents use the platform for what it is. Get in and get out. Don't get too emotional with it. Don't. Sit there and try to people, please everyone. Just post what you need to post and just collect the data and try to just speak to those those people and just gain that audience and Don't worry about all these hundreds and thousands of followers that are going to sit there and just always buy from you, because that's not true.
Stacy Jones:
Yeah, you're saying that if you launch a podcast or any sort of thing that just hundreds of thousands of people aren't overnight going to. I thought That's how it worked. I know I know right. That's That's what we see. That's That's the the perception, and and just instant gratification everywhere. The The podcast gods like literally. We'll sit there and shout to everybody. Once you start a podcast that, hey? Let them know. I started a blog back in two thousand and twelve for our agency, and we we reach about thirty thousand people on a monthly basis for readers, but I think in year one i'm pretty sure there was under ten. I'm not kidding, and if you look and you go back, and you look at the numbers and the metrics that you have to start somewhere, and we could scale our way higher than what we're even at right now, if we did smarter ways to get your content from people. But for us it delivers, and it takes time, and we're talking a lot of years in between. Podcast I started. I have over three hundred and fifty episodes, and started that over, I think, six years ago. But all of these things. You just have to start doing it, recording or writing, and you have to start somewhere.
Chris Martinez:
Yeah, and it's just also to another mindset shift to it just like you know, people need to stop thinking that there's like this a plus work that they're going to put out, you know, as far as content because it never exists, you know, and it's like if you, If you just had that mindset to put out your B plus work that you're gonna serve so many people and help them so much through that d plus work instead of that illusionary kind of a plus work that never exists. It never exists.
Eric Martinez:
Yeah. And this
Eric Martinez:
I was to say, really quick, there's a great uh like saying, says every master was once a disaster, and I I go back and look like a ten year, ten years ago of our Youtube videos I cringe. I cringe on like what the heck like, you know it's just it's It's awesome, though it's awesome to see that evolution. And you building that skill, set over time.
Eric Martinez:
So are you saying that you guys don't go in and edit every single video you do down to like the minutia. No, no, no, no, no!
Chris Martinez:
And that's a big concern for a lot of people, I think you know, they get in, and they get so focused on everything where they write out scripts. And then they sound stunted because they their script.
Yeah, exactly, or they'll think that they'll have to have, like all these lights camera action production with like a mic, and like this, like two thousand or camera. And all this stuff, and it's like you don't need all that stuff like the iphones are really really good these days, just to start off to build some traction. And then, yeah, once you make some money off your audiences, you have, and the value you're exchanging. Okay, great. Then you can always level up and put that back into, like, you know, getting some equipment to enhance it once the skills are getting better.
Stacy Jones:
So what do you want to do Once you produce content? How do you parlay it out into the world and release it? How do you work on monetizing that content?
Chris Martinez: Yeah. So I would say, like the biggest thing that we our focal point would be. Is the podcast right now? From there, you know, like you said, we are playing at a different level from everybody. So everybody's gonna have kind of different social platforms. But we we utilize pretty much every single one of them, you know, Uh Instagram Facebook, Youtube a podcast. I even consider in a newsletter like basically a social media platform. So those are like kind of like the five pillars that we really like, you know, use our content. So it really starts with the podcast and Youtube Channel from there. It's like, you know, Once we have a podcast set up.
Chris Martinez:
Okay, great. The rest of it's like really promotion. And that's why we do like the video component to go on Youtube, because it lives evergreen. And then also it's the second biggest search engine optimization besides Google, right? Um. But from there, if you have the video component, then you can play the game of like, you know, putting reels, and you know, chopping that up into content on Instagram and Facebook. Right? And if you have a newsletter great, you could always let people know, Hey, This episode came out, and just have them anticipate that every single week that a new episode came out.
Eric Martinez:
So that's really kind of how we play the game of like distributing our content. It always starts off with the podcast. Yeah, And I think that to add to that, We're very. We're very intentional, though, about what we're putting out. So we have a content. Calendar that's mapped out for each month. And literally, I mean, you could do this you could. You could map out your entire content for the month, and just batch it all up on one day, or you can just do it every week literally, I mean for me what works well is just blocking out two hours on a Saturday, and literally like mapping out all the pieces of content that we wantto put out there for the week, and whether that's just intentional. Do we have a launch coming up? Do we have something that we want to sit there and really heavily promote. Um! Is it just like a theme? Is it something what we want to test out? But it's that's the beauty of it is just like we. We sit there and batch it all up. So we're not stressed out. We don't have anxiety during the week and back. Oh, my gosh! What do I got to post this week? It's literally all mapped out um breakfast, lunch, and dinner. This is what we're posting. This is what the stories are, so just it. It makes life so much easier. And then, whatever you know like after that it's out of my control as to what's going to happen is the algorithm gonna you know, perform? Well, are people going to like it? Are they going to share it? Those are my uncontrollables. What's in my control is, I can show up every single day I can produce the content I can put out great content. Try to inspire help people.
Eric Martinez:
Yeah, I just have to live with that and just go with like the analytics, the kpis and keep doubling down on what's working and what's not, and then just go from there.
Stacy Jones: takes people make when they are producing content, besides trying to make it perfect.
Eric Martinez:
Yeah, I think it's just there's a lot of mistakes. I mean people just number one. They just don't know, you know, like let's say, let's put this in a context of a business owner. Um people don't know their audience. They don't know their messaging, and they don't have an offer. So when you don't have those three things, I mean, it's going to be extremely challenging and difficult as to what are you going to put out on a day to day basis in every weekly basis like, Who Who am I speaking to? Who's my my perfect future client? What's their wants? What's their pains? What's their desires? What's their needs?
What are they thinking, What's their false belief patterns? How can I sit there and reframe their mind? How can I get them to think differently? What are my solutions to their pain points. What's my methodology? What makes me different than all the other people? So there's a lot that goes into that. So if someone doesn't know their audience and messaging it's going to. They're going to be speaking to the masses, and that's going to be just very confusing. It's like fishing in a huge pond like good luck.
Eric Martinez:
And then, you know, if you don't have an offer um again, what are you going? What's your call to actually gonna be like. Where are you leading people? What What is it that you're trying to do? So I think if we start up with those three things, Audience: messaging and offer. Those are huge mistakes that people are making. But then again, um! We could go down the whole thing of like people just overthinking just paralysis by over analysis, like Chris said. People wanting to put out a plus work instead of just putting out B plus work, getting their hands dirty, helping people out, not making it about them. So I mean, yeah, there's just so many layers to it. I'll add to this really quick. I think that that mistake is not really understanding the game of content. You're playing so like there's the content marketing in the very first two phases is basically phase. One is just post something and just literally show up and just post something on Instagram or Facebook, whether it's a video, a real whatever, just post it. The second phase is basically post something, and then post it consistently whether that's Monday, Wednesday, Friday. But stay consistent. So people anticipate that those two phases it's really intentional for just the no like trust factor, that's all it is. Those first two phases are not intended for you to get any clients. The next three phases when you start opening up channels you start getting more creative, innovative posting more, all that stuff that is meant to sit there and get your guys clients, you know, and it's like. Then they end up hating it because they're not getting engaged. Man, this there's so many things that go into it.
Yeah. Engagement. One of the parts that's key to social, and and you certainly touched on the fact that you have to create the content, and you touched on the word engagement. But you also have to be social. You have to actually be responding to or reaching out to others. How do you all approach that?
Chris Martinez:
Yeah. So what I do is I just literally like, create a system to where i'll just go into, you know Facebook and Instagram, and then we'll. I'll just have it like time blocked literally for thirty, two times a day, because if I keep going back and checking my likes in my comments, and doing it right on the spot that's gonna throw me off of like what i'm trying to do and lose my focus right? And i'm again. I'm gonna end up hating it because i'm like, uh, I gotta check Facebook, Instagram, and I gotta get back to these uh these questions and and engagement and all that stuff. So make it easy on yourselves. Guys like just literally time block. Put it on your schedule just like if you would go to the gym or do something on the schedule and put in like a fifteen to thirty minute time lock where that's your one hundred percent focus is just going back and just going back into engagement and replying back and connecting with people. Because that's another thing, too, if you're like, you know, at the grocery store, and you're trying to engage back with people. You're not really like taking the time to really read their responses or their questions. And you're giving them that kind of like a rush, shitty type of like answer, and that's a reflection on on you and your brand. So if you time block it, you're going to put a more quality type of like answer or feedback to their question or their their engagement.
Chris Martinez:
And it's just going to only help your brand going forward.
Yep,
Stacy Jones: over all of a sudden tomorrow. What would be the first thing that you would do to re-establish yourselves, or establish yourself for the first time.
Eric Martinez:
That's a that's a good question. I I would definitely.
Eric Martinez:
So this is I'm. I'm big on this I I i'm big on dominating like by three to five mile radius. So I would really start there. Um! Just make a list of all the different businesses that are within three to five mile radius. And who really can I sit there and collaborate with and and just cross across reference businesses? I would start there and then I would just literally start with again, just like a fresh Instagram Facebook, and just build for it. Just focus on my personal brand. That's it. Just again to start putting out good quality content, and then just giving, giving, giving, just go from there,
Stacy Jones:
There you go. I was gonna say, Stacy, are you talking about like if we lost all of our our content. Or it could be the Internet went unplugged. Or it could be that you're like, I'm just, you know, gonna do a new thing.
Chris Martinez:
Yeah, that's good. Um, I guess I would just like start making more alignments, you know, figuring out like you know, who I could sit there and partner with, to be able to sit there and go on their platform and borrow their audience. Going back to what I talked about is, how do I borrow their audience with the Jb. Or collaboration, or something like that. So I would try to do that, whether it's Instagram, Youtube, a podcast and email blog whatever I would try to sit there and borrow people's traffic to build that backup.
Stacy Jones:
And when you say that, what would you actually do? What would your tactic be? So for our listeners who are like, Borrow someone's audience like, What am I supposed to do? Just like, Go in and like Dm. Everyone that's not what you are talking about. So what do you mean?
Chris Martinez:
Yeah. So let's just say right now for my it, for my instance, like we help health and fitness professionals off. We lost everything. What I would do is I would make like a list of probably like twenty people that have my audience right, and those could be youtubers. Those can be podcasters. Um! They could even be like Go into like universities, right? Because universities have up and coming, like you know, health and fitness, professionals and exercise programs, nutrition programs. So I would go to these people and just ask them: Can I provide value to your guys, students or your audience, and these are like the three different topics I would do.
And then you know whether they would let me do a call to action or not. I mean that's totally up to them. But at least i'm getting the attention and getting my my face out there, and the value out to them to be able to build my social media following or my list again.
Eric Martinez:
Yeah, I I think something very similar. I would do that, or I would just make like what's called a dream. One hundred list of just like a hundred people they have like micro influencing um to, you know, anywhere from like ten to like, you know, fifty thousand followers. And then and then just how can I help you? How can I provide value to you like? Let's do a Instagram live together. Let me interview you.
So just go in with the giving mentality, and then, you know they can share in their platform, and you start getting eyeballs on your platform.
Eric Martinez:
Yeah. And Tony Robbins, I mean, Yeah, he he's he's obviously, you know he's a legend. Um. But I just for for some reason it has of late. I have it like really dot like Dove into any of his stuff.
Stacy Jones:
Both of you seem very mindful and mentally forward and optimistic. So you fit into the world of do better to do better. I I can't even say to speak. But improvement right? That's that's where I think I see that.
So where else? If you were counseling your your coaches that are underneath, you know what other insight would you give them? Where would you tell them to go after they have created lots of content, because there's more to it than just content Creation?
Now there's actually the dialing, and of the business and the lunching, and like What's that next step you've created lots of a world to come to. Who you are. People find you authentic and engaging in value from what you're teaching. What's next?
Chris Martinez:
Yeah, I would say it's like, you know, if we go back to like the anal thing, the audience, and messaging is really holding on the offer right? And figuring out What is that offer that you can help people with. Now that you have content now that you have like the marketing cap on which we call them being a fitness marketer. First, because you have to market. Nobody's just gonna come to you, you know, if they don't know who you are. So once they have that scale. Okay, great. Let's work on the offer, and then we got to work on the sales skills, you know. I mean, if especially if you're going to sell high ticket program, I mean. Look, you know you have to have a little bit of sales skills to do that you don't have to be this.
It's a super persuasive person, or any of these type of like, you know Nlp: type of like tactics or anything like that. But you have to know how to just sell a little bit. You know what I mean. So I would work on those skills with the person. And then, after that, you know It's like whatever they're selling. You know. How's that fulfillment? Because too many people focus on just oh, you know, marketing or acquisition. They don't sit there and give that client a really good like onboarding experience or delivery experience or client experience to where that's when they come back and pay, stay and refer, you know, so i'll hone in on a lot of those skills so that they just build a sustainable business, and people keep coming back, and they have a good reputation, good word of mouth, and just a solid brand that they're building up. Yeah, and even on top of that it's like That's when you you start to, you know, buy yourself leverage.
Eric Martinez:
And build a team, right? It's just you don't want to be wearing all the hats. You don't want to be doing all the stuff like, you know. There's a time and place for that when we get started, but as soon as you are making, you know a consistent cash flow it's like start hiring out, hiring out certain things. It's just It's really what we call the low income. Low impact tasks. So you don't need to be doing, You know, video editing. You don't need to be creating canvas stuff like that. That's not your strong. So you like focus on what you're really good at. And again i'm big on to like just having conversations on it,
Instagram and Facebook. So what I see works very well, and what we do for ourselves is, we have a lead, generating virtual assistance. So we have a virtual assistant. Go into Instagram and Facebook,for you know, three to four hours per day. Engage with people on our avatar niche spark of conversations, and that brings more eyeballs to our brand, and that's where we can potentially get them on a phone call and get them on a sales call. So I think that's a That's a great way to sit there and buy leverage and build your uh and scale your business.
Eric Martinez:
Yeah, Yeah,
Stacy Jones:
what's your favorite platform
Eric Martinez:
For me? It's it's Instagram.
Chris Martinez:
I like podcasting,
Chris Martinez:
you know I really do. I love jumping on the mic, interviewing people being interviewed, you know, just doing solar rounds, talking about different topics. I just think, uh, there's something intimate about just like that podcast. It's like, you know, in your ear, you know, and just consuming the content. Well, if we're going to consider that, then yeah, I would say, podcasting over Instagram. Yeah, I mean, that's That's a I considered
Stacy Jones:
all right, all right. Well, at least you can put your podcast on Instagram.
Chris Martines
Stacy Jones: Exactly. Exactly. Yeah. What about What about I was? Just say, What about you, Stacey? You know my go to was always writing. I love writing. I'm very good at writing, moving over into podcasting, You know literally the first one hundred podcasts I did were a lot of me revisiting what I had written on, and giving insights on and training and teaching, and I will tell you that first day you go back way back into my very first podcast.
Stacy Jones: There might be some that sound like I was reading a little bit, because I was one of those people who was like. I have to be perfect, and then I would edit. I edited everything myself, and I would any um as us as gas of breath. You know I was meticulous, and that did not last very long. Blogs for me because you can repurpose that podcast, too, because you can turn a podcast into a blog.
So how can our listeners learn more about you? Where can they find you? Great question. They can find these huge eyebrows on Instagram
Eric Martinez:
at Chris and Eric Martinez. And honestly, we have a lot of great resources in our um, our bio our link tree. So that's the best place, or just again check out our podcasts, the the dynamic lifestyle podcast. Those are probably the best places to check us out. We have a so really good training to like, since we content, which I really appreciate. It's a great training. So um it's called, or you can find it at dynamic fitpros. Dot: com forward, slash, content machine All one word. And that's basically what we teach you to do. How do you build a content machine.
Stacy Jones:
Any last words of advice to our listeners of how they should be getting started.
Chris Martinez: If you're going to get into this game of like entrepreneurship and building your business. Um, you gotta really work on the six pack in the brain. You really Do you know? Um, that's not going to sit there and negate the fact that you have to have tactics in the business model and all that type of stuff. But you really have to sit there and be mentally tough, and work on your discipline and understand that you have to be patient as well, too, and that this is going to be a long journey right, and it's not going to be easy, and it's not meant to be like that, you know. So it's not for everybody but the best advice that I wish I could have gotten when I first started off with on. This was literally work on, like the six pack in the brain. You know your confidence. Um, your resiliency, your discipline right? Because you will be tested, I promise you will be tested. And when you are tested you have to be ready to anticipate that storm. Right? So that's my best advice.
Eric Martinez: Yeah, that's good. Um, I i'll. I'll go the other route to just like controlling what you can and not stressing what you can. And that's just you know, under identifying what your controllables are versus your uncontrollables, and three things you can control every single day. I truly believe that that's your thoughts. That's your attitude and your actions. Um also known as your think be do uh, and it's It's as simple as that, and we all can control those things, and you know, the sooner we can get that under control, and really, just, you know, get our our focus level to really dial in and not be distracted by what's all going on on this and all the all the jazz I mean you You'll be surprised how much stuff you can just get done, and it's just a It's a better route to go than just being distracted and just like just following the herd.
I will tell you listeners if you are not watching this if you are just listening in. So both Chris and Eric have this glow about them. They are just very positive they are very at peace they are, you can tell they're driven. They're super high energy. Obviously, a lot of this comes from their chosen professions of probably being beast at fitness and actually knowing what to do and take care of their body right. But everything they're saying about mental attitude, and how you are driving yourself. I mean. That's the biggest area that I think marketers business individuals let themselves down on. They get caught up in the minutia of how they're fucking things up quite frankly right like That's the bottom line. It's like That's where we all go in to, and if you can keep that, and can you study again? You said we do. There was one before that. Yeah, yeah, yeah. Thoughts, attitudes, and actions. Think we do. There you go. Think we do. If you can actually do that You're going to be a game changer in your own business. And so I really do appreciate both of you all sharing your insights and your thoughts, and I love finding really good content markers. And you guys are. So yeah, thank you so much for having us, and again appreciate the time and just all everything. So thank you again, of course, and to all of our listeners. Thank you for tuning into another episode of marking mistakes, and how to avoid them. I look forward to chatting with you this next week,
We GUARANTEE that this class series will provide you with the foundation to make campaigns successful for your brand. Thank You For Tuning In!  There are a lot of podcasts you could be tuning into today, but you chose Hollywood Branded, and we're grateful for that. If you enjoyed today's episode, please share it, you can see the handy social media buttons below and the left side of the page. 🙂 Also, kindly consider taking the 60-seconds it takes to leave an honest review and rating for the podcast on iTunes, they're extremely helpful when it comes to the ranking of the show. Lastly, don't forget to subscribe to the podcast on iTunes, to get automatic updates every time a new episode goes live!