Hollywood Branded Refresher Episodes
Check out some of the past episode we've covered on this topic:
You can check out our playlist here
Hollywood Branded  Content Marketing Case Studies
The following content marketing case studies below provide even more insights.

The Path To Becoming A Certified Influencer Marketer With Hollywood Branded
Get ready to learn a ton of how-to's and the tips and tricks of our trade, as you advance your influencer marketing game!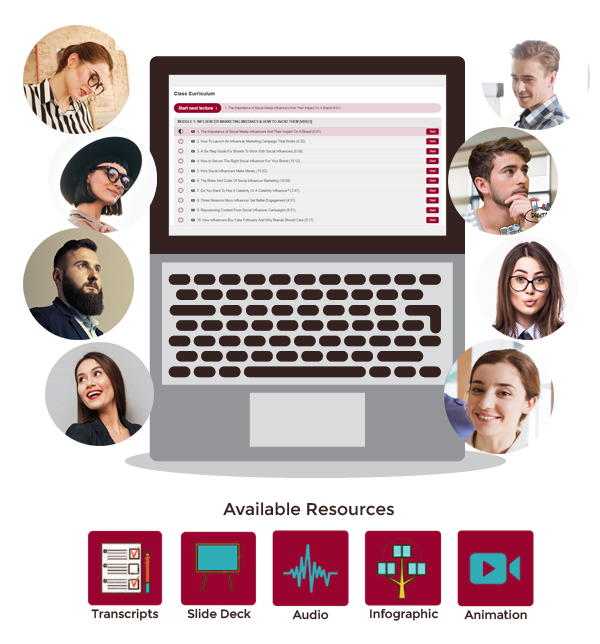 Full-Length Training Videos
Transcripts – Infographics
eBook Guides
Case Studies
Hollywood Branded Surveys
MP3 Downloads
Animated Videos
Additional Educational Material
Quizzes & Exams
Certifications In Influencer Marketing
Thank You For Tuning In! 
There are a lot of podcasts you could be tuning into today, but you chose Hollywood Branded, and we're grateful for that. If you enjoyed today's episode, please share it, you can see the handy social media buttons below and the left side of the page. 🙂
Transcripts:
Speaker 1:
Welcome to Marketing Mistakes And How To Avoid Them.Speaker 1:
Here's your host, Stacy Jones.Stacy Jones:
Welcome to Marketing Mistakes And How To Avoid Them. I'm Stacy Jones and I'm so happy to be here with you all today. I want to give a very warm welcome to Matthew Hunt. Matthew is the founder of Automation Wolf, a B2B demand generation agency that drives community building through content creation and messaging. As a two-time agency owner with over a decade of experience, Matthew has run thousands of marketing campaigns for hundreds of B2B companies, and now coaches companies, CEOs, marketing directors, and other entrepreneurs. His calling card, helping clients generate a full month of LinkedIn content in just one hour per month. Today, Matthew and I are going to be chatting about B2B business strategies that can better secure leads and demand through social platforms. We'll learn what works from Matthew's perspective, what should be avoided, and how some businesses just miss the mark. Matthew, welcome. So happy to have you here today.
Matthew Hunt:
Hey, Stacy. Thanks for having me.
Stacy Jones:
Of course. What I'd love to do is start off, how did you get here today? I know you and I had a conversation before this podcast and you certainly have a tremendous amount of experience in the B2B space.
Matthew Hunt:
So I didn't start my first business till I was 31, and I was toying with it for a number of years before that, but just didn't have the confidence to make the leap. But two things pushed me into it. It was having a really terrible boss that I walked out on. Said if this bleeping person can make millions, so can I. And the other part of it was having my first child. Said, "Okay, if you're going to do this, you better just get in there and give it a shot." And so I started the first business in 2010, but I was secretly toying with the idea since 2007. I just lacked a little bit of confidence. I had that imposter syndrome.
Stacy Jones:
I think it took me talking about, even naming and ideating my company, several years before I actually got in the painful enough place in my life that I said, "Yes, I'm leaving my safety net and starting a company." It takes some of us a while.
Matthew Hunt:
Yeah. You need a good ass kicking. Right? All us humans, we're all extended from probably chimpanzees and we're very simple. We move away from pain and towards pleasure. But generally speaking, we usually move faster away from pain than we do towards pleasure.
Stacy Jones:
Yes.
Matthew Hunt:
You need that pain in your life-
Stacy Jones:
You need pain.
Matthew Hunt:
… To make change.
Stacy Jones:
Yes. Guarantees of immense amounts of pleasure will not move us. But put your feet in the fire and yes, that happens.
Matthew Hunt:
Totally. Yeah. Sometimes you got to burn the ships and that's the only way you'll forge forward, I suppose. Not for everybody. I don't suggest it for everybody. But for me, that's what I needed.
Stacy Jones:
So you started your own business.
Matthew Hunt:
Yeah.
Stacy Jones:
And then what?
Matthew Hunt:
So once I started my own business, I started out doing digital marketing for small businesses, really focused on inbound and local SEO and search was where it was. And also search paid ads like pay per click for AdWords or Bing ads, and then eventually learning a little bit more about Facebook ads. And so that was great. What was great about it at a time was I was just new to the market, so I didn't have to be good. I was a success of just good timing. Anybody who started a digital marketing agency in 2010 could have knocked it out of the park. And so it wasn't until I went through some pain again, before I started getting better. So as an example, I can't remember the exact year. I want to say it's 2013, the smack down came with getting penalties from the search engines on back links and spamming basically get rankings. And I definitely felt the impact of that I quickly realized, "Ooh…"
Stacy Jones:
You had some black hat strategies going on there.
Matthew Hunt:
For sure. Absolutely. As we all did, because it works so well. So at the end of the day, we're publishing a lot of great content, but we're also buying links, sharing links, doing all kinds of stuff. And some of our clients, or even some of my own sites, had a temporary penalty until we figured out what was going on. But it also opened up my eyes to be like, "I should have a diversified marketing portfolio and learn other aspects outside of search." And that's when I started learning more about social. So Facebook was sort of coming about and I got really good at Facebook Organic and the same thing happened with Organic. So they got really good at ads and so forth. Basically a series of whole bunch of bad things have happened over the last 10 to 12 years. And then I got good.
Stacy Jones:
Well, I think all of it too, is obviously you're a man who is able to pivot because the world you work in, it's not only that things change, but they dramatically change. And even with Facebook, and there's no such things as Organic Facebook really anymore, because you get less than 6% of your follower base who sees any of the organic content you have. So you have kept moving the needle.
Matthew Hunt:
Well, it happens with all social media platforms. So once a social media platform gets more content than there are eyeballs, they start switching it from free organic to pay to play, which is just a total normal thing. So one of the last platforms socially, there's two right now, actually there's three, I'd say, that allow you to have a lot of free organic reach. So LinkedIn is still good organically, although it's getting diminishing returns over time. But it's very powerful. When I identified it as still being great organically late 2017, it was like, "Awesome." I could get 100,000 impressions on a [inaudible 00:06:06] piece of content every single time. Today, it's a fraction of that because it's noisier. And so what's going to happen is people are going to start moving into the paid platform, which is totally okay.
Matthew Hunt:
Paid ads are also good too. It's just, "This is what you need to pay to get your message and your brand in front of your ideal audience." It doesn't matter where it is or how you go about doing it. That's just the cost of doing business at the end of the day. And advertising is an important part of doing business. It's the lead domino, really. Right?
Stacy Jones:
Right.
Matthew Hunt:
So another platform would be YouTube. That's a little bit more evergreen, particularly because it's really actually a search engine. So it's a great place that if you are great with optimizing your content, it can compound over time as you create more of it. It doesn't disappear as easily as it does in TikTok or Instagram or Facebook or LinkedIn. So that one's a very powerful platform. And then the other one that probably gets a ton of organic reach right now is obviously TikTok. But eventually that will change too. It'll follow the same path as every other social media website has taken.
Stacy Jones:
It's like they have a road that plan for themselves, somehow, of success.
Matthew Hunt:
And it's just that the formula is this, is once there's more content than there are eyeballs, it will switch from pay to play. And that just means there's more noise, more people on the platform. However, you have to remember if there's not enough content and there's more eyeballs, then they're going to keep it where you keep getting reach on your content because they need you at that point. Afterwards, they-
Stacy Jones:
Like Clubhouse right now.
Matthew Hunt:
Yeah. Like Clubhouse. Exactly. So that's another one. I mean, Clubhouse was a very copyable feature, so you can already see it being pulled into Twitter, being debated right now on LinkedIn. And so we'll see how clubhouse does, but my guess is it's not going to take off-
Stacy Jones:
Last for long?
Matthew Hunt:
Yeah. It's not going to survive. And it didn't have the foundation to begin with. It's just like Instagram being able to… They were worried about TikTok, but then they just threw on Instagram Seels and YouTube has got YouTube shorts. They're doing the same thing. So if already have the network, they can often adopt the feature. The only difference is that it's a demographic thing, that it's not cool to… I've got kids and my 14 year old would never be on LinkedIn. Right? He's going to be on TikTok. Right? For now/ eventually as we all get older, a platform like LinkedIn starts to become pretty darn important once you start caring about your career.
Stacy Jones:
Yes. Yes. And [crosstalk 00:08:52]-
Matthew Hunt:
At 14, you don't care about a career. Right?
Stacy Jones:
Right. Not really. You're looking at connecting and having fun, not necessarily networking. Although, connecting and having fun… Yeah. There's some crossovers.
Matthew Hunt:
Yeah. Yeah. There's a big part of that too. And there's some incredibly amazing young individuals who are very business savvy. And I would say that this new generation is definitely a generation of entrepreneurs. They're resourceful. They don't really believe on working for anyone. I'd say they're sort of that self-employed entrepreneur. They realize they're getting many contracts, they're very comfortable with it. They're digital nomads from day one. My kids, they can figure anything out on their own because they've just grown up being able to do it. And so it's pretty cool to see. I'm really curious to see what Gen Z ends up doing in the next 10, 20 years. It should be really interesting. Very interesting generation.
Stacy Jones:
Yes. It really should. So when we were first talking and I was saying, "Okay, so our team wrote up a bio and I was reading excerpts of it for you," and I touched on the lead generation. You said, "Wait, wait, wait. We don't do lead generation. We do demand generation." What is the difference between lead and demand generation?
Matthew Hunt:
Yeah, it's a great question. So as you start to get a little older and a little more mature and a little bit more experience with this, you start coming back to the fundamentals of advertising and the fundamentals of universal laws. So when you focus on leads and sales, that's a byproduct of something else at the end of the day. But if you only focus on leads and sales, you're usually going to end up having a false start or leading with the wrong objective because it's about me. Me, me, me, me, me, me, me. Right? And your prospects or your ideal customers and clients don't care about you. They care about themselves. We all tune into our favorite radio station, which is WIFM, which, it stands for, "what's in it for me?" So that's a universal law. Okay?
Matthew Hunt:
Second universal is we only buy from people that we know, we like, and we trust. Okay? Everybody knows that when it's not something new, but the higher the ticket price goes, the more and more important this becomes. If you're selling something for two bucks, obviously not that important. But you're selling something for half a million dollars, pretty darn important. And this is why you hear in B2B businesses, a lot of times when you hear about deals, you'll hear people say all the time, "No one gets fired for hiring IBM." It's because they know them. They like them. And they trust them to some degree. Or at least it's the devil they know versus the devil they don't know. So that's the real barrier that you're trying to cross. And if you start answering that, the challenge is, most people are trying to do selling way too early, right?
Matthew Hunt:
If they look on the trust-o-meter, they start selling and they don't even know them yet. That's a false start. Or even if you're at the stage of like, right? Still a false start. You really can't do any selling until you own trust. Until you own the relationship. Otherwise, you're going to false start. Or if you do, and you do get invited to the party, what's going to happen, Stacy, is you're going to be treated like a commodity. Right? And you don't want to be treated like a commodity, right? So if you own the relationship and you have trust, then you can what? Suck at sales, and you can charge more, because they already know, like, and trust you. And so what we're really trying to do is how do we speed that up? Well, to speed that up, we have to understand another universal rule.
Matthew Hunt:
Okay? And this rule wasn't created by me, it was created by, I believe the gentleman's name is called Daniel Priestley. And he wrote a book called Oversubscribed in 2014. It's an evergreen book. It's great. It still applies today. So this is how you know there's a good book that's been written is when you can read it today, yesterday, tomorrow, and it still applies. So this is one of the things I learned time was getting back to these fundamentals and getting good at marketing or advertising has never changed. The mediums and the format and the place that exists or the platform or the channel that it's in does change, but not the universals. Okay?
Stacy Jones:
The mechanics change, but not the universal truths of how the approach should be.
Matthew Hunt:
That's right. Like the know, like, trust. So this is why I'm going back to these first principles, right? He also came up with another one of these first principles, which is, he did some studying and he looked at anytime someone was making a major purchasing decision, okay? Like buying a car, where you're going to invest your money, or a B2B transaction where someone's going to spend a quarter million dollars to a couple million dollars. We don't make these decisions lightly. They're pretty important decisions. That there were certain things that people did before they make the decision and it was called the 7-11-4 rule. And so it requires seven hours of consuming your content or doing research around your brand. Okay? It requires 11 interactions in four different locations. And so if you know that as a rule, we're trying to just speed that up and automate those pieces.
Matthew Hunt:
Right? And so part of what we do is help do that. Now, once you understand these rules, there's also three more things that we created that apply to this, which is, look. At the end of the way we consume content today, there's really three major pillars that we want people to consume it in. That gives us control and direction to it, without it feeling like marketing or sales, because nobody likes to be marketed to or sold to. So it needs to feel somewhat-
Stacy Jones:
Educational.
Matthew Hunt:
… Invisible. I like to use the word invisible, not even educational. I like invisible because that's really special. And so some of these things, when we look at that, is it's not going to be invisible if you're treating them like getting a lead or a sale. I need another inbound marketing qualified lead to end up in my marketing funnel so then I can educate them and then I can turn them into a sales qualified lead, and then they can turn into an opportunity so then I can pitch them and close them. That's this backwards thinking. What we want to think instead is we want to think… Instead of thinking to them as, "What's my lead funnel?"
Matthew Hunt:
What's the experience and how do we create continuity and how do we make it invisible? Well, you can do this once you understand three major pillars. And so the three major pillars of this is short form, long form, controlled form. Okay? Short form is snackable content that ends up in social media, in the news feed, or even as ads or anything anywhere on the web. At the end of the day, we are consuming snackable content all the time, everywhere. And when we're doing that, we expect it to be short.
Matthew Hunt:
You do not go to Facebook or Instagram and expect to listen to an hour long podcast. You're there to consume something that's 60 seconds, 30 seconds, 10 seconds. Short stuff that keeps you top of mind. What it does, it keeps you top of mind with your existing [inaudible 00:15:54] network, or it makes you discoverable, right? So this is your discoverability opportunity. Now, no one is going to watch a piece of your snackable content, or consume a piece of your snackable content and transform or convert. They need to get moved to something called long form. So you need a long form thing. This could be a conversion event, like a workshop or a class or a digital class. It could be a podcast just like this. This is long form content.
Matthew Hunt:
When someone's been listening to you for at least an hour, now they're going to go down the rabbit hole. And one of two things is going to happen. They're either going to be like, "Yeah, don't dig this guy Matthew," or, "Hmm. That was interesting." And they'll somehow breadcrumb their way back to me and they'll probably binge watch me or listen to me or consume the information, like on Netflix. At which point, what am I doing? I'm starting to serve that rule of seven hours, right? So you need that long form. Then you also need to recognize that 97% of your ideal prospects or buyers or customers are not in market right now to buy from you. So what do you do with them? You need a place to be able to put them, it's in a controlled content format that doesn't feel like a marketing funnel or a sales funnel, where you can continue to keep building reciprocity and goodwill and making these trust equity deposits so that when the timing does come about and they're ready to buy, you'll be top of mind, or you already own the trust.
Matthew Hunt:
And if you own the trust, you're preemptive to their research to go find others who they might shop around with. They just bypass all your competitors immediately. You just no longer need to be a part of the sea of sameness anymore because you own the relationship at the end of the day. But you got to put them there because 97% of the people are not ready to buy from you. So usually this means some sort of form of community. And so if you look at it this way, short form, long form, controlled form, this is know, like, trust, okay?
Stacy Jones:
Yeah.
Matthew Hunt:
This is discoverability, ability, and community. So once you understand those three pillars, those are the only three things you need to stick people into. And anything that doesn't classify in that is probably noise and wasted energy and effort. There's a lot of things you can do, and they're all fun things to do. But at the end of the day you have to look at, how much impact does it drive for how much effort I have to put in? And when you really, really, really look at how much effort's involved in some of these other things and what the impact is driving, it's usually not that great. And if you really pay attention to the first principles, all we're trying to do is create an experience of delight and continuity in a controlled format where people get to know, like, and trust us, where we can service the 7-11-4 rule. And where people don't feel like they're going to be marketed to or sold to. And if it doesn't do those things and it takes up too much of my time or my team's time, then we probably shouldn't do it.
Matthew Hunt:
And that's how I look at these things and this is how I classified and created this system. There's very are certain things that you can do within each one of those that work really well, where you can force your time, depending on where your clients are. But those are sort of the three buckets that you want to get people into. And when you do that, you put yourself in a position of power and you put yourself in a position of being able to compound your energy over time. And the output is at the end of the day is because when you own the community and you own the trust with the community of your ideal buyers, the byproduct is you don't have a lead gen problem or a sales problem. And you can suck at sales and you can charge more. Does it get any better than that?
Stacy Jones:
It does not. So when you're talking about that third level where you're saying that it's the controlled form and it's about the building community, besides Facebook groups or LinkedIn groups, is that also blogs? Is that in newsletters? What are the types of ways that you have that controlled continuity that you are building?
Matthew Hunt:
Yeah, totally. Well, you want to go where your client's ideally are hanging out. Sometimes that's a Discord group. Sometimes it's a Facebook group. But the real trick is actually, it could be online or offline too. So for an example, I ran a Mastermind CMO dinner once a month, locally in Toronto. And that was a great way for me to get business. I would just invite five CMOs at Fortune 1000 companies out to dinner once a month. I would pay for dinner, break bread. And I'd facilitate an experience that was for them, not for me. And of course, at the end of the dinner, because we broke break and spent two hours together, they always ask, "What do I do?" And now they kind of know me and kind of like me and maybe start to-
Stacy Jones:
He's a good guy.
Matthew Hunt:
Yeah, he's a good guy.
Stacy Jones:
Maybe I should know what he's doing. Maybe there's a benefit here that's mutual
Matthew Hunt:
Yeah. Now they pay attention to my content. Now they have the opportunity to throw my hat in the ring. I never left a dinner without a referral or have the opportunity to be able to be invited to the party to do somewhat of a pitch. Right? So it always worked out in my favor. But just remember, doesn't need to be so big or small. What I usually recommend is something that's very simple like a free course or workshop series to begin with that also includes the ability to participate in a private group. The trick is to make it as private as possible, as secret as possible. So we all know this is how this is done. This is why when you go supper club, the yacht club, the ski club, you name it. That's how business is done. Right?
Stacy Jones:
Yeah. It's the golf course.
Matthew Hunt:
And sometimes they're known as the Old Boys' Club, right? At the end of the day. And you have to create your own version of that. And you have to remember at the end of the day, birds of a feather want to flock together. So the trick with it is don't make it so broad. Keep it very specific to a very small group of people. And ideally you want to think about who is the ideal lead domino in the chain of command that you want to build a relationship, build it with those individuals. And keep it small. The worst thing you can do is make it really big and invite everybody to the party. It just becomes boring and beige and too much noise and nobody is super interested.
Matthew Hunt:
And it can't be about you. It has to be about them. The great thing about it is when you lock it down, you start to realize your job is actually to be a good host of the party. A good super connector. Your job is not to create content, which is actually easier. Your job is to make it peer to peer and ask the right questions to get conversations started. Because you have to remember the relationships are not built in the posts and showing how smart you are. The relationships are built in the conversations and the replies and the back and forth. Remember the 7-11-4 rule. So what did I say? 11 interactions. You going back and forth in a comment, in a private secret society, in a private Slack group, carries way more weight than you publishing 20 blog posts with the right person. I'm sorry, but your blog post just looks like everybody else's blog post.
Matthew Hunt:
It's not as impressive as you think it is. Generally speaking, there's very few people who publish something that is so groundbreaking. You know what I mean? At the end of the day. Also, most of the time we're creating so much friction that no one sees your content. Or at least not the right people. But you can control it. So the great thing is, like I said, is if you're particularly in B2B, your ideal prospects and clients are not invisible, you can build a list of them. You can also do the same thing with your dream influencers. You should have two lists. One that's your 120 dream list of your ideal clients. One, your 100 dream list of your ideal influencers. And the simplest thing that you can do is get their contact information, participate in what they're publishing, invite them to your community, or invite them to interview with you. Interview them.
Matthew Hunt:
What is an interview? An interview, exactly what we're doing right now, is just a fancy discovery call without the sales pressure. Except for, you get your content for free, and people will reply to you and want to participate. Kind of because it's ego bait, but look, let's face it. We all lead with our egos. We all want to be special, at the end of the day, so it's really easy to get people to say yes. But if you cold outreach to your ideal buyer and be like, "Hey, I'd love to pitch you on this thing." No. They're going to tell you the bugger off, right? Or ignore your email, or it's just going to make you look ridiculous. But if [inaudible 00:24:05] said, "I'd love to interview you for my private society." It doesn't have to be a podcast. Just informal, ask me anything Zoom call featuring them.
Matthew Hunt:
They're going to pay a lot more attention to you. Then also as they come through there, if you're smart with your digital marketing, guess what you did? You pixeled them. If you pixeled them and put the cookie on them, you can guarantee… You have an audience that you can take your paid ads and guarantee that you're going to show up all the time, omnipresent in the newsfeed and take them through that journey of short form, long form, control form, and fast track that process of 7-11-4. And so these are all ways to go about doing it. And this is nothing new. The biggest brands in the world have been built on not being an expert. So many people are trying to be the expert, but they really shouldn't. They should stop trying to be the talent. Instead, they should be focused on being the talent scout.
Matthew Hunt:
So think like Tim Ferris. What is Tim Ferris an expert of? Nothing. But he has four bestselling books. What is every book about? Excerpts from all the experts he's interviewed? None of it is his content. All he did was curate other people's stuff. What about Oprah? What is Oprah an expert of? Nothing. What is she really good at doing? Finding really interesting experts to come in as a talent scout, teaching her audience, her community, what to look for and what to look out for when buying X. When she does that, if Oprah says, "Go buy this book, go get this thing," it's like a license to print money. Why? Because she spent two decades caring about the audience, caring about creating an experience, and building community there at the end of the day and building this know, like, and trust. And this is what actually builds businesses.
Matthew Hunt:
And we can go after example after example after example. But the reality is, most people are trying to build marketing departments when they should be building media companies. People are trying to be the expert instead of being the talent scout. There's a lot of thinking that's a little bit broken and we have to change our thinking that be open that we need to boil this stuff back to first principles, look at effort and impact and start thinking about how are we going about this? Isn't there an easier, faster way to do this? And this is it. And once you master the short form, long form, control form and use the right tactics in each one, man, you really start to have an avalanche of new business. And it's not because you're focused on leads and sales. It's because you're focused on experience community and trust.
Stacy Jones:
Really everything that you're saying, as you said before, that there's nothing that's a new invention, you are talking about the foursome who would go play a round of golf together and they would sit and they would chat and they would talk and then they'd get together again and they'd have those touch bases and they would build, what we do call nowadays, the Old Boys' Club. Yeah. But at the same time, it's the same thing. It's humans interacting together and finding thought leadership amongst each other and benefit of being around one another.
Matthew Hunt:
Yeah. Yeah. And we're just using technology it. Right, Stacy? At the end of the day, it's just a different way of doing it. And we're just accustomed to doing business this way. Even more so with COVID where we can't get together physically. This is one way of building relationships. One of the smartest decisions I made was in 2012, I did a Skype group with all my competitors. And I thought, is this crazy? And then it turned out brilliant.
Matthew Hunt:
All those people are now my besties. I've known them for years. We helped each other grow their businesses. We had very little crossover. So you don't even have to necessarily do it with your ideal prospects and clients. You can just even do it with your competitors. And you build this incredible secret society where you all can help each other out. Have you ever heard of the PayPal Mafia? Do you think there's any mistake that any one of those guys and people who work there, why they continue to keep going from one unicorn company to another unicorn company? It's the insider connection. So why are we all kidding that this doesn't exist? Why don't you start building that instead?
Stacy Jones:
The same thing, whether it's through businesses and connecting with each other, whether it's through universities and connecting with one another, even Facebook and how it was started. All of this has comes down to the same. Let me ask you. I have this feeling, from a number of the words you have used, you are a Chet Holmes fan who has read his book, The Ultimate Sales Machine?
Matthew Hunt:
The late great Chet Holmes.
Stacy Jones:
Late great. Yes.
Matthew Hunt:
Yeah. He was amazing. I really wish I had an opportunity to meet him. But I would say The Ultimate Sales Machine, I think is what his book is called-
Stacy Jones:
Yep.
Matthew Hunt:
… Is probably one of the bibles to marketing sales and even operations, at the end of the day. That book is dog-eared and underlined in every way possible and it's probably one of hundreds of books that I had to read. At the end of the day, everything I am saying is nothing new underneath the sun. And I stand on the shoulders of giants and I swear I probably have never had an original idea ever in my head. In fact, I'm really slow and stupid, because it's taken me so long and so many mistakes to finally wake up and smell the coffee, because trust me, I did it wrong way before I did it right and [crosstalk 00:29:13].
Stacy Jones:
Only way to learn. If you remember, this podcast is called Marketing Mistakes And How To Avoid Them so that you can learn from what other people have done that were, in their eyes, mistakes, but at the time, it was just part of their journey. Right?
Matthew Hunt:
Right.
Stacy Jones:
And yes, I felt the same way about Chet. And I actually was part of a Tony Robbins business conference that Chet was part of. And I had made it all the way to Fiji to meet with him. And that was unfortunately right when he was in the hospital and declining. And so I missed my opportunity. But that book, for anyone listening, it is one of the best books you could possibly, possibly read on sales and marketing for your company. Not the whole book necessarily for everyone, but there'll be chapters here and there. And if nothing else you'll develop a damn good elevator pitch and a list of dream clients.
Matthew Hunt:
Yeah. Yeah. He's great. Yeah. [inaudible 00:30:04] I got so many great ideas from his book, even from the lumpy mail campaigns, how to manage and mean it, got a minute meetings. I remember that solving a big problem for me and my company, where I was like, "Why am I in so many meetings?" And then I was just scheduled meetings for one day, gave time for it, and then it not allow meetings on other days. It was a pretty important book in my career that I read several times.
Matthew Hunt:
But what's funny is you see it in other places too. It kind of morphs into its own way of going about things. You can see it now in Dan Sullivan's Strategic Coach to Dan Martel's SaaS Academy. You can see it in EOS. And people improve and build upon it, which is so cool. Right? And so many entrepreneurs are so giving. They're such wonderful human beings. I honestly think if you want the best personal development course to ever take in your life or program, just start a business and then network with other cool business owners and you'll be a better human being.
Stacy Jones:
Or just start a podcast and interview a lot of really smart people and you'll learn a whole lot.
Matthew Hunt:
Yeah. Yeah. That's a really great way of fast tracking it, and a great way of getting your content for free. And you're the one who wins because you become the focus, right? Expert comes in, goes, "Here's Stacy." Next expert comes in. They go, "Here's Stacy." No one remembers all the experts, but who's the fixed feature in it all the time? It's Stacy. Isn't it so much easier just to be the talent scout than the talent?
Stacy Jones:
It is. It's fun. But what's great is our scouts or our talent that come in for this program that's so scouted, in your language, they get business too. So it's all of these things where you can leverage one network with someone else's network.
Matthew Hunt:
Totally.
Stacy Jones:
It really can be valuable for everyone.
Matthew Hunt:
Yeah. It becomes a co-marketing event. You get to tap into what's called OPA, which is other people's audiences and other people's authority. So it's good for everybody That participates. Yeah.
Stacy Jones:
We like saying at my agency that we create mutually beneficial partnerships and that's how we differentiate ourselves from our competition where there's a lot of people who… There's not a lot of people. There are a niche number of agencies who partner brands to put them into pop culture and product placement, movies, TV shows, music. But it's not always done where there's a partnership that's supposed to be mutually beneficial on each side. And no matter what type of business you're doing, that's where the win is. It's not about who can negotiate and get the best deal. And you're in Tijuana in the stalls, getting that blanket for the cheapest price possible. That's not really the best way to do business.
Matthew Hunt:
Yeah. Yeah. Well, it's really about truly collaboration is what you're talking about. And companies that are really good at doing that, they understand the co-marketing or even individuals who understand the JVs, which just stands for joint venture partnerships, that's how you really grow your business really, really, really, really quickly. Right? And even companies who specialize in acquisitions, that's just another form of collaboration. They usually don't break them up. It's just a way of growing. You just become really, really good at collaborating or co-marketing, and it benefits everybody when you do. Companies don't do it enough. It's not a big enough part of their agenda and it really should be. Yeah.
Stacy Jones:
So Matthew, how can people who are listening right now find you? Where do they go? Here's your chance to pitch yourself?
Matthew Hunt:
Yeah. So there's only one social media platform that active on, which is LinkedIn. So if you just type in Matthew Hunt and Automation Wolf, you'll definitely find me. And the only other place you can find me is automationwolf.com. Again, it's spelled exactly where it sounds, which is automationwolf.com. There's nothing you can do there because there's only one page except for watch a video. And that's it. If you like the video, there's a way of getting in touch with me [inaudible 00:34:01] and I'm quite proud that I only have a one page website.
Stacy Jones:
Congratulations on that. After all these years. And you're listening to this from a man who literally started his career in figuring out how to leverage websites and get people to see them. So that's a full circle, I'm assuming that you've actually found.
Matthew Hunt:
Yeah, it is. Yeah. I vow to not blog or create any content for the time being.
Stacy Jones:
Yeah. Any last parting words of advice on what to avoid or what to do? What should our audience of listeners really be cognizant about?
Matthew Hunt:
So I think at the end of the day, so there's just a couple things I talked about today. The highlights would be, think of experiences versus funnels. And think of community and trust versus leads and sales. And then you'll be on the right track. When you redefine those words and the language you're using, it changes how you measure success. And then when you're measuring success, make sure that you have both leading and legging indicators of success. And if it's B2B, you probably need to have two leading indicators of success for every one legging indicator of success. Because if you are only looking at legging, it's too late. It's too late to find that. You need the leading ones at the end of the day. So those are a couple tips that I would really look at when going down your journey of marketing and advertising.
Stacy Jones:
Matthew, thank you so much for joining us today. I learned a lot and it's given me a lot to think about. We have been blogging for years, podcasting for years, generating content. All over the place. But I think there's a lot of things that we can take from the lessons that you outlined today and incorporate into our agency. And I am sure that many of our listeners feel the same way. So thank you so much for sharing your thoughts.
Matthew Hunt:
Thanks for having me, Stacy.
Stacy Jones:
Of course. And to all of our listeners. Thank you for tuning into another episode of Marketing Mistakes And How To Avoid Them. If you are someone who loves learning, please go visit, learn.hollywoodbranded.com. You are going to find a lot of free classes, insights, guides, thought leadership. Please go and visit, or you can always go and look more at other sessions of our podcast. Have a great one. We'll talk soon.
Also, kindly consider taking the 60-seconds it takes to leave an honest review and rating for the podcast on iTunes, they're extremely helpful when it comes to the ranking of the show.
Lastly, don't forget to subscribe to the podcast on iTunes, to get automatic updates every time a new episode goes live!