Hollywood Branded Refresher Episodes
Check out some of the past episode we've covered on this topic:
You can check out our playlist here
Hollywood Branded  Content Marketing Case Studies
The following content marketing case studies below provide even more insights.

The Path To Becoming A Certified Influencer Marketer With Hollywood Branded
Get ready to learn a ton of how-to's and the tips and tricks of our trade, as you advance your influencer marketing game!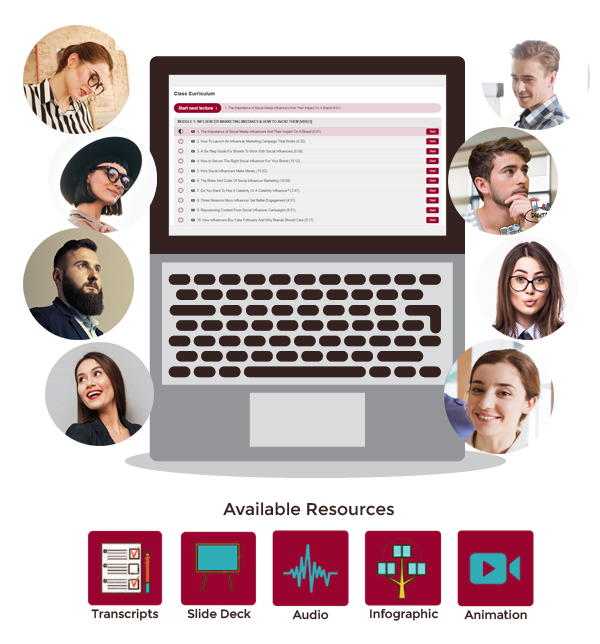 Full-Length Training Videos
Transcripts – Infographics
eBook Guides
Case Studies
Hollywood Branded Surveys
MP3 Downloads
Animated Videos
Additional Educational Material
Quizzes & Exams
Certifications In Influencer Marketing
Thank You For Tuning In! 
There are a lot of podcasts you could be tuning into today, but you chose Hollywood Branded, and we're grateful for that. If you enjoyed today's episode, please share it, you can see the handy social media buttons below and the left side of the page. 🙂
Transcripts:
Speaker 1:
Welcome to Marketing Mistakes (And How To Avoid Them). Here's your host, Stacy Jones.Stacy Jones:
Welcome to Marketing Mistakes (And How To Avoid Them). I'm Stacy Jones, and I'm so happy to be here with you all today. I want to give a very warm welcome to Jeff Bullas. Jeff is an absolute master of social media and digital marketing. He's the founder of jeffbullas.com and the host of the Jeff Bullas Show podcast and YouTube channel. As a blogger, speaker and strategist, he inspires and helps educate entrepreneurs on how to leverage the digital world to transform their businesses to become even more successful, and he's incredibly good at it. Forbes calls him a top influencer of chief marketing officers and the world's top social marketing talent. Entrepreneur lists him among 50 online marketing influencers to watch. Inc. has him on the list of 20 digital marketing experts to follow on Twitter. He is, without a doubt, one of the world's top business content marketers. Today, Jeff and I are going to be talking about all things social media and entrepreneurship. We'll learn what works from Jeff's perspective, what should be avoided and how some individuals and businesses just miss the mark. Jeff, welcome, so happy to have you here today.Jeff Bullas:
Great to be here, Stacy. Thank you very much for the intro. I sound pretty fabulous according to your bio, so thank you.
Stacy Jones:
You do sound pretty fabulous. I think you are pretty fabulous, because I'm crushing a little bit because you are an extraordinary content marketer. I'm delighted to have you here to be able to share your insights with our listeners today, so thank you.
Jeff Bullas:
It's a pleasure.
Stacy Jones:
What I'd love to have us start off by is sharing your journey. How did you get here today where you are this mastermind for so many people?
Jeff Bullas:
It came out of a hard time in my life, so that's how we started. I think what I've learned from that is that you learn from pain, not pleasure. You learn from discomfort rather than comfort. If we're sitting in a comfortable spot, there is no momentum, or I suppose motivation, to actually change your life. I had a business which I had to close down, so I was hundreds of thousands of dollars in debt. Marriage broke up, the family home was taken by the bank, and we were back to zero, in fact, negative. I sort of decided, I was not living near Sydney, I went back to Sydney and started applying for jobs. Because I had plenty of time, I read a lot. I read Tim Ferriss's The 4-Hour Workweek, which sort of inspired me about being a digital entrepreneur, the digital world. I already knew about it. I'd been living in tech since the mid-'80s when Steve Jobs and Bill Gates were duking it out with their PC wars, but the digital entrepreneur world where you created content line was fascinating.
Jeff Bullas:
I read Tim Ferriss's The 4-Hour Workweek… almost everyone has that I know of…. and then David Meerman Scott's book, New Rules of Marketing & PR, which talked about, it didn't say content marketing back then, because content marketing really didn't exist as a word in 2008. It was called inbound marketing, which HubSpot uses today, but today it's known ubiquitously as content marketing. I sort of said, "If you create content online, you can attract an audience and attract customers. As an ex-salesman that had done, literally, cold calling, door knocking, to actually get customers, this was something that sounded rather attractive, in other words, attract the customer rather than chase a customer. Outbound marketing, we call it.
Jeff Bullas:
Then I read, basically, a blog by HubSpot that said if you have an inkling of what you want to start a business on, start a blog. I said, "What do I start a blog on?" Well, I was going out with a lady at the time. She said, "Why don't you get onto Facebook?" This is when Facebook was 50 million only and Twitter was about five million. I got on there and I went, "Wow, this is amazing. I can see all my colleagues that I used to go to college with all around the world, looking a bit older, grayer and lot less hair." Then I just saw how easy it was to communicate and I went, "Wow." Then I watched people's behavior. It was quite obsessive with social media. Fast-forward to 2021, it's just as obsessive. In fact, more people are just obsessed.
Jeff Bullas:
I basically said, "Okay, I'll start a blog on social media," because I thought there was something really going on. That hunch was right, because today we have nearly three billion people on Facebook, and everyone's obsessed with social media, and it's used for business everywhere. We started the blog and that's how it all started.
Stacy Jones:
People came, and they read, and they stuck around, and they came back, and they shared your content, and you developed more content.
Jeff Bullas:
Yeah, and the means to do that was social media. I had very little money at the time. I think it cost me $10 to set up the blog, which was a domain name. I bought a free WordPress template, struggled putting that together, because I'm not tech guru in terms of programming or anything, so I wrangled with that. I was a 50-plus entrepreneur trying to work out the tech without having programming skills or anything, but the tech today is pretty amazing, so simple. I realized early-on that if I built a following on Twitter, that could be helpful in building traffic to the jeffbullas.com blog, so I started building my Twitter following.
Jeff Bullas:
I used some automation to help me do that. In other words, if I followed people, they felt obliged to follow me back. It's the law of reciprocation. I noticed by following people in a specific industry or just anyone… In fact early-on, I just followed anyone that had a breath. Of course, about 20% of people I followed, followed me back because it wasn't that crowded back then. It was almost like the Wild West of social media. There was no automation tools. Everyone's still finding their way. I met a lot of people, because basically what happened was I would be writing or tweeting late at night and America would wake up. I could see the Twitter stream, Twitterverse, start to become louder and noisier. I'd have these fabulous conversations on Twitter with other passionate people that were exploring and starting their journey on social media.
Jeff Bullas:
I used an automation tool to actually build a Twitter following. I remember people were aghast that I was using automation in 2010 to actually build a following and also to create and share content. There were very rough tools, but the comments by my followers that I was using automation and technology to actually create conversations and create and share content, they were aghast. So, I got a lot of bad Twitter tweets around that. What do we do today? Everything's automated almost.
Stacy Jones:
Yes. Anyone who has a LinkedIn account now knows how much you can be spammed just to be connected with, because that seems to be the go-to for everyone.
Jeff Bullas:
Yeah, exactly.
Stacy Jones:
How do you think it's changed? You started this in 2010, you're saying, and you're doing this and using automation. How has automation changed in the last many, many years to today?
Jeff Bullas:
Well, that's a big conversation. The automation's allowed us to share our content and manage our content distribution to social media and beyond. The technology that sits within or plugins that sit within blogs and websites, it allows you to manage when you want to schedule your tweets and your Instagram, your Facebook and so on. It's allowed you to actually distribute and share at scale, whereas… Look, I really realized early-on that just doing this manually, I wouldn't have a life. I could be tweeting forever. In fact, my partner said to me… Jennifer Aniston was going out with, I don't know if it was Justin Timberlake or something, but she broke up with him because he was tweeting every day all the time, and she didn't feel very important, she said. One of my first articles was about that, the obsession created by social media back in 2009.
Jeff Bullas:
She said, "Be very careful about tweeting too much, Jeff." I went, "Okay, we got it." I realized that manually doing this is not going to work going to the future, if I'm going to scale this, and of course, for an entrepreneur, if you can scale your business world, that's going to help you grow your revenue. Doing everything yourself and doing everything manually is not a good entrepreneurial tactic.
Stacy Jones:
No, you'll never have enough hours in the day. If you're an entrepreneur, there's already not enough hours in the day.
Jeff Bullas:
Yeah.
Stacy Jones:
You can fill those things up lickity-split.
Jeff Bullas:
Yeah. The other thing that's happening with automation, which is a bit scary, because we're plugging in AI and machine learning into the creation of content. We're having machines that can actually write blog posts. You're going to have machines that actually can create news items, especially about sport and so on. At this stage, a lot of that's really only done well via larger enterprises, but I'm sure that we'll see a democratization of AI generated content. Guess what? You're going to get more spam and more content, so I look forward to that.
Stacy Jones:
Yeah, it's going to be interesting how you actually start siloing out, where you start creating some protective boundaries around you, because we already get hit, obviously, with so many advertising messages. There're over 30,000 ads that you're getting in a single day that you're exposed to. But then you add in, just on all your platforms, the non-stop barrage and the emails that just never stop. It goes and it goes, and the more we are automating, the more a lot of junk is being created. Coming up with the tools that actually help shift that away, I think, is going to be the near future of dialing in a little bit more.
Jeff Bullas:
Yeah. I think the other important thing I think we need to consider as humans that use machines and tools is, I think, the power of storytelling has become more important, personal stories. I think one of the most powerful tactics you can do as an individual, as a marketer, as a business, is to tell a story, then make a point, because stories are human. It's been part of our DNA for hundreds of thousand of years. I think telling stories is important, and it gets to the heart. I'm a bit of a Joseph Campbell fanboy, The Hero's Journey story arc. Why do people use it? Because it works. Star War's success is right. It comes down to George Lucas using Joseph Campbell's story arc, which is fabulous and gets to the core of what it means to be human. I think that's really important as marketers need understand the pain points and the core of issues regarding being human, and then you can tell a better story.
Stacy Jones:
Besides automation, and that being like a number one people need to figure out so that you're not just sitting there typing, tweeting, all your live-long day, what are the steps that if someone has not started content marketing, or maybe they're doing it, but not to a high degree, how do you tell people to start their journey?
Jeff Bullas:
I think you've got to be clear on who your audience is. Then you've got to create content that talks to their pain points, and then answers those and comes up to solutions. I think that's really where you've got to start. I think the other thing people have got to realize with the content marketing is you got to play the long game. A lot of people go, "Well, I want to rank on the first page of Google next week." I said, "Well, good luck with that." The reality is that content marketing is a long game. It can take years to rank, build authority, and then Google can change the rules and the algorithms. We're in the middle of a algorithm battle, as well. That's what I'd recommend to people, understand your audience, create content that solves, that talks to their pain points, and then come with solutions that answers those pain points. Whether you're doing B2B or B2C, I think that's really where you've got to start.
Jeff Bullas:
Then next you'll say, as part of that, you need to be building a platform that you own. A lot of people, especially influencers, think that they can just be on Instagram or Snapchat or LinkedIn only. The challenges that this battle of the algorithms means that we're constantly dealing with a platform that keeps changing your rankings for your content and for your distribution. The other thing you've got to keep in mind, too, as part of the step of your marketing journey is that when I started, what's changed a lot since then is, back then up to 2013, 2014, there was about a four or five-year window where you actually could rank organical, grow your following on social media organically, and your audience could hear you and see you.
Jeff Bullas:
Whereas today, it's pay-to-play. Basically, all the platforms are trying to minimize organic, because if you get too much organic traffic, you don't have to pay. What they're trying to do… Essentially, I think the stake in the ground was in 2013, 2014, when Facebook went public and had to pay their shareholders and became accountable to their shareholders. They had to work. They had to monetize Facebook. That didn't happen until about 2013, '14. That was the next step of the social media revolution. Since then, we've seen the rise of niche platforms, Instagram and so on. I think we're seeing consolidation. We've seen the reduction of organic social media. A lot of people go, "Well, I'm just going to get on Facebook. I'm going to share it, and people are going to see me." Well, good luck with that. You are at the mercy of all of the platforms, including emails, algorithms.
Stacy Jones:
I think that while Facebook right now, meta in general, exposes your content to a max of about 6%, I think was the last thing I saw, of your actual followers, so maybe all these followers that you've paid over the years to build, or you have nurtured and gotten them on, they're not seeing content in general unless you're amplifying it.
Jeff Bullas:
Yeah, exactly. You've got to amplify it through paid, and then that's a whole new game. A social media expert used to understand how Twitter worked, Facebook worked, maybe Instagram worked, LinkedIn maybe. The reality is, to be an expert now, you'd need to double-down and become a Facebook expert on advertising. That is a complicated game, as we speak. I think I used to be known as a social media expert, but today I leave that at a lot of my team. The reality is that it's such a big universe today that you can't be an expert in everything. You just have to double-down and maybe choose one and then hire other people to help you on the others, yeah.
Stacy Jones:
Now we have meta and then metaverse, which is going to be another Mecca for content production.
Jeff Bullas:
Yeah. I'm a little bit on the fence about metaverse. I think people are still going to prefer what I call the real verse, because we've been talking about virtual reality for a decade. I think people like gamers, which is a huge global industry, for sure, am I going to hand over the keys to my kingdom to Facebook and just dive into their metaverse? From a marketing point of view, I think you need to keep a watching brief, but be careful, not chasing too many shining new toys. You need to get the basics right before you start going down those rabbit holes.
Stacy Jones:
What would the basics be? I know you've said that you need to have ownership over your own content. Certainly, Facebook and Twitter and LinkedIn and all the social platforms, there're emails, there're blogs, there're podcasts. What do you think are the go-to building blocks that everyone really should be building from?
Jeff Bullas:
Okay. This comes down a little bit about the theme of your podcast, marketing mistakes. I think number one from day one, start building an email list, because you own that list. It's a list that follows you. It's not pay-to-play, but it's still controlled by algorithms these days, as we know that a genuine email, even from Google itself, will go to spam or trash. In other words, Google hasn't even worked out its own algorithms to make sure email is delivered, but never the less, it has algorithms. Number one, build your email list.
Jeff Bullas:
Number two, for your blog and for your website, you need to be working on from day one a building block, very essential, is to start building your search engine optimization authority. In other words, the key phrases that customers signified you like, how to start a blog, or how to write great content, or 10 tips, whatever, but your headline and also meta tags, which is the key phrases you're trying to target that Google can find easily. Build your search engine authority right from day one. It's going to take your time and relentlessly create content around that, that can be ranked. This is a long journey. It's getting harder as more and more content is created, but it's still possible and still needs to be done. That is a fundamental.
Stacy Jones:
Then after that, so you've created your emails, your blogs, you're making sure that the meta tags that you're mentioning, your long-tail keywords, your short-tail keywords, you're all about you, whatever your passion, your topic is, you are making sure you're writing about it from every angle, up, sideways and down. What do you after that? How do you actually get people to be able to see it, besides just praying to the Google god that it's going to be delivered to them when someone happens to search online?
Jeff Bullas:
Okay, this is where we move into the game of Facebook advertising targeted. Of course, you can go out and just advertise, but the reason I think people need to do is work out… Well, they need to start building a funnel. A funnel sort of thinks this idea of everything just goes down a straight line. In fact, as we know with marketing, it's more a matrix. People come in from all sorts of angles and disappear into this virtual online world. You need to build a funnel that takes people and either gets them to sign up to an email list, in other words, a funnel that creates an email list and offers value bonuses, gives them a reason to join. That's a fundamental, as well.
Jeff Bullas:
On top of that, then you need to drive people to a sales page that gets people to buy your product or take them on a journey where you create credibility and trust and take them on that journey to where they put up their hand and say, "I'm ready to buy." Sure, if you're going to sell an expensive product, then once you've got people into the funnel, you might need to have real people involved to actually pick up the phone and call people to take them on the rest of the journey to buy that $10,000 product or $100,000 product. You've got to start building credibility in trust with content from day one, and then work out how to turn that credibility and trust engagement into sales, and that's your sales funnel.
Stacy Jones:
Then with turning that in, you're wanting to use software to help you with this. You're still working on whether it's content marketing or inbound marketing. You are putting together different parameters, different ways that can help you actually collect that data. Are there any preferred platforms you like working with or that you suggest that can help someone?
Jeff Bullas:
Agorapulse is a very good social media marketing platform that you can automate and schedule. Emeric Ernoult, who is a good friend of mine who lives in Paris, built this machine. It took him 10 years. There's one of many, but there's Agorapulse, which is your social media marketing automation platform. I think you need to use email platforms. We've been using Infusionsoft and looking at using some more up-to-date email marketing platforms, that are important.
Jeff Bullas:
I think the other thing that entrepreneurs need to understand is, it's a boring word, it's called process. I think if you create process and systems, it will set you free and allow you to scale. But to most entrepreneurs who are a bit freewheeling, a bit Wild West, creatives, process, attention to detail, is like an evil word or phrase. I think you need to then start working out how you can create and document what your business does and how to do it. I think that will set you free as an entrepreneur and help you scale, and that can be done through Google Docs.
Jeff Bullas:
There's a whole range of different systems that allow you to document it. We use Trello, which is a great collaboration tool, instead of having just emails, the email battle basically, where the thread gets lost and you're going, "What did I even say to them one month ago?" Trello, which is a tool that was bought by Atlassian back in about 2017 for about $300 million, is a great tool, and we use that for collaboration. We use Google Docs a lot, and we are very mindful about building a machine. I think that's really important as an entrepreneur, is that it sounds boring, but you've got to pay attention to systems and processes and build a machine.
Jeff Bullas:
When we launched a podcast, essentially what we did is we built a podcast publishing and promotion machine, and I think it's important. That's just one part of the business. What happens now is I can create content through the podcast. I upload it and my editors and team take it from editing to production, to launch and publishing and promotion. That's one of the reasons I didn't do the podcast initially was I knew it was going to be a whole lot of hard work. Entrepreneurs shouldn't be afraid of hard work, but I think they also should realize they need to delegate, so they become the conductors and leader of the band. I think that's really important.
Jeff Bullas:
I heard a great phrase about that, as well, the other day, is that as a business, what do you do? Who do you look after, your team first or the customer first? Well, I think it comes down to, if you look after your team, as the CEO/founder, the team will look after the customer. You've got to look after both, but I think that's really, really important. I love that particular approach to being the CEO and founder.
Stacy Jones:
I think, also, it's a very interesting approach now with post-COVID. We're not even post. We're still in it, but as we're coming out of it, after we've all been locked down, the trials, the tribulations, the massive challenges for business owners and entrepreneurs to have faced with staffing and team members and keeping them engaged, for companies who didn't have processes in place that they could actually turn on and make into this new digital world. There've been a lot more challenges for people than for those who actually have systemized and who are keeping an ear to their team and trying to understand the whole new world shifts that are happening right now.
Jeff Bullas:
Yeah. In some of our podcast interviews that we've done, I've done, is that I've just been blown away by the creative human spirit to actually pivot and change and evolve and come up with ideas. I interviewed one guy in New York that had a hospitality business that just basically got blown up in a matter of weeks, because he was making money out of having machines in hotel lobbies. He pivoted and leapt into importing masks from China, put a million dollars down to get a bunch of masks delivered, which showed up eventually. Now he's got a 50-million business, but he was on the edge of chaos and destruction based on the hospitality industry's struggling and suffering, that still is today.
Stacy Jones:
Where do you think some other mistakes are that entrepreneurs make with content marketing in general?
Jeff Bullas:
I think they sometimes forget to create what I call long-form content. I think that's really important, where you take a deep dive. I think as humans we've been attracted by the shiny toy of social media where it's content is 140 or 250 characters, 15, 30-second, 60-second videos. They're great, and I think they're important as part of the tactics. I think then, but producing, especially in the B2B space, if you're selling, you need to create long-form content. I was writing three or 400-word blog posts in 2009. Today we're writing up to two-and-a-half thousand, 3,000-word articles. It's a bigger commitment, but the reality is that you need to be looking at long-form content that adds real value and dives deep into the solutions that people are looking for.
Stacy Jones:
Yes, because the Google god really likes it a lot.
Jeff Bullas:
He does.
Stacy Jones:
Yeah.
Jeff Bullas:
Yeah.
Stacy Jones:
You have to support that one, too.
Jeff Bullas:
Yeah.
Stacy Jones:
Plus, if you have the long-form content, it makes creating other content a lot easier, because you can chop it, and you can repurpose it, and you can use it in so many different ways. You can take exerts away from it and use it for your social posts or you can turn it into little mini-videos and blogs. It's endless what you can do if you have a chunky piece of content to start working from.
Jeff Bullas:
Exactly. You've got to make sure that when you create that content, that you have the tools to help you automate that as much as possible. There're tools like StreamYard, for example, that takes a live Facebook stream and can turn that into Facebook Live and can turn it into a bunch of different pieces of content that go to multiple channels at the same time. I think also, to be aware of different… Some of the social media's organic still sits around on Instagram Reels, for example. YouTube Shorts now has emerged. These are copycats of TikTok, of course.
Stacy Jones:
Well, you can even take your TikTok, and then what's great is, you take your TikTok and then you can throw it up on Instagram Reels, and you can even put it up as an Instagram story. Look at that. All that vertical content and you just recorded it once.
Jeff Bullas:
That's right. That, because it's such a lot of focus on that particular segment or type of video or video content at the moment is that the algorithms aren't so tough, because those channels are trying to build that competition against TikTok, consequently, Instagram Reels and YouTube. Now the thing I like about YouTube Shorts is that, actually, because a lot of people don't realize, but YouTube is the second biggest search engine in the world. Basically, using YouTube Shorts, then you're going to help your job of actually creating a YouTube ranking for search.
Stacy Jones:
Well, I think when you are touching base on all of the different technologies out there that can write your own content for you, where blogs are being written without anyone actually being the writer, and this is going to continue, what we can't do is really create videos so well. There is not a system that can just actually put a real human there yet, because we're going to have avatars and this is all going to go away, everything that I'm saying, but for a moment right now in time, we can actually be part of the stories when we're creating video and still turn it into written content and have that benefit where Google's still treating video in a very friendly way.
Jeff Bullas:
Yeah. There's technology that's sort of helping humans scale to create video. I've been involved with a start-up for about the last 10 years, Shuttlerock, which is a New Zealand start-up, which takes static images and turns them into video and able to scale very, very effectively. I don't think we're at the full automation of video creation yet, or we're not at even content-written full-scale automation yet, but there are tools that can get you started and make it very simple and low cost to create video content at scale.
Stacy Jones:
Well, Jeff, how can our listeners learn more about you? I know they can go to jeffbullas.com, J-E-F-F-B-U-L-L-A-S.com, but how else can they learn just, in general, you and find your materials to learn from?
Jeff Bullas:
Yeah, well that's the easiest place. I'm on LinkedIn. I'm on Twitter. Jeff Bullas, just search for that. Jeff with a J. Really, it's very simple to find me. We try to be as everywhere as possible, humanly possible, but yeah, just jeffbullas.com, and we've got a contact form, so if you want to drop us a line. Hopefully, it's not lost in the spam or trash Google email algorithm.
Stacy Jones:
Yes, that happens to us all on occasion. Are there any last parting words of advice for entrepreneurs who are listening today on what they should be doing with their content marketing journey?
Jeff Bullas:
I think as I've said before, I think treat it as a long game, start creating, work out ways to scale your content. One example, a podcast is maybe one of the best ways to do that. Number one, the podcast be recorded on Zoom in audio/video. There is now software that takes that audio and turns it into a transcript at minimal cost. You can turn one podcast into three different types of media, and then you can carve up the videos into snippets on YouTube, which is really good for YouTube search engine optimization. Yeah, play the long game. Don't think you're going to be ranking. You're not going to be successful overnight, even though that's toted to everyone on Facebook ads, that we will build you a business in 90 days and you'll be making millions of dollars. Be very careful about that, yeah.
Jeff Bullas:
I think the other thing, too, is don't overplan. I think the other thing, too, is that you just need to act every day. If you take 365 actions in one year, you'll be surprised by where you are in 12 months.
Stacy Jones:
I love that as a quote. That's a really, really good quote, by the way, to end on. So, thank you for that. What I was going to also say is, when I started our agency, and I mentioned this to Jeff before the call, I started blogging, because I had gone to a course that said, "Okay, you should be sending your sales contacts a written email." I'm like, "Dear God, now I have to write something. What am I going to do?" I started writing by answering questions that I had gotten from clients. I would talk to someone, and I would hear a pain point or a challenge or I'd get the sense that they just didn't quite get something.
Stacy Jones:
I would write a letter from my heart to them in great detail, describing exactly how they should be approaching this scenario or situation, and then I would not send it to them. I would post it instead onto my new-found blog that I did, and then I'd wait for a week maybe, and I'd send them a note and say, "You really made me start thinking about something the other day. I wrote this with you in mind," and I'd send it to them. Now I accomplished the fact that I wrote something and I memorialized it out there, but I also got it in front of them. A lot of times they kind of felt special that I took the time of listening to what their pain point was and addressed it.
Stacy Jones:
We have thousands of blogs that are written now by myself, my team. As an agency, we're a small agency, we could have a lot more than this, but we have about 30,000 people who read our blogs on a monthly basis. It has brought my agency millions and millions of dollars from doing that, because we don't have to hunt for clients. We still hunt, don't get me wrong, but they come in to us now. It is the inbound marketing. It actually does work. I will be the biggest proponent saying, "Content marketing will change your life as a business owner." If you can dial this in, and figure it out, and look for ways that you can repurpose and cut and chop and grow it into a podcast, or take your podcast and then turn that into a blog.
Stacy Jones:
There's so many ways to approach it, if you can just take the time and not be scared to jump off the cliff and start. You just have to start that 365 days of action that Jeff just outlined. It's brilliant, because you just have to start. It will impact your business and your life and make you money in so many ways that you'd never expect. When you get on calls with clients, they're already pre-qualified now. I don't have to explain what our agency does. They've read it. They know it. They've gone in. They've done their homework. It is no longer a, let me tell you 20 minutes about what we do. They're like, "Oh yeah, you do this. I saw that, and you mentioned this." It elevates you faster from your competitions than you can even imagine. This is a must-do, must-do.
Jeff Bullas:
Yeah. I remember the first time I got an email from this guy in New Zealand, Johnny Hendrickson, a very short email. He said, "Love your content. Been reading it." This is about a year, 18 months in. He said, "Are you interested in coming over to run a workshop for us and we'll pay you for it." I went, "Okay," because he'd been reading my blog. That was my first paid speaking gig, was in New Zealand. That turned into being involved with the start-up, Shuttlerock, which I mentioned earlier. Today, Shuttlerock… You don't realize sometimes how your contact impacts people and changes their lives, especially if you're adding value and that's what your content should be doing. Today Shuttlerock is 250 people in 10 different cities all around the world, offices. This is why the long game becomes important and being willing to share your imperfect knowledge. That's the other thing that we need to be careful of, is that people say, "Well, I haven't got it just right." You will never get it just right. You need to make sure that don't wait to be perfect to start. You just need to start.
Stacy Jones:
Yes, you need to not worry. My biggest fear has always been like, "Oh my goodness, all my competitors follow my blogs. They're going to find out I'm a fraud, because I got something wrong." No, you need to not like actually like beat yourself up so much. Everyone is always trying to learn. You're not going to get everything, but as long as you have the right intent in the right direction and you're doing it your way, you're doing it well enough.
Jeff Bullas:
Yep, just do it.
Stacy Jones:
Yeah. Well, Jeff, thank you so much for joining today. I really appreciate your insights and time.
Jeff Bullas:
It's been a pleasure. Thank you.
Stacy Jones:
To all of our listeners, thank you for tuning into another episode of Marketing Mistakes (And How To Avoid Them). That's the important thing right there, avoiding those mistakes along the way. Please, now tune in, read more, listen more, always happy to have you here. If you all ever have any question about influencer marketing, product placement, or anything in pop culture, please remember you can reach out to myself, my team, and I'm always happy to chat. Have a great-
Also, kindly consider taking the 60-seconds it takes to leave an honest review and rating for the podcast on iTunes, they're extremely helpful when it comes to the ranking of the show.
Lastly, don't forget to subscribe to the podcast on iTunes, to get automatic updates every time a new episode goes live!