Hollywood Branded Refresher Episodes
Check out some of the past episodes we've covered on this topic:
You can check out our playlist here
Hollywood Branded  Content Marketing Case Studies
The following content marketing case studies below provide even more insights.

The Path To Becoming A Certified Influencer Marketer With Hollywood Branded
Get ready to learn a ton of how-to's and the tips and tricks of our trade, as you advance your influencer marketing game!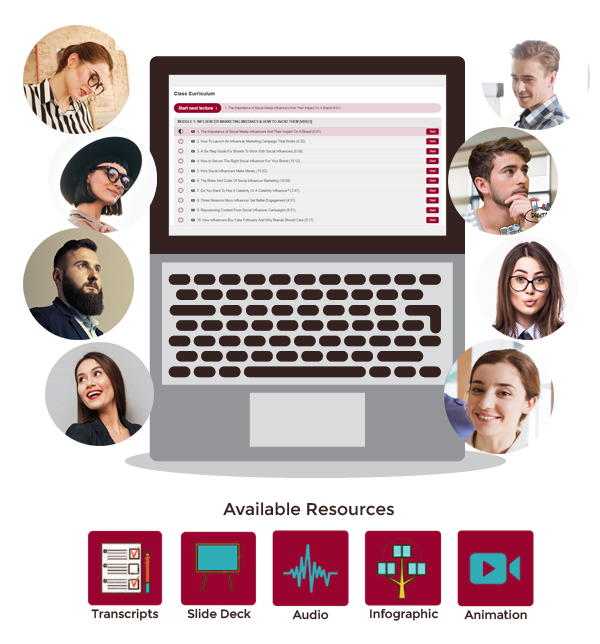 Full-Length Training Videos
Transcripts – Infographics
eBook Guides
Case Studies
Hollywood Branded Surveys
MP3 Downloads
Animated Videos
Additional Educational Material
Quizzes & Exams
Certifications In Influencer Marketing
We GUARANTEE that this class series will provide you with the foundation to make campaigns successful for your brand.
Transcripts:
The Secrets To Successful Celebrity Events
Blog – HOW TO #10: 12 STEPS TO CELEBRITY EVENT SPONSORSHIPS
Welcome to another episode of Marketing Mistakes (And How To Avoid Them) I'm Stacy Jones and today we are going to talk about the first five steps to celebrity event sponsorships brand managers should take before activating their next partnership!  This podcast has a part two for those of you interested in learning how else you can make your next celebrity event even more successful!
The Celebrity Stamp Of Approval
With 43% of consumers influenced to purchase products after seeing a brand with a celebrity, it's no wonder that 72% of brands and agencies use entertainment marketing in their current marketing mix.  There is no question about the extremely high level of influence celebrities have in our society.
The clothes that celebrities and social influencers wear one day fly off the shelves the next and when celebrities say they like a certain product, the sales of that product increase by double-digit percentages.
The Event Activation
Sponsoring celebrity events is one of the lowest cost and fastest turnaround options for brand managers to obtain tangible assets that can be shared with consumers, news outlets and retail distributors to impact sales. Events attract top tier press and provide content takeaways that can easily be given to press as a follow-up. Events also provide the opportunity to create brand advocates and build relationships with attending celebrities.
Celebrity event activations range from film festivals, fashion shows, award shows, premiere parties, celebrity birthdays, charities and custom events.
But many brands don't take advantage of the full potential of an event activation, and brand managers should listen to the first five steps I am going to share with you, before activating your next event sponsorship.
As a first step, Source Relevant Events
Celebrity events occur almost every week of the year, and the larger events align with major Hollywood happenings. Brand managers should ensure that whichever event is partnered with, there is an organic reason, and the event should support the brand as much as the brand supports the event.
Let's take a quick sidebar and talk about the types of events that exist for a brand, and their benefits.
Look for charity events that are being hosted by celebrities. Not only is involvement in a 501(c)3 a tax deduction, if the partnership truly resonates with the brand there is great PR value.
Around every major televised Award Show, official and non-official event sponsorships exist.. Official literally means it is sanctioned by the titled event.  And you need to determine if being part of the "Official" event is worth the cache – and the cost.  In my opinion, if the "Official" event is being held at the same location as the event, always choose that event option if the category is available and the price tag a fit. These "Official" events will have a higher caliber of celebrity attendance as the celebrities will go through the lounge during one of their rehearsal breaks. Otherwise, choose wisely – some of the non-official event producers do an excellent job at wrangling celebrities and ensuring a strong branding opportunity – others, not so much.
Most film festivals and award shows typically have both official and non-official celebrity gifting suites as part of the event where brands can provide sampling and directly engage with attending celebrities.
Dependent upon brand category, there are opportunities to align with celebrities who are on book tours promoting their recent works. Sampling can occur during press junkets or book readings, and contests can be run through social media. Brands can actually help 'make' these events and have high stake ownership.
Every sports team has a charity extension, and their sports heroes offer a fantastic regional and well as national footprint for brand partnerships – without the high endorsement price tag, and provide introductions to potential future larger individual partnerships.
Many athletes – and some actors – support charity causes with smaller private events, including golf or poker tournaments. These events offer brands the ability to participate as auction items, be placed in gift bags or serve as 'grand prizes.' Actors and musicians are also major sports enthusiasts, and attend many of these events.
Music Festivals offer large scale partnerships at high price tags, but many festivals and industry events such as SXSW or Coachella offer lower priced 'non-official' separate event activations that specifically exist for solely for the sake of brand partnerships. These events notoriously are great for photographs and social media assets, and provide great grass-roots marketing options.
As a second Step, Have A Team Be On Hand To Activate The Event
Whether the brand manager hires an agency to coordinate and activate the event elements, or if the brand team chooses to send their own people to run it, brand managers should be absolutely sure to have someone on hand to oversee the event, and never simply have the event producer handle the activation.
The event producer has too much going on to make sure celebrities are wrangled at the right moment, and that every publicist or editor attending walks away with a media kit and solid information. Nor will they be able to speak effectively and cover all the important marketing points you want to get across.
My third suggested step. Design The Layout
Whether a product is simply being sampled or if an entire booth display is being set up, brand managers should make sure that well-branded signage that coordinates to the event is created. This includes having at least one roll-up banner with the brand's logo and/or image in a step and repeat pattern. With event producer approval, this banner can be placed at strategic points throughout the venue, as well as provide a photo backdrop behind a sampling table.
The sampling table should have products on display that are not part of the giveaways, to ensure there is never a gap during a photo perfect moment.
Table cards that also include the brand's hashtags should be present so that wandering attendees and celebs easily can see social media handles and the relevant call to action.
The 4th Suggested Step Is to Participate In The Red Carpet
Red carpets with branded step and repeats are a brand's dream as photographers will cover the celebrity arrivals of any event in detail. If there is an opportunity to sponsor the red carpet, and obtain the coveted logo on the step and repeat, brand managers should, by all means, stretch marketing dollars. These photos go viral, and while the brand's product will not be seen with the celebrity the overall sponsorship and branding will resonate online for years to come. We've also seen pictures of so-so talent go big years later when their careers hit a rise and press clamor for red-carpet worthy images.
These photos will be the most published takeaways from the event and proactively shared with media by the event producers. In fact, when the press coverage posts the next day, over 90% of the images will be of the celebrities walking the red carpet. This allows those perfect branded photo moments that will live beyond the event, and which will also live online to be picked up by other press outlets in the future. The red carpet step and repeat is the easiest option to get branding takeaways from an event.
Our Fifth Step Is To Ensure The Team Has Overall Brand Knowledge & Touch Points
Brand managers should ensure that there is a script that is memorized by anyone on the brand team working the event. Publicists and editors – even with video crews – pop up unexpectedly, and being prepared with talking points is the only way to guarantee smooth interviews and reviews. And plan to have star moments – there are a lot of digital press sites that cover Hollywood events, and while they may not be the biggest names in the industry, they do an excellent job at capturing the event and have a strong digital following.  Sometimes in the hundreds of thousands.  Talk to everyone! Today every outlet offers a star moment for your brand.
Having a cheat sheet with key points that can also be given to the attending media is important. Most media attending events don't really want an entire media kit – they do want facts and fun quotes, and most importantly want to know which celebrity said what and if there is a corresponding photo to match.
The brand manager will also need to have a cheat sheet of what the ideal social media postings may look like for the brand in order to provide suggestions to attendees and talent. Being fun, and developing a hashtag that is easily shareable is one of the better ways to solicit attendee social engagement. On the display and table, and wherever else allowed, make sure there is a relevant social media branded site to reference included for the media and press attendees.
That's it for this episode.  I hope it was helpful, and please let me know if you have any feedback!  I'll see you next week.  And as always, if you need a little – or lot – of help, my agency Hollywood Branded is here to lend a hand.
Thank You For Tuning In! 
There are a lot of podcasts you could be tuning into today, but you chose Hollywood Branded, and we're grateful for that. If you enjoyed today's episode, please share it, you can see the handy social media buttons below and the left side of the page. 🙂
Also, kindly consider taking the 60-seconds it takes to leave an honest review and rating for the podcast on iTunes, they're extremely helpful when it comes to the ranking of the show.
Lastly, don't forget to subscribe to the podcast on iTunes, to get automatic updates every time a new episode goes live!