Hollywood Branded Refresher Episodes
Check out some of the past episode we've covered on this topic:
You can check out our playlist here
Hollywood Branded  Content Marketing Case Studies
The following content marketing case studies below provide even more insights.

The Path To Becoming A Certified Influencer Marketer With Hollywood Branded
Get ready to learn a ton of how-to's and the tips and tricks of our trade, as you advance your influencer marketing game!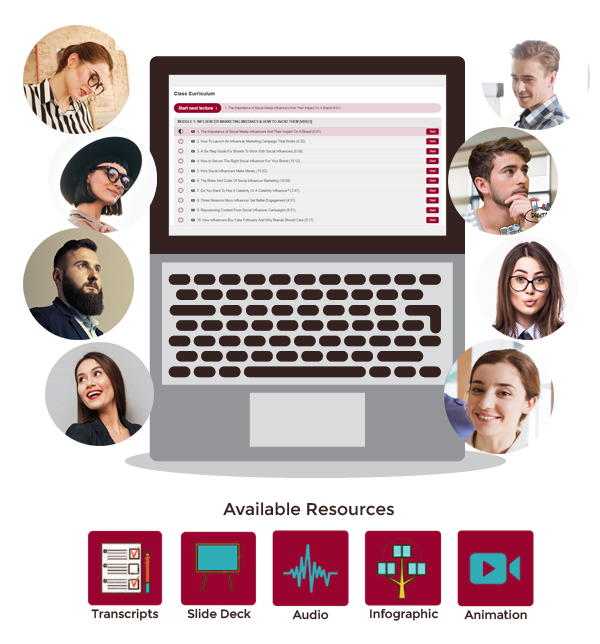 Full-Length Training Videos
Transcripts – Infographics
eBook Guides
Case Studies
Hollywood Branded Surveys
MP3 Downloads
Animated Videos
Additional Educational Material
Quizzes & Exams
Certifications In Influencer Marketing
Thank You For Tuning In! 
There are a lot of podcasts you could be tuning into today, but you chose Hollywood Branded, and we're grateful for that. If you enjoyed today's episode, please share it, you can see the handy social media buttons below and the left side of the page. 🙂
Transcripts:
Speaker 1 (00:00):
Welcome to Marketing Mistakes (And How To Avoid Them). Here's your host, Stacy Jones.Stacy Jones (00:13):
Welcome to Marketing Mistakes (And How To Avoid Them). I'm Stacy Jones, and I'm so happy to be here with you all today, and I want to give a very warm welcome to Doug Zarkin. Doug is currently the vice president and chief marketing officer for Pearle Vision, where for the last decade, he's led the global strategic marketing, visual merchandising, product promotion and store design for Luxottica's over $600 million global optical franchise business. His career has been incredibly diverse across CPG, retail, entertainment and agency. With leadership experience at Grey Global, Avon, Warnaco, Kellwood and Victoria's Secret PINK, which he launched from test market to a $400 million national brand. His work leading the transformation of Pearle Vision has helped to propel it to the top of Entrepreneur Magazine's Top 500 Franchise Brand List and led to the company being named, alongside McDonald's and Dunkin', one of the top 10 most profitable franchise brands. Pretty impressive, right?Stacy Jones (01:09):
His wealth of experience has led Doug being included on numerous top marketers lists. He has five North American Effie awards, a Clio award and has twice been recognized as Innovative Marketer of the Year by the CMO Club. Today, Doug and I are going to be chatting about his experience in building major brands, as well as leveraging branded content to drive branded marketing messaging. We'll learn what works from Doug's perspective, what should be avoided and how some businesses just miss the mark. Doug, welcome. So happy to have you here today.Doug Zarkin (01:38):
Thanks for having me. Can we package that and send it to my dad who still has no understanding of what I do for a living? I'd really appreciate it.Stacy Jones (01:46):
We absolutely can. And my mom is right behind him so that she can actually learn what I do too because it's still not quite figured out there.Doug Zarkin (01:56):
Great. Thanks for having me. I appreciate it. It's great to be here.Stacy Jones (01:57):
Of course. And so I love starting off, while chatting about you, how did you get to where you are today? You have had a lauded career. It's amazing what you have actually done, and not many marketers have had as much opportunity to launch and reinvigorate brands.Doug Zarkin (02:17):
So I'd like to say that it was part of a grand master plan. What I will say is when I graduated graduate school, after making the decision to not pursue both my JD and my MBA, I decided about a semester into that joint program that that wasn't for me, plowed through my MBA in 13 months and came to New York, knowing that I wanted to run a business and a brand and got some great advice. This is pre-LinkedIn, not to date myself too much, but I called a family friend, who is in the world of marketing and advertising, and his advice to me was very simple, "Doug, if you want to be driving the train, you got to get on at the back and work your way to the front. Learn all the roles and functions. Speak the language of the roles and functions. And most importantly, when you're finally in that C-suite, in that position of leadership, you'll be in a great position to motivate and understand how to get the best out of your people that are now in those roles and functions."
Doug Zarkin (03:11):
And so starting at the agency business, which is really at the end of the train about execution, working my way through client side opportunities of growing scale. And now I find myself at the Premier Optical Franchise brand in North America, Pearle, and I'm grateful for the opportunities that I've been given, and I'm grateful for the people that have helped me get here. I think most importantly, I'm grateful for the lessons that I've learned along the way that hopefully have made me as good a leader as I can be.
Stacy Jones (03:41):
What are some of those lessons you've learned that stand out to you?
Doug Zarkin (03:47):
So early on in your career, you're encouraged to climb the mountain as fast as you can, focus on performance, strive for excellence. I was one of those guys that was in at 8:30 and was leaving at 7:00 back in the days where there was no such thing as business casual so it was shirt, tie and suspenders, and was just plowing ahead. And it wasn't until I got into a position of leadership that I realized that there's no sense in getting to the top of a mountain if there's nobody with you, not only to help you take the selfie, to take the picture with you, but most importantly, to celebrate the journey with.
Doug Zarkin (04:22):
And so understanding that performance and leadership go hand in hand, it is not easy to do what we do for a living, if you think about what marketers do, it's incredibly arrogant. Our job is to get into the mindset of a consumer and motivate them to take action. Talk about arrogance. To be able to think you can do that is a little bit ridiculous. The power of people in helping you do it is not really drilled into you when you're getting your degrees or when you start out, and so I would think the importance of developing a strong leadership mentality, to bring people with you on the journey.
Doug Zarkin (05:00):
The second thing I think is to celebrate progress, not just perfection. Again, as you're working way up the career ladder, it's about delivering perfect deliverables. And perfection is very few and far between, and there are very few things that need to be perfect in order to be successful. So I think the notion of celebrating the progress along the way.
Doug Zarkin (05:21):
And I would say the third thing is really adopting the 80-20 rule. 80% of the time, if you can get to 80% confidence, you go, you do, you release it, it's understanding the 20% that requires you to be a 100% perfect. That is critical. What that helps you do is marshal resources correctly. It helps you avoid micromanaging. It helps you really figure out how to prioritize all the things that you need to do. And it's liberating to know that something doesn't necessarily need to be perfect in order for it to be successful.
Stacy Jones (05:57):
And it also gets you to actually go to launch because so many brand marketers I think are sitting there thinking that whatever they put out into the world must be spot on, dialed in, 100% there, and then you get almost frozen because it's hard to be 100% there before you actually have put something out in the universe and seeing how you've gotten reactions and then tweak and maneuver it a little bit more.
Doug Zarkin (06:20):
Well, the most ridiculous thing, if you think about it with testing, is that you're testing in a moment in time with a climate in time in an environment where your competitors are doing A, B and C in that moment, where the economy is A, B and C in that moment, in our case now where COVID rates are A, B and C in that moment. By the time you test, read and then make the decision to execute, the marketplace could radically change. Think about our world in January and February of 2021 versus our world now in October and November. Imagine doing a Q1 test, which you don't get the results back until mid Q2 if you're lucky. You spend the rest of Q2 and early Q3 optimizing, and then you go to market. You put something in a market now that you test in January. You're dealing with a completely different ecosystem. So I'm not poo-pooing test and learn, but test and learn has to be done at a pace that allows you to implement smartly.
Stacy Jones (07:18):
Well, it's really similar. I work in the entertainment industry. So we do product placement, movies and TV shows. And Hollywood has taken the same strategy that you're talking about that brands are using for marketing on how they actually are approaching distribution and content production for streaming platforms. So you've always looked at your traditional television model. You have a pilot. You put it out there. Do the advertisers like it? Then you dial it back. You revamp it necessarily and then you sell it to the agencies, and then you green light, "Okay, you have three episodes. It's a go. You make your three episodes. We'll give you more." And the streamers turn this around flat on its head and said, "You know what? We're just going to upfront commit to 10 and hopefully they like it. And if they do, we'll keep on doing more." And they're using all the data points and testing points themselves on actual things that are released into the world to then shape their futures.
Stacy Jones (08:15):
And I think that's what we're seeing from marketers now, who are starting to realize in our internet, socially fast paced driven world that those long testing platforms and timeframes don't work anymore.
Doug Zarkin (08:27):
I spent the first decade of my career on the agency side, as I mentioned, and one of our accounts was Warner Brothers' home video and theatrical. That was back in the day where you were developing the first websites that were putting content out, and what was that content? It was movie trailers. Movie trailers were really the first bit of content to go on the web in terms of branded to drive action. And I couldn't agree with you more. I don't think it's an either/or. I think there's a happy medium. The dollars that are invested in creating content, regardless of whether it's big or small, your reputation is what is on the line when you produce content. So I'm not of the mindset that either of those approaches is correct. I do think there's a happy medium.
Doug Zarkin (09:09):
Let's not forget, the worst testing pilot in the history of NBC was Seinfeld, but there was a personal passion for the project, and that's why it was green light, and look what happened. Research is only as good as the questions that you ask. The same thing with data. So you can test something but not do it in the right way, with the right audience, with the right questions and get an entirely different response. So I agree with you there needs to be a greater degree of fluidity with content, but at the same time, you want to be careful that you're not being reckless because again, bad content can really damage your reputation.
Stacy Jones (09:49):
Hundred percent. It's smarter to fix things afterwards. So with Pearle Vision, you have approached the brand in a very novel way where you have pretty much upended the strategies, you have reinvigorated, you have used content to bring it back to life. How did you approach and how did you help shape the culture to enable that to happen?
Doug Zarkin (10:14):
So for us, we recognized pretty early on in my tenure that we were in a very competitive, extremely commoditized category. And at the same time, what we actually sold wasn't necessarily as differentiated as one would think. One out of every two sunglasses on the planet sold is a Ray-Ban. So the fact that we sell Ray-Ban is not really a big deal. That's a point of market entry. And that's not the case with everything that we sell, but the majority of the products that we sell, you can find in some of our sister brands and also some of the independents.
Doug Zarkin (10:47):
What we came to recognize pretty quickly was the notion that consumers make emotional decisions before they make rational choices. And in our case, that emotional decision-making was about, should I trust you with the care of my eyes? And so we needed to start telling stories, i.e., content that would allow us to showcase why we were the destination that you should choose. This brand has an incredibly strong heritage, and much like a house that was poorly decorated, you had to strip a lot of the crap off the walls to realize that the bones of the house were beautiful. And when I joined the business about 10 years ago, that's exactly what we did, is we had had five different brand positionings in eight years. There was a lot of chaos. There wasn't consistency. And especially for our franchise business, you are as good as your worst location.
Doug Zarkin (11:38):
So we really needed to bring everything into alignment and take a much firmer hand into how we were expressing ourselves both on and offline. And I think through the power of emotional-based storytelling with our Small Moments campaign, with the work that we do in social, we've been able to rightsize the perception of the brand, and now we're up there as the highest brand from a quality of care perspective in the industry.
Stacy Jones (12:03):
With the content that you're producing right now, how is it a different approach than a traditional ad campaign? Because it is. Because you're doing extensions on it. You're getting PR campaigns behind it. You're getting film festivals in some cases to be supporting your content and helping leverage it and bring it to more people. How is that internally wrapping your head around that and using that as a showcase?
Doug Zarkin (12:31):
We're getting better. We're not great at it, candidly. We have been a little bit slower than I would like to adapt to the evolution in what's going on with content on Facebook and Instagram. We have to take a much deeper approach, and we started to, when something is posted on Facebook and in Instagram, it's a self optimization platform but you have reels and stories now on Instagram and you have to be able to design that snackable bit of content for the platform. And I think we're getting more purposeful in our decisions there.
Doug Zarkin (13:04):
Relative to extensions, I think the key thing there is to be humble. How many people actually really care what we have to say on certain topics? We have to be very choiceful into what we talk about. Yes, we have a right to talk about eye health and eyecare. And as a brand that has prioritized women, especially somebody that we call the chief health officer who's making all of the health and wellness decisions for herself and her family, we absolutely have earned the right, and we were recently recognized by the Women's Choice Award as the best eyecare optical brand for the fourth consecutive year. We have a right to talk to her about a variety of issues related to health and wellness, but we have to be careful in how we do it. We don't want to take too big a step because as quickly as you've earned the trust as a valuable source of content on things that are meaningful to her from us, that's as quickly as you can lose it by talking about things that are well outside your remit.
Stacy Jones (14:03):
And with that approach, what are some of the stumbling blocks that you tend to come across?
Doug Zarkin (14:11):
So speed and cost. A great creative doesn't necessarily take an exorbitant amount of time to concept out. But at times, I find that we're a little bit slower than I would like in taking an idea and bringing it to fruition. Prohibitive in terms of cost. You can do things a scrappy way and you can do things a full blown production way. If you've ever worked in television, and I've had the opportunity to be on air in some of the larger local stations in the country, when they come do a remote, there is a guy with a camera. There is a guy in a generic term. There's somebody with a sound, with a mic. And then there's usually the person interviewing you. So it's a three-person crew. If you can do that, and that's good enough for WNBC in New York or ABC in New York as an example, why do you need 30 people to shoot content that you're going to put on Instagram and Facebook?
Doug Zarkin (15:10):
And then that's the dilemma that I have with our agencies and with our team is, come on, it doesn't cost $100,000 to do everything. People are editing iMovies on their Mac. Do we really need to spend 30 grand in the edit suite? And just pushing people to liberate their minds in terms of how to get things done has been a challenge.
Stacy Jones (15:32):
Well, it's more a scrappy universe that we're in right now, and I think that we can all learn from influencers and the fact that they're able to utilize a very small group of people to support and create their work and develop really compelling content that is able to move the muscle and get engagement. And that's what you're commenting on, the fact that it is easy for others to actually do this, hard for brands to know how to dial back and not have that sheen and that polished approach to everything that they do.
Doug Zarkin (16:06):
There's a difference between I think being polished and being buttoned up. And I think where influencers fail is thinking that having a little bit of a roar take means that you don't have to be polished … I mean don't have to be buttoned up. And they're wrong. And for me, as we approach gorilla content, I think you have to be extremely clear into what your message points are. What are you looking to achieve? We recently did something with a celebrity, I won't mention who it is, but I would call it a successful failure. There just was no love. There was no vested interest from the talent.
Stacy Jones (16:50):
No buy-in. No authenticity.
Doug Zarkin (16:51):
There's no buy-in from her on what we wanted to do. And as a result, it came off really poor. And we scrapped a couple of hundred thousand dollar campaign around it because the end product was not satisfactory. And it's funny. When I talked to her agent and said, "Look, we're pulling this," well, why? Look at it. Look at it.
Stacy Jones (17:12):
There's no sparkle.
Doug Zarkin (17:13):
There was no sparkle. There was no passion. And I certainly, as the protector of this brand, one of many, am not going to push something just for the sake of doing it.
Stacy Jones (17:26):
And when you're looking for partnership, so the successful failure that you just had, how would you try to avert that from happening again? What would you put in place to try to ensure that that authenticity was there, that that buy-in to messaging was there? That's hard. It is hard to get third parties to do that.
Doug Zarkin (17:44):
Yeah. I in retrospect, and again, I call those a successful failure because you learn something and I certainly am not going to make the same mistake again, I should have listened to my gut. When we signed the contract with this talent, as part of the contract, they were very specific as to we were going to have 25 minutes with the talent as a pre-game. And seven minutes into the call, we were getting text messages from her agent to wrap it up. And I should have pulled the plug right then and there and was counseled not to. You've got to be able to want to do it. And there has to be respect, a mutual respect by both the brand that is hiring the talent as well as the talent who's agreed to do it. If it's simply a money grab, it's going to show.
Doug Zarkin (18:32):
I will never work with this talent. We were planning something bigger with this talent beyond just this campaign, and we pulled it, and I let the agent know, "You know what? They didn't live up to their obligation." And we could fight over whether we deserve a refund or not. It just became a bit of a diminishing returns, not to get too much into the weeds. But we decided to run and cut bait because I didn't want to be associated with this talent anymore.
Stacy Jones (18:58):
You started off your conversation with me talking about getting buy-in and making sure that when you get to that summit, that you have someone on your team next to you. They're posed to be able to take that social image with you so that you're not a leader all on your own. And you're talking about talent right now. How do you apply that same expectation, with the celebrity talent you might bring into your ad campaigns, to the teams that you're building underneath you to help run the actual business?
Doug Zarkin (19:32):
So great question. First and foremost, the thing I look for is passion. You can't teach somebody to be passionate. You either are or you aren't. And so I hire for passion. I require purpose. So I want somebody who is focused on making a difference, focused on being the best they can be, approaches things big and small with intent. And as I mentioned earlier, I celebrate progress. You want to hire for passion, you want to require purpose, and you want to celebrate progress.
Doug Zarkin (20:09):
And when I look at talent, if the reason that you think I should hire you is because you went to Harvard, guess what? I don't care what your GMAT scores were or your SAT scores were. It's not a reason to hire you. Entry level candidates make the single biggest mistake by promoting that this is where they went to school and that's why they're qualified. The reality is for all of us that are in a position to build teams, we know they may teach you fundamentals in college and grad school but they don't teach you the job. As you move up, your experience becomes more germane to why you should be considered, but I would much rather take somebody that doesn't have as much experience but has 10X the passion. I can teach you the job. I can't teach you to care. And that's the same approach that we really should be taking with talent and content, is I want someone who's going to work hard for the brand, who cares, who uses it as a reflection of who they are, who understands that there's a mutual win-win here, but most importantly cares.
Doug Zarkin (21:11):
Pardon the expression, but I want people who are going to give a shit. I want that on my team. I want that from people who touch this business. Apathy, there's no room for it in today's modern marketing playbook. Too many competitors.
Stacy Jones (21:25):
It kills it. It kills the energy. I'm very purpose driven in our agency. My mantra is that we can give you everything, just as you said, we can teach you anything, but we cannot give you passion and drive. That's something that you have to bring to the table yourself. If you don't have passion and drive, you need to go and find something that gives you that in life because life is just too short. As marketers, we embed ourselves in the culture of the brands that we're building. We live it, we breathe it, we sleep it. We don't turn off on Saturdays and Sundays. This is part of what powers a marketer in general.
Doug Zarkin (22:03):
I am … For whatever degree of success you would evaluate me having had over the course of my career, it is because I have been able to build high performing teams. Certainly, a leader has to lead, and I'm very proud of the visions that I've laid out for each of the brands that I've touched and I'm equally proud of the work that I've done, but accomplishing that work is not a one-man job or a one-woman job. It really is about surrounding yourself with complementary talent that isn't there to just agree with you and execute but is also there with you to think. And building your org structure, one of the things that I try to do is to try to keep it as flat as possible because junior people have great ideas and oftentimes, it's the different layers in chain of command that demotivates them to express it.
Doug Zarkin (22:54):
We're not the military. We're trying to motivate you to do what we need you to do, which is to get your eyes checked and buy a great pair of glasses. So by delayering my organization, I've allowed one layer between me and the most junior person on the team to ensure that there's a pipeline, to ensure that there's a pathway for feedback, both positive and negative both ways because I think leaders have to be open to feedback as much as we give it. And also for obviously accountability, which is so critical.
Stacy Jones (23:23):
How has COVID changed your approach with marketing? Obviously, we just went through a year, a year and a half time period where people stopped getting medical checkups. They stopped taking care of themselves. They hold up into their houses. How have you tried to dial into this and have you had to change tactics entirely?
Doug Zarkin (23:46):
So we're very fortunate that we were never completely shut down because eyecare was deemed an essential service, but we actually had to tell our neighbors, "Listen, unless you are a frontline worker or have trauma or broke your glasses or ran out of contacts, please don't come. Don't schedule an eye exam. Wait." And by doing so, we were actually really taking a couple of marbles out of the trust jar and saying we're trusting that you're going to understand and come back. And we had the strongest second half of the year in 2020 that we've had in the history of the business. We have had a record H1 in 2021 and are on path again to have a record year at the end of this year.
Doug Zarkin (24:24):
And what that really allowed us to do from a marketing perspective is refocus on what I would call the must-use. There's an interesting way to look at the things that a marketer can do. There's the musts versus the needs. There's the coulds versus the shoulds. And then there's that big bucket of wants. I think what COVID forced us to do was to really go back to evaluate the list of the musts and the needs and make sure that we were doing a great job with those. And then we got into the coulds and the shoulds as the business started to really percolate. And now we're starting to play a little bit in the wants. But to be sure, there is no third down in global pandemic in anybody's marketing playbook. So to use a football analogy, even the great Bill Belichick isn't sending in the third down in global pandemic play to their quarterback. So it was liberating in that there was no prescribed way, and so it was an opportunity to think differently and figure it out.
Stacy Jones (25:23):
And now you've come out of COVID, we're coming out of COVID, we hope we're coming out of COVID, we're entering this whole world of the metaverse. How, as a brand marketer, are you looking at not meta necessarily but metaverse? We've been seeing it coming out with gameplay and branding within games of, God, we don't know what's going to come at us, but what is your take on it? You're laughing, guys. In case you're not actually watching us right now, he's smiling. His eyes are lit up and he's chuckling.
Doug Zarkin (25:58):
One of the things I think to be an effective marketer is you have to have a humility to understand that you are never going to fully anticipate what the consumer wants or the consumer needs. You're going to take your best take at it, use all of the tools quantitatively and qualitatively you have and put your best foot forward. When we talk broadly about the metaverse, it's an all encapsulated esoteric perspective on how consumers are going to interact with entertainment and CPG and service businesses. But if you were to strip down all the fancy language, okay, what it's basically at its core discussing is consumer behavior. What do consumers really want out of their experiences?
Doug Zarkin (26:50):
For us or for me, I'll speak just for me, I'm not trying to let fear of missing out become a marketing strategy. There's a lot of things you can do. There are very few things that you should do, must do or need to do. I am excited about the opportunity to connect with consumers. What's interesting is that if you look at what's happening with Facebook's algorithm, they're actually pairing back your ability to connect. They're making it more difficult. The same thing with Google. Privacy is actually making it more difficult to connect digitally than ever before. And what you're seeing is a resurgence of what I would call old school methodologies like direct mail because you're trying to break through the clutter. It used to be you'd get a thousand pieces of direct mail during the holidays. Now you get a thousand emails a day, Black Friday, Christmas, Hanukkah, it's overkill.
Doug Zarkin (27:45):
So I actually think there's going to be a reset at some point where again, companies have gone and they've done out of either fear of missing out or we got to grab this opportunity versus somebody else doing it. And I think the consumer is going to be very vocal about what they like and what they don't. And so I think you're going to see an expansion, then a contrition, and then perhaps a refocus on core fundamentals. And I hope that out of this expansion into the metaverse, which sounds something right out of a Marvel movie, that we're not going to lose sight of what consumers really want, which is authentic communications about products and services that are relevant to them, presented to them in a personalized way so that they can make very easy choices and decisions of where, who and what to spend in trust.
Stacy Jones (28:37):
So you're trying to say that the average consumer doesn't want to just think about dressing up as a Batman and running through a digital world and looking at all the things that they can consume from that standpoint.
Doug Zarkin (28:51):
I am saying that if you can't be yourself, being Batman is not a bad choice, but at the same time, what I am saying is that because somebody wants to do something, it doesn't mean you should build something for that somebody to do it.
Stacy Jones (29:07):
What's in the future with Pearle Vision? Where are you going to be going? Are you doubling down on all things content creation, staying away from inauthentic celebrities? We know that one is not going to happen with you guys again, but what is the next horizon?
Doug Zarkin (29:24):
Great question. So I think for us, our commitment to care and continuing to build the care perception of Pearle Vision is at the heart of what we do. How do we continue to earn the trust and be seen as that genuine expert eyecare provider in the neighborhood? And that really comes through some innovations that we're rolling out. Currently, we are rolling out a digital fit technology that allows you to ensure that your perfect pair is indeed perfect, down to the millimeter because in eyewear, a millimeter of fit in your glasses, it's the difference between seeing clearly and having a massive headache. Anybody who wears glasses will tell you.
Doug Zarkin (30:08):
It's also about ensuring that we're bringing innovative products to market. Ray-Ban Stories is a product that our parent company, EssilorLuxottica, recently launched, and we're excited to bring that product into Pearle and also make it RX-able. So you now can have the Wayfarer that you love in prescription with this amazing technology, advancement included directly. And we're going to continue to ensure that we're putting this brand on the brain of the consumer in a respectful way. The average consumer gets an eye exam between 12 and 18 months. And so we want to make sure through our online scheduling portal that the minute you have that epiphany moment or that "oh shit" moment that you didn't get your annual eye exam, that you can connect with your neighborhood Pearle quickly, find the doctor that you want to go to, schedule an appointment, not only for yourself and your family, and ensure that your eyes are healthy.
Doug Zarkin (30:59):
From a content perspective, it's about being authentic. It's about mining for stories within the brand, within the consumer ecosystem that reinforce why we should be your choice, and keeping an eye on what's happening around us, most importantly. We're not close minded when it comes to innovation, and we will definitely take a little bit more of a test and learn approach as the year goes through when we see how 2022 settles in because let's not forget, retail businesses have to comp against a very inconsistent 2021. So it's going to be a real fingers crossed on how the first half of 2022 shapes up. But as we start getting our feet under us and the foundation we can use to solidify, I expect that we're going to be trying some innovative things.
Stacy Jones (31:52):
Well, Doug, I really appreciate your time today and your insights and I know our listeners did as well.
Doug Zarkin (31:58):
I appreciate the time. I wish everybody health and success and stay healthy, stay well for the new year.
Stacy Jones (32:03):
And to all of our listeners today, thank you again for tuning in to another episode of Marketing Mistakes (And How To Avoid Them). I look forward to chatting with you this next week. And until then, if you ever have any questions about how to get your brand integrated into television and film and streaming and music and all those awesome properties that you don't necessarily have to produce yourself, reach out to my team at Hollywood Branded and we'll talk to you soon. Have a great night.
Also, kindly consider taking the 60-seconds it takes to leave an honest review and rating for the podcast on iTunes, they're extremely helpful when it comes to the ranking of the show.
Lastly, don't forget to subscribe to the podcast on iTunes, to get automatic updates every time a new episode goes live!