Hollywood Branded Refresher Episodes Check out some of the past episodes we've covered on this topic:
You can check out our playlist here Hollywood Branded  Content Marketing Case Studies The following content marketing case studies below provide even more insights.

The Path To Becoming A Certified Influencer Marketer With Hollywood Branded
Get ready to learn a ton of how-to's and the tips and tricks of our trade, as you advance your influencer marketing game!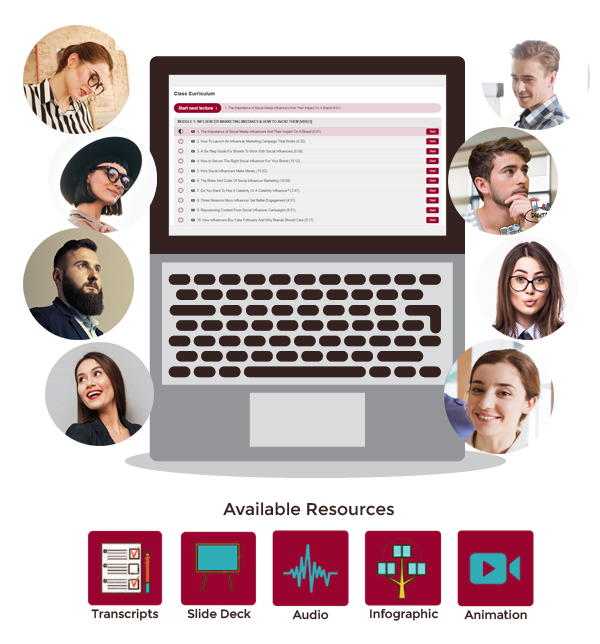 Full-Length Training Videos
Transcripts – Infographics
eBook Guides
Case Studies
Hollywood Branded Surveys
MP3 Downloads
Animated Videos
Additional Educational Material
Quizzes & Exams
Certifications In Influencer Marketing
We GUARANTEE that this class series will provide you with the foundation to make campaigns successful for your brand. Transcripts: How Social Influencers Make Money
Welcome to another episode of Marketing Mistakes (And How To Avoid Them) I'm Stacy Jones and today we are going to talk about how content producers and influencers make money, and why as a brand you should start budgeting for digital content and PR.
So How DO Online Sites And Influencers Make Money?
When we work with brands for social influencer campaigns, the hot topic is of course… money. What does it cost?  And that question is not just about the agency fee we charge to research, cultivate and activate that partnerships to ensure success, but rather, the fee that may be paid to the content producer.
Even PR has changed in recent years, with more paid campaigns partnered with content producers to create native and organic coverage of a brand. Why is this?  Well… the bygone era of traditional advertising is just that. Gone.  And people want – and need – to be paid for their time.
So How Does A Content Producer Make Money?
Unless it's just a part time hobby, most content platforms and producers are there to make money.  And there are a few ways they can be successful at it.  Some of which work better than others. There are hard costs to producing content.  Time being just a scratch on the surface of those hard costs.  Blogs and publishing sites have to pay money for software, hosting fees, plug-ins to make their sites better, clear imagery unless they create their own, cameras, editing software, and the list just goes on.
And in the old days, this was very simple.  You charge the reader.  And we all know that doesn't go over so well. When was the last time you felt it was worth more than perhaps your email address to be able to sign up and read something?  Most of you reading this probably don't even want to give away your email address unless the content is really going to be that good. (And that's why you have a fake address to some yahoo account, right?)
Traditional Advertising
The content publisher may be speaking directly with relevant advertisers and selling them space on their platform – including their blog or website (this obviously doesn't work for stand-alone Instagram/Facebook influencers).  That advertiser is paying based on typical web traffic to that source during the best of instances, and paying for a made up 'this is what it will cost you' in the worst of instances.  The more professional the content publisher, the more likely they are backing their fee strategy with traffic numbers, bounce rates (how long does that reader STAY to read) and the like.  The benefit is that the content producer has the ability to be pretty choosy with whom they work with, and who they may feel is relevant to their reader.
Or what happens more and more… the content producer signs up and is working with Google or another ad platform, and having the wild wild internet platform choose what brands to plug into those spots. In this instance, while specific categories can be barred by the content producer, they aren't able to approve which brands are actually being shown, nor what that ad content might look like.  But they stand a chance to make some great money IF their website traffic remains strong.  Which it won't if the ads turn off readers.  This is what happens when you are reading an article about watches, and the next thing you know you have an ad for online gambling.
Making Money From Your Clicks
Also known as affiliate marketing, this way to make money from content allows content producers to embed links that tie them to whatever product they are promoting.  When a reader clicks on the link and subsequently makes a purchase, the content producer gets a little kickback too.  There are not hundreds or thousands of affiliate marketing links tied to brands out there – but hundreds of thousands, and most major (and many smaller) retailers offer them.
Affiliate marketing works not just for a dress or set of pots that were written about that the reader is just dying to get their hands on, but also for professional services and even other content producer's content platforms which upsell webinars and classes.
So when you see a shopping link or 'buy now', expect that affiliate marketing is at play.
Affiliate marketing IS the way of the future, and any brand not participating in it right now needs to make some major shifts.  This type of marketing is all about getting other people – including social influencers – to talk about your brand and encourage a purchase… and give a reward back when they do so.  As the purchaser (or brand), you aren't losing out – this is money the brand was already planning on paying to market it in the first place versus other traditional advertising ways.
Being Paid By The Brand
And the last way to make money is the one that brands shrink away from.  Actual fees collected from the brand to make sure their content is included in the copy.
Now, the FTC in the USA has cracked down HARD on this in recent years this is why you see a lot of content that says "such and such brand sent this to us" or #sponsored or #ad.
When a brand is paying for content to be written about them, it's considered sponsored content, and it may include anything ranging from videos, social posts to actual articles or product plugs in those articles.
That's not to say that free products that are gifted to the writer won't get you anywhere – but it's a shrinking world where content producers with large readership or fan bases are moving away from just free, and into a CPM (cost per thousand) based on readership reach.  And we traditionally see a $10 to $15 range on most of these types of paid scenarios. Less if there is really high readership or fans, and waaaaay more if there is a celebrity attached. Like up to double.  And it doesn't mean those readers, fans or followers are actually engaging in that content when it comes to Instagram/Facebook/YouTube and the like.
And with video content comes the opportunity for paid product placement, when it is natural to the content being created.
So now you know you should probably start budgeting for content producers…
That's it for this episode.  I hope it was helpful, and please let me know if you have any feedback!  I'll see you next week.  And as always, if you need a little – or lot – of help, my agency Hollywood Branded is here to lend a hand.
Thank You For Tuning In!  There are a lot of podcasts you could be tuning into today, but you chose Hollywood Branded, and we're grateful for that. If you enjoyed today's episode, please share it, you can see the handy social media buttons below and the left side of the page. 🙂 Also, kindly consider taking the 60-seconds it takes to leave an honest review and rating for the podcast on iTunes, they're extremely helpful when it comes to the ranking of the show. Lastly, don't forget to subscribe to the podcast on iTunes, to get automatic updates every time a new episode goes live!