Ways To Contact Lori Sale:
Websites: artistandbrand.com
Email: [email protected]
LinkedIn: Lori Sale
Hollywood Branded Refresher Episodes
Check out some of the past interviews below:
You can check out our playlist here
Hollywood Branded  Content Marketing Blog
The following content marketing blog below provide even more insights.

The Path To Becoming A Certified Influencer Marketer With Hollywood Branded
Get ready to learn a ton of how-to's and the tips and tricks of our trade, as you advance your influencer marketing game!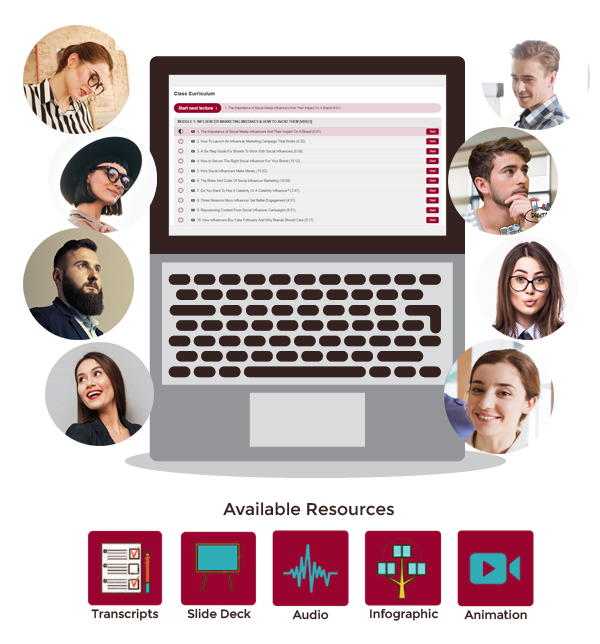 Full-Length Training Videos
Transcripts – Infographics
eBook Guides
Case Studies
Hollywood Branded Surveys
MP3 Downloads
Animated Videos
Additional Educational Material
Quizzes & Exams
Certifications In Influencer Marketing
We GUARANTEE that this class series will provide you with the foundation to make campaigns successful for your brand.
Transcripts:
Stacy Jones:                  00:00 
Welcome to Marketing Mistakes and How to Avoid Them. Here's your host, Stacy Jones.
Stacy Jones:                  00:05   
I'm so happy to be here. I want to give a very warm welcome to Lori Sale today who's joining us here in Los Angeles to discuss her over 30 years of experience in working in celebrity endorsement and brand partnerships. Lori's a partner at Artist and Brand Management and represents talent including Adrien Brody, Adrian Grenier, Jessie J, Tracee Ellis Ross, Nicole Richie, Tyra Banks, Peter Facinelli, Lucy Liu, Marcia Gay Harden, Anthony [00:00:30] Anderson and so many others. Lori formally was Head of Artist Marketing at talent agency Paradigm, Head of Global Marketing, Head of Global Branded Entertainment at ICM Talent, EVP Worldwide Promotion at The Weinstein Company, and way back when, when I first met Lori in the late '90s, she was SVP Worldwide Promotions at Miramax Films.
Stacy Jones:                  00:49  
Lori and I have discussed many a celebrity endorsement deal over the years as well as branded entertainment content partnerships. I wanted Lori to join our Marketing Mistakes and How to Avoid Them podcast today to specifically [00:01:00] talk about her experience in creating branded talent deals from the side of the celebrity and gain some additional information on what her advice is for companies who are interested in leveraging this fantastic marketing practice for their own brands.
Stacy Jones:                  01:12     
There's a lot involved in crafting a celebrity endorsement partnership and there are a lot of mistakes you can make that Lori's experience and advice can help protect you from. Today we're going to talk about how to best approach celebrities to get them excited to work with your brand. We'll learn what has worked from Lori's experience, what maybe could have been avoided if you're doing this yourself and not working with an agency [00:01:30] to represent your brand, and where other brands are missing the mark in this lovely world of celebrity influencer entertainment marketing we both live in.
Stacy Jones:                  01:37 
Lori welcome. So glad to have you here today.
Lori Sale:                       01:40  
Thank you. My god, has it really been since the '90s?
Stacy Jones:                  01:44   
Yeah, it really has been since the '90s. Just a scary scary thing to think about.
Lori Sale:                       01:49    
It is. But we all survived it.
Stacy Jones:                  01:52  
We did and now I'm well into my 20s of this industry, you're into your thirty years of this industry and we're still ticking.
Lori Sale:                       02:00    
We are and it still gets better. I still love it so-
Stacy Jones:                  02:04
Lori Sale:                       02:04 
Stacy Jones:                  02:06   
And adapting to now the whole thing of not only celebrities but social influencers and all of this wonderful brand partnership opportunities that are out there.
Lori Sale:                       02:15  
Stacy Jones:                  02:16 
So you have been working in and overseeing branded content celebrity endorsement deals for quite some time. Can you tell us a little bit about your background, how you managed to get into the entertainment industry, and how you transitioned over and became involved with [00:02:30] celebrity endorsements? Because when I first met you, you were more so on the film side of things and TV.
Lori Sale:                      02:36 
I actually started in PR and I couldn't take the stress of worrying about whether the press was going to show up to something that we pitched them. So I expanded and got more into events and sort of general marketing. That led into what was called added value, and that led into integrated [00:03:00] marketing, and then it became fancy and it became branded content. But basically, I've been doing the same thing my entire career which is trying to maximize whatever it is the brand or whoever the client is trying to do. Trying to be as clever and as authentic as possible and still do things within a budget.
Lori Sale:                      03:27     
I got into entertainment [00:03:30] sort of the reverse way. So I had an agency. I started working with clients and some of my clients were entertainment companies. So I actually learned entertainment from the entertainment networks, film studios, working on that side of the business and trying to understand what they were trying to do with brands. That's really where I sort of hit my stride is understanding that marriage between a brand and entertainment via the studio, [00:04:00] via television networks, and ultimately a celebrity.
Lori Sale:                      04:07         
It's always been sort of the same thing any kind of intellectual property even if that intellectual property happens to be a human. That's where I really learned it, working with the intellectual property, starting with television networks, film studios, then ultimately celebrities. So I've really been doing kind of the same thing the whole time.
Stacy Jones:                 04:28    
I agree. Everyone always [00:04:30] says, "Oh your agency does so many things" when I talk to them. I'm like, "No it's really all exactly the same thing whether-"
Lori Sale:                      04:36  
It's all exactly the same thing it just depends on which side of the table-
Stacy Jones:                 04:39 
Lori Sale:                      04:39 
… and then you have to get up and move to the other side.
Stacy Jones:                 04:42 
Exactly. Or I mean if you're working with a celebrity and doing a branded partner deal or you're working with a TV show or a feature film, it's really the same ultimately even though it's different but it's the same results that you're looking for and the same types of partnership that you're overall looking at.
Lori Sale:                      05:00 
Right. I think it just depends on if you need the intellectual property to speak on your behalf it's hard to get a film to do that. It's hard to get a TV show to do that but the human being can do that and deliver the right messaging et cetera so I think … But at the same time they are humans I'm with obviously things that go along with being humans.
Stacy Jones:                 05:24  
There's just a little bit more to juggle.
Lori Sale:                      05:27
Stacy Jones:                 05:29  
So over the years, what are some of your biggest successes for celebrity and influencer partnership deals and initiatives that you've been doing?
Lori Sale:                      05:38  
Well I mean I don't know if they're successes or not successes they're just things that I have loved. So the things that stand out in my mind, I worked on and launched Project Runway and that was a really wonderful experience because it was a sort of a not been done before situation. It was at the very beginning [00:06:00] of reality television. It was integrating brands into a show that they hadn't been done in a way really since Texaco Star Theatre back even before me.
Lori Sale:                      06:13     
So it was really an interesting … We broke lots of rules. There weren't rules. We made it up as we went along and it was just a lot of fun. That show happened to get noticed by the head of a talent agency who actually [00:06:30] called me and said, "Are you the one that put the brands in Project Runway?" And I said, "Yes." He said, "I'd like to hire you to run my endorsement department." I was like, "I don't know how to do that." He said "But clearly you know brands and that's what you really need to know." So that was really how I got into the talent side of the business.
Stacy Jones:                 06:50  
Lori Sale:                      06:51  
Yeah, it was amazing actually. And then from there in that first job, I got lucky to start working with [00:07:00] Beyoncé and it was at really explosive beginnings of her solo career and work on all of her big relationships. We had her in an Amex campaign. We had her L'Oréal. L'Oréal sponsored her tour. It was just a really wonderful time at the very beginning of her solo career to be working with her. [00:07:30] That rolled into wonderful talent relationships with endorsements for them all over the world from milk in Japan to you name it.
Lori Sale:                      07:43   
More recently since I've had my own company, Artist and Brand Management, that really has been something very special because I get to pick the talent that I want to work with. When you're at a big talent agency you have to represent the talent who are at that agency but when you have your own company, you can kind [00:08:00] of pick and choose and work with the people that inspire you and get to know them in a different way. Our agency we represent 150 celebrities which is a much different thing than working for an agency that has 6,000 that you've never met before.
Lori Sale:                      08:16   
It just became a different level and much more personal in the last nine years that we've had our agency to sort of pick the talent we want, get to know them. But they've all been wonderful. Some are more wonderful than others. Some are a huge pain in the rear but they all have their moments that make them memorable.
Stacy Jones:                 08:42 
Again, they're people, so people make [inaudible 00:08:45] very well.
Stacy Jones:                 08:45
Lori Sale:                      08:45
Stacy Jones:                 08:51 
I'm sure it's great working with more of a handful of select grouping of talent you're able to approach it much [00:09:00] more customized and really be looking more individually for those partnerships for the individuals that are going to be stand out and big wins for them, too.
Lori Sale:                      09:10 
Right. I mean it's just been different. Sort of in the last nine years is really where things changed dramatically in my opinion where they became about authenticity and I think that happened for a lot of reasons. The first is talent are receptive now to working [00:09:30] in this space because there were a number of writer strikes which impacted the number of projects and therefore their ability to earn money. There also was the dawn of the internet where everything is global now and there are no secrets so you can't just go off and do your commercial in Italy and no one will see it. The world and endorsements became global.
Lori Sale:                      10:00   
I think the talent realized that a great relationship with a brand can be fantastic for them as well. When those sort of three things happened, it just became a very different business and authenticity has really ruled. That has worked out very well in my favor of now being in a situation in a boutique agency where we won't represent anyone that we don't sit down with and figure out what's their thing. We call [00:10:30] it the thing. So it has worked out very well.
Stacy Jones:                 10:35
You bring up two different points I want to touch on. The first is on globalization. The world is flat. You're now with digital media and social. You're doing a campaign in China but it has the potential to be seen the world over. When your structure deals and looking at partnerships, are brands still coming to you and saying, "We're only interested in the U.S." and are you giving [00:11:00] that more weight or are you treating it as this is an auto partnership, this is a beauty partnership and it's actually going to cut out opportunities for the talents in other regions of the world from doing that single campaign?
Lori Sale:                      11:18   
Yeah, it does and you can still as a client who's doing a campaign right now in Canada. You know it's not a brand that's in the U.S. [00:11:30] at all. We geo-target, geo-blocked it. I don't know how that works or who does that but it's part of a contract and apparently, you can do such a thing. She is not exclusive in that category anywhere else but in that territory. We again, I always fall back to authenticity because I would tell if a competitor brand came to us and wanted her in [00:12:00] now the U.S. I wouldn't hide the fact that she has this campaign internationally and hopefully we have done a good job of keeping it just limited to that territory because that brand is a Canadian brand and it's not available here.
Lori Sale:                      12:14          
Again I always fall back to authenticity and transparency. No one wants to harm the talent but I think you have to be a good partner and I think that's the most important thing, start from that place of being a good partner. [00:12:30] If you have a good relationship … It's like a marriage. If you have a good marriage there's no reason to look to be married elsewhere. That's really how we kind of tend to treat it. We just sort of examine it on its merits and I just think it would be not authentic for a talent to do, for example, a cosmetics brand in China and a cosmetics brand in the U.S. and work with different brands. [00:13:00] I don't think on a human level the talent is going to feel comfortable with that. If it's someone that would feel comfortable it's unlikely that it's very authentic and it's probably a talent who's got 20 or 30 endorsements around the world that you can tell none of them really matter. So we just don't operate on that basis.
Stacy Jones:                 13:23
With that, so if you're looking at a talent and they're doing a cosmetic in the U.S. and they're doing the potential [00:13:30] of having a deal in China, how much time are you looking at putting in between so that you do keep that authenticity but you're not negating the opportunity for that talent to later on work with a competitive brand in a different region or even in the same region?
Lori Sale:                      13:47        
It's funny because the brands justify it saying, "Oh it's not exclusive." The brands use exclusivity to justify a deal that doesn't have enough budget. But on the same time, when [00:14:00] that same brand is picking a celebrity, they have a huge problem with the fact that the person formally did XYZ. Sometimes as much as seven to ten years. It just depends on what side you're approaching it from. When the brand wants someone but doesn't have enough money they say, "Oh it's not exclusive." But when the brand wants someone and they see that your talent has worked with somebody else, all of a sudden exclusive [00:14:30] is a problem.
Stacy Jones:                 14:34 
Are you seeing that blend away a little bit now that brands are starting to work with social influencers who are certainly less exclusive than celebrities always have been or are you still-
Lori Sale:                      14:46    
I don't think that brands are looking at this. I think that a brand realizes that a celebrity is an entire different level not that there aren't influencers who are becoming celebrities in their own right but I think that everybody [00:15:00] instinctually knows that that influencer makes their living … It's like buying an ad in a magazine. You turn the page and there's another ad from somebody else maybe even in the same category. I feel like people are looking at influencers as media and not celebrity. They are comfortable with influencers talking about different brands just like you'd be comfortable flipping the pages in a magazine and seeing different ads in the same [00:15:30] issue.
Lori Sale:                      15:31          
Celebrities are different. You want them for different reasons. You want them because of the media value that they can bring you above and beyond so it's not just put this person in your ad or do a social post with that person but you want to get press and you want reporters to interview them. All of that can be found with a celebrity. So I think people look at it differently.
Stacy Jones:                 15:59      
I fully agree with [00:16:00] that. We'll get a lot of brands that come into us and they still look at … We'll be going down the path talking about what type of individual they want to work with and they are just dogged set on being a celebrity. You listen to what they're actually saying and they're saying that they want someone to produce content for them. Are you finding that your celebrities want to produce content or are they staying away from-
Lori Sale:                      16:24               
Yes. No, no, no. Celebrities want to produce content and in fact there's no one better [00:16:30] to do that because they've been in front of the camera. They've been behind the camera. They've been on sets their whole career. They know good talent to work with. They know good crews. They know good writers. I think celebrities are the best people to create content with. Many of them aspire to be … It was funny I had this conversation with a big global brand and they were interested in one of my clients and they had not [00:17:00] nearly even a fraction of the amount of money for him. I mean this is a big, big global name. I said, "You know, if you come to him and you say, 'We'd like to hire you to be in this spot and we'd also like you to direct the spot,' you actually have a chance because he loves to direct."
Lori Sale:                      17:21     
Sometimes it's how you again … We're all human and you're approaching a human being and so do you have that thing that you can push that button that makes [00:17:30] it authentic? If you have a talent who loves to be behind the camera and you want that person in front of the camera, then offer them to do both.
Stacy Jones:                 17:39  
That's great. That's a great suggestion. What about brands who are looking at celebrities still as social influencers where they're trying to go back and forth and they want the celebrity to just do a social media campaign? Do you think that's beneficial? Do you think that's the world celebrities want to play in or do you think that they're looking more [00:18:00] for the endorsement options to be part of media, to produce content, to be at retail and to have a bigger footprint?
Lori Sale:                      18:10      
I have not seen any offer in probably three years that didn't also include social whether they want it or not, to be honest. Everybody just throws that in every deal now. The other thing that we're seeing is that it looks like a commercial, it smells like a commercial. [00:18:30] It's a commercial oh, but it's digital. So it's missing a zero. It's the same amount of work and in fact I would argue that it's more exposure these days than a commercial but the buyer or the brand, whoever is representing the entity who wants to have the relationship with the celebrity says, "Oh but it's only digital." I always think every time, "Yeah, it is only digital therefore it should have two more zeroes [00:19:00] to it."
Stacy Jones:                19:00    
Yeah it's actually going to be seen by more people.
Lori Sale:                     19:03
Lori Sale:                     19:00          
Stacy Jones:                19:01 
Right, [crosstalk 00:19:01] like people
Lori Sale:                     19:03       
Right. Every celebrity has different feelings, we have a lot of celebrities, some will not put a brand on their Instagram, but they'll only do an Insta Story. Again we know each of these clients individually and we know how they feel about it. I think brands ask for a lot, do you really need to have a social post every [00:19:30] month because you've got a twelve-month campaign? So sometimes there's the burnout factor where it makes the celebrity look bad to their followers to over post, I think it does the brand no favors. I think it just depends and that's why we always go back to the very first step is, will my celebrity talent like this brand? Do they use this brand?
Lori Sale:                     19:59    
And when we sign our talent we ask them about 50 questions, we call it onboarding, where we sit down with them and we literally do a brand profile of them. What do they eat, what do they drink, what do they drive, what do they wear, what brands are in their bathroom, what brands are in their closet, what brands are in their refrigerator? What do their parents do for a living, what do their grandparents do for a living, do they have a dog, what do they feed the dog, what's the dogs name, what kind of dog, we literally ask everything that you can imagine down [00:20:30] to diseases in their family. And we do it for two reasons; one is the process helps us really understand what this person is thinking and where they are most comfortable.
Lori Sale:                     20:46 
For example, I said to a client, a client once said oh gosh I'm not sure I'm really cut out to do these kind of things and I'm not sure I'm comfortable with it and selling things. I said well number [00:21:00] one, trust me the brands do not want you to sell for them, they have people who do that, then people who are better than you do that. And then I said, what kind of car do you drive and the person told me what kind of car he drove. And I said do you like your car? Oh my God, I love my car, it's the third one I've had, it drives… everything that he said it became very animated and I said, you just did what I need you to do. I only want you to do it for brands you actually use, then you can talk just like you told me the [00:21:30] story about your car. The celebrity then understands that we're going to protect them from being in an awkward situation and talking about things that aren't authentic. And so it works out very well and at the same time when we ask these questions, we ask them because we want to know if you call with one of your clients and you've done this many times, Lori who do you have who has make sense for X?
Stacy Jones:                21:59     
Yes, I'm famous for that.
Lori Sale:                     22:00     
Right, I can sort our grid and tell you authentic names who actually have mentioned, use your product.
Stacy Jones:                22:09              
Lori Sale:                     22:10 
And that's really the place to start. So we always start from authenticity and then we look at what does the brand want to do. Whether it's social posts only or PR or come to an event or all of the above. It doesn't really matter what the services are when you start from a place of which [00:22:30] talent use the brand. Because then it's something, it becomes about things other than money. And I think we can all smell the ones that just are not real.
Stacy Jones:                22:42    
And so how do you suggest if it's a brand, so a new-to-launch brand, new-to-market brand just hasn't been in the United States, celebrities not familiar with it. How do you suggest familiarizing the celebrity, seeing if they actually would be their authentic selves with it and would want to embrace [00:23:00] it and do a partnership with it? Are there any…
Lori Sale:                     23:02      
So what we always look for when we have a situation like that or really anything, the first couple of conversations with an agency who's representing a brand, we just like to see what the brand is, where it's been, have they ever worked with anyone before, sort of the back story on the brand. The back story on perhaps the CMO, sometimes people say oh the CMO used to be at XYZ. [00:23:30] Those things are ques for us because if it's a CMO who was at a major brand and they're now at this company we haven't heard of, it tells us oh that's probably a company that's got great potential or why would someone with this senior level experience have gone there. So we look at the company itself, how long have they been around, where the founders were, where the key marketing people were, [00:24:00] what kind of press do they have.
Lori Sale:                     24:03  
We look at their website to get a feel, I got one yesterday looking for, I don't know I think it was leather goods in China. Obviously I go to the website and I can't read any of it, but you can see the product looks good, the website looks good, it looks reputable. That's the best you can do as we're starting to vet who is this brand if we've never heard of them. [00:24:30] It's also who's the buyer? I know that your company is not gonna bring me something that's gonna get me in trouble cause you're not likely work with a company like that. Right?
Stacy Jones:                24:40         
Lori Sale:                     24:40       
So that's part of it, the company that you keep. So it's really kind of all of that and then the agency would say to us here's our client, here's where they've been, here's what they've done, here's who they've worked with, here's what we know about me, here's what they're looking to do. Then we start looking at the scope of work, [00:25:00] what are the services really? We look at things in terms of timing because when you have series regular actors then they're shooting on network, they're shooting from the end of July through mid-March, so they have just a few months off of hiatus starting April back to July. And if they're gonna go do a film or they're gonna go travel [00:25:30] or whatever they're gonna do in their off season, we look at the timing.
Lori Sale:                     25:35         
Sometimes people, it's very specific, it's an event on this day and this time. We just got one this morning that wants to send somebody to New York to do some press before super bowl and is interested in a client who's a serious regular. I'd have to look up the dates and see if he has a January hiatus, he probably does not because he just came off the holidays. We look [00:26:00] at all those variables and then just how does it feel?
Stacy Jones:                26:03        
When you're working with a celebrity and a brand and you're inking the deal, you're deep in negotiations and you're looking at shoot days, if there's going to be filming, you're looking at all of the different elements of the campaign. Do you typically have experience brands coming to the table knowledgeable that there's additional costs to everything, besides just the costs of [00:26:30] the partnership? Where let's say you're asking for an event even, like you just mentioned, they're going to be flying to New York so obviously they're gonna need to be flying First Class, they're going to be needing to be chauffeured, they're not just going to be jumping in an Uber from point A to point B. They're going to need hair and makeup, they're going to have these extras that come with that?
Lori Sale:                     26:51     
Yeah, I mean again, I think it all boils down, the agencies that we work with know those things, they've done them before, it's another reason to work [00:27:00] with an experienced agency and the space because they know that from the get-go and they can budget accordingly. We do and there's dialogue that happens between us. For example, when you call me and we're talking about a particular client, if it's a client that I have that has perhaps a young child and travels with the child and a nanny, we talk about those things. From the beginning when we're talking about budget ranges [00:27:30] we try to tell the brand and/or the agency from the beginning where those things might be. If there's somebody whose got extreme costs and we have some that have extreme costs, they might have significant glam costs compared to others. We do try to talk about those things in advance and let the brand know, it's never a surprise.
Stacy Jones:               27:58  
Lori Sale:                    27:58    
Cause there are contractual items [00:28:00] that go into a deal.
Stacy Jones:               28:02       
And we end up so many times, even with brands who, one would think would have experience, but maybe the individuals on the teams just don't. They really do, they're like why can't they take an Uber? Why do we need to arrange car service and can't they do their own makeup, why would we actually need to do their makeup for them? That's a common question actually that comes up a lot.
Lori Sale:                    28:24         
Yeah and it also depends on, we have some it just really depends if there's cameras rolling also. [00:28:30] Oftentimes it's the reason, I think those costs are also the reason of why to work with one person versus another.
Stacy Jones:               28:40  
Lori Sale:                    28:41 
For everybody to be super transparent about those things. For example, I have a couple of male talent who are totally cool with not having any glam, grooming is what you call it on the male side of things. They're totally comfortable with not having any grooming unless the cameras are rolling. [00:29:00] And if the cameras are rolling they need to have grooming. Then that's appropriate and that's what they offer, what they have to sell if their main image and likeness which is part of what makes them a celebrity. It's very appropriate that they would want to look their best and not just look like the rest of us.
Stacy Jones:              29:18        
Yeah, and the brand also is gonna want them to look their best when they have that image later on that they're sharing with the press.
Lori Sale:                   29:25 
So I think those are the kinds of things that would come with dialogue and [00:29:30] why you use an agency who knows to ask those questions.
Stacy Jones:              29:37              
Okay. What are some of the biggest challenges you've had to deal with when you're working with a brand or an agency to create a deal?
Lori Sale:                   29:42    
There's always lots of challenges, I think you get you're working with a team so for instance, you might have the greatest celebrity in the world and I again, I think mine all are cause I like them and I don't have to work with them. So I tend to choose [00:30:00] people who I think are interesting, I choose talent that I think that there are one of, meaning not just a dime a dozen, but I think that makes them compelling to brands and so I have those criteria. But it's more than just the celebrity and the brand, there's a lot of people involved. For instance, I will say when certain people ask me about certain clients I will say they're really great, their managers are really great, their publicists [00:30:30] are really great, the lawyers are a little tough. So that's not going to be fun for anybody, but we'll just get through it together and when we come to the other side you'll have a great experience. So please don't judge my client based on their attorney who happens to be a jerk.
Lori Sale:                  30:45        
Or sometimes the publicists are difficult or sometimes the managers are difficult or sometimes I'm difficult. You just have to know those things going into it, I think on the agency side and the brand side. Sometimes you have an [00:31:00] agency who knows exactly what they're doing and has done it a million times, but you have a client who hasn't and so it just takes more patience for everybody. Each time it's brand new so the new client and a new brand, it's just different. To me that's what makes it interesting and never boring, is that each time it is so different.
Stacy Jones:             31:20
Oh, it's always different, every day is different. Which is great as long as you embrace, different. And challenges and changes, which obviously both of us do because [00:31:30] we've chosen these careers.
Lori Sale:                  31:33    
Stacy Jones:             31:33   
So when you're working with a brand how do you decide if it's the right partner? What are you specifically looking for from the brand that really spells out, makes it clear that this is going to be a great brand fit? Obviously the authenticity, obviously someone who is going to actually come to the table with the right amount of dollars as well, but what makes it the right fit?
Lori Sale:                  32:00     
I think everybody gets a gut feeling in the very beginning of where it feels authentic, it feels professional, it feels right. I think at the end of the day we can't make our clients do anything they don't wanna do and all we can do is tell you based on our experience of whether we think they'll be excited by the offer or not. We don't say yes, we don't say no, we just say wow, I just don't see this happening because the last time this client did this, [00:32:30] their fee was X. I just don't know, but, BUT I don't make the decisions for them let me take them the offer. We try to approach things on that basis.
Lori Sale:                  32:42     
We expect a firm and binding offer, we don't go to our, again our clients are human beings, they get their feelings hurt like most of us would and so we don't waste their time on things that are not real. Oftentimes talent brands will [00:33:00] say oh can you see if they're interested. No. No, I'm not going to do that because if I do that and they say they are and then you don't choose them, their feelings are hurt. So we try to get it to the point of the brand providing a firm and binding offer, meaning if the client sees it and accepts it, it's done. And then we would go to a long-form contract. But [00:33:30] we don't want to be in a situation where the brand decides today they want this person and tomorrow they've changed their mind.
Stacy Jones:            33:39
I'm so happy that you're saying this because we get calls all the time where it's like can't you just come up with five actors or actresses that would like to do our campaign and find out how much they'll cost? Then we'll decide from there which one we want to work with and we'll just see what happens. And we won't do it. We don't want to touch that at all [00:34:00] because it is…
Lori Sale:                 34:03       
We provide, we do provide, we were [inaudible 00:34:05] hey here's five people we think make sense for this campaign, here's material that each of them and here's the budget range for each of them.
Stacy Jones:            34:15     
Lori Sale:                 34:16       
Then you can take that to your client and your client can decide on one, but we're certainly not going to multiple clients, we're not going to any clients without an offer because we just learned our lesson. They get disappointed, they're human beings, no one wants to not be chosen for the team, right? [00:34:30] No one wants to be the last one standing and didn't get chosen, we were all kids we all know what that feels like.
Stacy Jones:            34:37  
Lori Sale:                 34:38    
Stacy Jones:            34:40
And then how much does a celebrity endorsement deal typically cost? Above and beyond the extra additionals that I spoke about earlier, but typically what are the ranges that you see where brands need to be aware of what they need to come in at?
Lori Sale:                 34:57
Well, my favorite saying and I didn't make this up, somebody [00:35:00] on my team told me this is "how much is a piece of string?" Without knowing what kind of string, how long is the string, how do you price it? You start from that basis that's why we always want specifics. We want to understand exactly what the services are and how much time will that take? Is that a half a day, is that a full day, is that multiple days, is that consecutive days, is it one day a quarter, is it four consecutive days? [00:35:30] What is it? How much from a perspective of getting them off work, how many days? Then we want to know the specific services, we don't need to know what the creative is, but if it's a full day shoot of content. Whatever that content is, whether it's going to be an ad or a digital or [inaudible 00:35:49] board doesn't really matter, it's just we know there's going to be a shoot. Is there going to be social posts? How many and across what channels and how often? [00:36:00] We want to understand the full range of services, it's very important to understand that.
Lori Sale:                36:07      
Then we will be able to give a range based on what they've done in the past and what we think this amount of services is worth or is their typical. I said to somebody the other day, typically this person gets $100,000 a day so you can do the math, do you really need seven days? Can you do it in three? So that's where the budget [00:36:30] gets adjusted because it always comes down to the agency or the brand wanting someone specific and I say let's work together in cobbling this together so that you can get what you need. Because if you start with authenticity as I said before, then it makes sense so then it's just like a puzzle, figuring out how many days.
Lori Sale:                36:57     
I did a campaign with somebody and it's for [00:37:00] credit card and they were shooting, they had four shoot days. I said wow that is really going to be difficult, she's a series regular it's going to be tough to get her off, do you need four days? They were like yeah we're shooting two of them are in an active airport. Can you imagine? Then we looked at how complicated those days were going to be because her glam has to be, how do they, to get through security, it was just complicated shoot. [00:37:30] We made it happen and we realized yeah it can only be done in four days, that made a whole lot of sense.
Stacy Jones:           37:37   
Lori Sale:                37:43   
I think the rule of thumb is nothing less than $10,000 and then it just depends on beyond that what you want.
Stacy Jones:           37:51    
Right. [crosstalk 00:37:52] and all of the things that they're going to do…
Lori Sale:                37:55               
Stacy Jones:           37:55        
For you, how well known. The more known and recognized the celebrity the more it's going to cost.
Lori Sale:                38:00   
Right, but if you need a celebrity to make a Tweet…
Lori Sale:                38:01       
Right but if you need a celebrity to make a tweet, depending on who this celebrity is, you could find a celebrity to tweet for $10,000 but not for less than that.
Stacy Jones:           38:09  
Lori Sale:                38:09       
Then it goes up from there.
Stacy Jones:            38:11     
Yeah, and it doesn't matter really what their social footprint is either. It's the fact that they are a celebrity and they have that higher recognition value, versus if someone is trying to say, comparison of the social influence and say "Oh, they have less following," it doesn't matter.
Lori Sale:                 38:27   
Right. It doesn't matter because I have [00:38:30] a couple of clients to assist her. And I called them influence influencers because their following is pretty small but the people that follow them have huge footprint themselves. So their influence are their influencers. They also are great and savvy at making content. I guess watch, so it is not always about the number of eyeballs but it's who's eyeballs are they.
Stacy Jones:            38:58 
And then we also get asked quite frequently, amazingly frequently, if a celebrity who's considered a rep share, getting some sort of piece of the actual sales, if they will check even an equity position in a company. How do you deal with those questions?
Lori Sale:                 39:17    
What we always say is yes, we're open to creativity. There has to be some financial commitment up front. You can't [00:39:30] be 100% based on revenue because the person, the celebrity already had their name in the likeness out there. Like you can't put the genie back in the bottle. They have to get something, like could they take less in order to get a rep share perhaps.
Lori Sale:                 39:47        
The problem is that equity is never controlled by the celebrity, and that company may never have liquidity in it. Equity that doesn't have the liquidity even doesn't ever turn into anything [00:40:00] in the short term. We often say maybe we could do something, let's imagine that it's $300,000 worth of services, you're the person who earns $100,000 a day and it's a three-day shoot and will they take equity instead? Perhaps that the other thing that we can do is, you can recoup that back before [00:40:30] maybe they take a less certain amount, and you can recoup that back before the person gets their royalty of the back and the revenue share. There's a hundred way to do this. The answer is yes, but we just offer them a lot which makes us think that they are really not… Everybody wants to do that. It's just what it is. All I'm saying is just depends.
Stacy Jones:            40:50      
When we're talking with brands a long time, when they start going down the equity pathway,  they think that if somebody comes on board as an equity partner, then all of a sudden they have a built in marketing machine, and almost achieve of marketing officer sitting there who is going to run their brand for them with the celebrity at the house. And that's not how this field work traditionally created. It is based off of deliverables, and not a "Okay, I'm now going to seize the day, thank you so much for gifting me pieces of your company and I'm going to make you a gazillion [00:41:30] dollar just for having brought me on board."
Lori Sale:                  41:33   
Right, there's also complicated. By the way, there's tax complications with any equity, like if the equity is [inaudible 00:41:41]. It just depends and all of them are different. Every brand is different, but I would say honestly if you have a brand that is a celebrity actually really loves, equity is not off the table. Because they already know they're like the product, they already believe in the product [00:42:00] so I think it's just about being creative. I like to walk away where the brand feels that they got so much and that they cut the best deal in the world, and the celebrity feels the same and then the agent are in the middle high fiving that we did our job. Everyone is happy and now it's time to execute, and everyone will still be happy.
Lori Sale:                  42:23 
I also like to make my talent very available to the brand that they work with, and [00:42:30] I pride myself in cutting interesting deals. We did a deal with one of my favorite deals, was Adrian Grenier relationship with Dell computer. How that came about is that when I started working with Adrian then I asked him what events did he go to. He named our [inaudible 00:42:51] and I reverse engineer and looked up the brands that were at those places. And I kept seeing Dell computer, [00:43:00] and I thought "Ah, this is interesting." So I called their agency and said they represent Adrian and my guy goes to the same place as their brand goes. The agency said Dell is not looking for a celebrity and I said: "Well, Adrian is not looking for a computer but just something here." They go to the same places for a reason, there's something so I think we should have the meet. So we did have the meet and they fell in love, and they realized that they actually have a great deal in common.
Lori Sale:                  43:30       
Dell ended up making Adrian their social group etiquette. They saw the value that he could bring, and when we worked on the agreement with the brand, it was very funny because we had no idea what to put in the agreement. Because they didn't know what they were going to do. They didn't know [inaudible 00:43:49] to ask for because they didn't know where they wanted him to go yet. They didn't even know what social group etiquette meant. We were literally making it up as we went along. What we chose to do as I said "Look, everybody loves everybody here. You have a budget, your budget is what your budget is. You either going to have the money you have, or [inaudible 00:44:10] do it for that or not. So please just make us an offer, don't make it an insulting. Our goal will be just to say yes." We did, we said yes. Just put in place holder, okay, let's say he's going to do fifteen social, let's say he's going to make three appearances.
Lori Sale:                  44:31       
We just put it in numbers but we agreed that we would work together in building what this was, and that they will have direct access to Adrian which we did. We put the contract in a drawer and we didn't count tweets, we didn't count appearances, it went so well. You can google Adrian Grenier and Dell, and you will see thousands of things we did over three years time, that we were partnered with them. They just kept renewing [00:45:00] and even the whine down period was they said "Well, we don't know that we were going to need him so much this year but we don't want to let him go." So that was the fourth year, we sort of gently roll up into the sunset and have a great relationship. I think they've been thrilled, Adrian has been thrilled, nice people and it all worked out great. And it wasn't an unusual thing.
Stacy Jones:            45:23           
Yeah, and we worked with you, with him before. He's great. Brand loves him, he does such a nice [00:45:30] job, so professional. He's a really nice guy to have actually as part of the campaign or attending an event.
Lori Sale:                 45:40
Love him. Right. And then again if it's his thing, his thing is the environment, the sustainability, and ocean, all of those things. He is very appropriate for any of those kind of campaign, and very knowledgeable, and a great speaker. We just never [00:46:00] had anything about race from the brand that worked with him. When you're looking for someone, I always say, it's like three guys who make sense if you're looking for sustainability. Leo, very expensive and a little strange. And then there's Matt Damon who's hugely expensive and never available because he's just working all the time. There's another guy what [inaudible 00:46:25] is weird. And there's Adrian. So there's a reason that Adrian gets all of those types of campaigns because he is very authentic in that state and enjoys to work with.
Lori Sale:                 46:37    
All of these are, you can't lose when you based off of just who he is. It really is the only way to do it.
Stacy Jones:           46:45 
Right, and more power to Adrian and what he just score with Starbucks and the straws. He was a massive player in that initiative.
Lori Sale:                46:54            
He was a massive player in that initiative. I don't love when he shows up to the shareholder meeting. [00:47:00] It could go bad. [inaudible 00:47:04] He's great, so authentic and he's really trying to save our world from all of us.
Stacy Jones:           47:13      
As a brand, when you get to a point of the contract, what do you on a celebrity side, always want to have included, and what do you think the brand should be and why is it enough to include as well?
Lori Sale:                47:23  
I always think it is a very good idea to get the brand [00:47:30] attorney and the talent's attorney on a call together, to go through the agreement. I think that is faster for everybody and just the better way to kick things off. I think that brands are very strong moral clauses, those always need to soften because no one can live up to those, especially the stay and age. You know what you're getting into, so that's something sometimes is interesting to me, too. Hopefully, if you're hiring a brand, if you're hiring a talent, you know them and you know the type of person that they are. So you have to accept that someone has previously been in an accident that's just going to be an accident. You have to be a brand that it is okay to be at that level of the atticism. Sometimes it's the reason you want that person is because of [00:48:30] that atticism, so you can't have a moral clause that doesn't match up with the person you're hiring.
Lori Sale:                48:38            
Often times that something needs to soften, I think the payment schedule is something that is always important and very clear. I just misled I said previously an absolute transparency, absolute [inaudible 00:48:50]. Exactly what the person is required to do, exactly what the payments are so there's no misunderstanding when those will happen, [00:49:00] in a moral clause that a normal human being could live by. If you've got all three things, then now will be just fine. But if there's anything ambiguity, that's where brands get in trouble, that's where talents get in trouble because it doesn't exactly say.
Lori Sale:                49:19               
Most celebrities have very savvy entertainment lawyers, most brands have very savvy agencies and corporate lawyers. We cut through those things to be very specific and get through them without too much pain. They're typically not difficult. If you're straight board transparent, they are not difficult. It's an ambiguity that drives the lawyers crazy. And that's where people get tripped up. I think you just have to be very specific and transparent, and then everybody knows what they're getting into. Not asking talents to do things like, if they're going to do social posts, then [00:50:00] we need the appropriate sponsor hashtag. We don't hide it, we're not breaking any rules. It's just not worth it, not worth it for anybody. To me, that's a fine of we should probably not work together if you don't want our client to do the appropriate sponsor hashtags etc. Our talents play by the rules and we want to work with brands that play by the rules as well.
Stacy Jones:          50:26       
Perfect, I don't have to ask you that question and make it absolutely pointless. [inaudible 00:50:30] [00:50:30] regulations because it used to be the brand would say "Oh, no hashtag yet, no hashtag sponsorship, no hashtag paid," any of those things but the law, the land is you have to as a brand, even before the celebrity. You're responsible for as a brand, or their agency, too. The FTC will come after that agency just as much so. If you have [00:51:00] any words of cautions to a brand that considering celebrity endorsement, is there anything that they too, not with your perfect, fantastic celebrities. But let say someone else is the celebrity that they are working with, what should a brand be aware, a concern of, where can they make some big mistakes along the way?
Lori Sale:               51:18
When I think of the things we chat about, I think you don't have a clear transparent agreement. If you don't understand the clause, or the travel clause if you don't have all those questions, answers. I have one program right now that's very authentic. Celebrity is going to a construction project, and it's personal space, and he's using brand's products, so basically products pl easement. And then there's going to be some entertainment and the press is done in his personal space. [00:52:00] It's been a fraud with difficulty because who can control the construction process? Celebrity can't. Contractors can't, I mean it's the coldest winter in New York in decades. So the project is behind, that's what happens when you build something. [inaudible 00:52:23] It's not like is lack of trying. But there's also [00:52:30] been some ambiguity around the deliver bowl also. What is expected that the talent will do? I think that's where you get yourself in trouble. I think you have to think through every option of what goes wrong, and how to avoid where it could go wrong.
Lori Sale:              52:51    
If you have a program, obviously you want to do on a certain date, so what happens if the date move? Every talent agreement is subject to professional obligation, [00:53:00] so if you're working with the celebrity and they booked a movie, they are not giving up the movie because you have a press day. Like it's not happening, that's what they do for a living. So every contract is always subject to what they do for a living, which is being an actor, being a musician, or being an athlete. So if you must have your event on this particular day, then that could be a problem. You really have to make sure [00:53:30] and that's another reason why to use series regular on television, because you know where they are. Like they have to be. In Los Angeles, shooting a show or wherever it is they shoot their show between x day and x day. You know you can get them in the city at the right time.
Lori Sale:             53:52    
Now, you have to see if you can get them off of shooting. Booking them is complicated, if their schedule is often time dictated [00:54:00] by the events. And you're doing their contract ten months in advance. So–
Stacy Jones:        54:05   
Script set up [crosstalk 00:54:06] for television, or things are being changed and shoot locations can move all over the world.
Lori Sale:             54:13   
Right? [inaudible 00:54:14] can be listed or move if they're running behind. So you have to have an honest dialogue with between the brand and between the agent, to know what are you going to do in the event of. So where can you be? So there's this kind of conversation. Everything can be figured out if you have the conversation in the becomes about what are we going to do if this happens. Plan A, plan B and plan C. 99.9% of the time, it works out just fine and it goes as planned. But again, human beings. It is so different if you're working with a film and if the release date move. [inaudible 00:54:58] [00:55:00] It's not any different than working with celebrity, at least celebrity can do things like, if they booked a movie and you're having a gala and they're supposed to show up at one of the deliver bowl in a big campaign. You can shoot them, give them a message specifically to that gala if they can't be there in person. There's always work around.
Stacy Jones:        55:25 
I know I've been keeping you chatting for quite some time and it's fantastic, and all of the listeners [00:55:30] are getting so much from your advice and insight. But do you have any last thoughts of suggestions and advice to a brand, who are considering launching a celebrity endorsement campaign, and maybe hasn't gone down that path yet?
Lori Sale:             55:46     
I think my advice would do it. I'm jaded like that. But I think that there's a lot of games and lots of different areas that can come from doing. So the [00:56:00] first thing is just doing it. The second thing is to make sure you make it authentic. The third thing is if you haven't done it before, you should invest in an agency who has done it before because you just don't know that the bums on the road. And you need somebody to help you navigate. You need somebody to help you justify and make sure you're asking all the right questions. Those are it, that's all I got.
Stacy Jones:        56:31      
Laury, thank you so much. I really do. Thank you for joining us today. I learned a lot and I'm always delighted to learn in this industry and I'm absolutely looking for to chatting with you again soon, with brands in mind and hand. Until then, thank you.
Lori Sale:             56:50       
My pleasure, lots of fun. Sounds great, thanks so much. Bye-bye.
Thank You For Tuning In! 
There are a lot of podcasts you could be tuning into today, but you chose Hollywood Branded, and we're grateful for that. If you enjoyed today's episode, please share it, you can see the handy social media buttons below and the left side of the page. 🙂
Also, kindly consider taking the 60-seconds it takes to leave an honest review and rating for the podcast on iTunes, they're extremely helpful when it comes to the ranking of the show.
Lastly, don't forget to subscribe to the podcast on iTunes, to get automatic updates every time a new episode goes live!